If you believe that all it takes to get a job interview is a great resume and persuasive motivation letter, you're making a huge mistake. How you email these documents to recruiters matters too, a lot.
For each advertised position, recruiters receive hundreds of emails with the same title, same content and probably the same generic resume candidates send out to other employers. Don't expect this formula to help you in getting noticed – and at this point in the recruiting cycle, that's your main objective.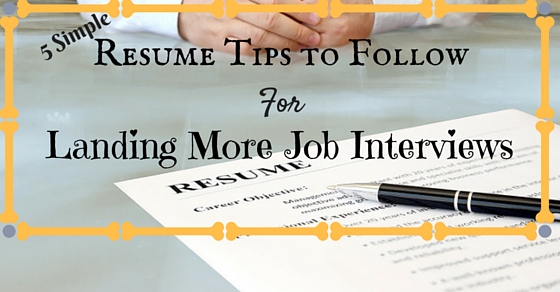 In this post, I share with you a bulletproof, step-by-step guide for writing messages to help you to stand out and easily land more job interviews.
Once you create a winning message, make sure you have a perfect resume. Here's a complete guide to writing a resume that works. You don't want to waste all the effort you put into crafting this email only to have the recruiter see a poorly structured resume.
How to Land More Job Interviews?
1. Learn Who Will Read Your Resume and Use It to Your Advantage:
It's always a good idea to check who will be receiving your message – especially if you're targeting an unadvertised job. It takes more time, but it's worth the effort. Directing your message to the right person is a sure way to receive more responses.
Most of the time, you will either have to fill out an online application form or send your resume to a general email address. Check LinkedIn to see who handles recruiting at the organization you're targeting. They might even be advertising the position on their profiles.
If you can't find them, consider calling the company to find out who is responsible for filling the position.
Once you find the recruiter's name, all you need is their email address. Here's how to find it:
Since most companies use the same formula for all email addresses, try typing a variation of their name together with the company domain. If you're looking for John Smith, write something like:
j.smith@company.com
john.smith@company.com
If all you've got is the domain, use this Google spreadsheet to automatically generate all possible combinations of names and domains.
Fill in the yellow box and the tool will do the job for you.
Sometimes identifying the recruiter just isn't an option. If you're sending an email to the general mailing address, ensure that it grabs attention or it will easily get lost among hundreds of other messages.
2. Here's How to Write a Great Subject Line:
Let's get one thing clear – you must follow the instructions provided by the employer for sending your email. If you fail to do that, you run the risk of your message getting lost.
Recruiters will usually ask you to include things like the reference number or title of the position, but it doesn't mean you can't get a little creative.
Is there a particular skill or qualification highlighted in the job posting that matches your profile? Make sure to mention it in the subject line of your email. Add something like "Marketing Director, 7 years of experience in B2B," and you're bound to instantly grab a recruiter's attention.
3. Be Smart About Naming Your Files:
This is obvious to recruiters, and yet candidates rarely think about the names of their files before attaching them. Sending out files like "Resume1" or "resume_copy" doesn't help you make a good first impression. It only shows that you're sloppy or don't care enough about the opportunity.
Instead, follow a formula and consistently name your files:
Name_Surname_Resume.pdf
Name_Surname_CL.pdf
It's a good idea to add the company's name as well. This way, recruiters will know that the files adjust to match this specific opportunity, already showing your commitment to applying for the position.
4. Create Email Content That Engages:
Never, ever send an empty email with a resume dangling as an attachment. The recruiter who receives the message will think: "If she wasn't enthusiastic enough to scribble a simple hello, why should I pay attention to her resume at all?"
Recruiters read the content of your message before downloading your resume, so make sure that every single sentence motivates them to include you in the recruiting process.
Open your email with the right salutation. Then refer to the job posting and state your motivation for applying. Both will help you stand out from other candidates – it can be based on your statement of purpose. This offers a good reason why you should be invited to an interview – a couple of key facts from your professional life are more than enough.
Naturally, all this information is available in the documents you're sending – be sure to mention that. Add a final greeting, and your job is done!
5. Create a Checklist to Send the Right Message:
Before clicking the Send button, run your message through this checklist:
Did you fill out the subject line?
Did you include the name of the position there too?
Did you read the message before sending it?
Did you check whether the attachments are correct?
Is the receiver's email correct?
Did you save a copy of the email?
This simple method helps to ensure that every single message you send out is top notch.
Key Takeaway:
During the initial screening, recruiters are looking through hundreds of emails from candidates before creating their resume database. That's why you must differentiate yourself from other professionals at this point.
Your excellent resume and cover letter won't be any good if recruiters never get to open them.
Follow this 5-step guide and you'll be on your way to boosting your response rate and landing more job interviews than a generic email could ever get you.
About the Author:
This is a Guest Post Written by Natalie Severt Who is a Writer at Uptowork