Teaching is an honorable calling; you entered the profession with dreams of arming the next generation with the knowledge, skills, and wisdom to succeed in life. Teaching children in public and private school, as honorable as it is, isn't for everyone. The job while rewarding for some, can be a stressful and tricky endeavor for others.
Teachers spend hours teaching, planning lessons, and grading papers. They must be able to cultivate the ability to handle unmotivated students and difficult parents who are understandably defensive of their children.
The following mentioned is a list of the second career for teachers or alternative careers for teachers who can happily get into the teaching profession, unlike their regular teaching career.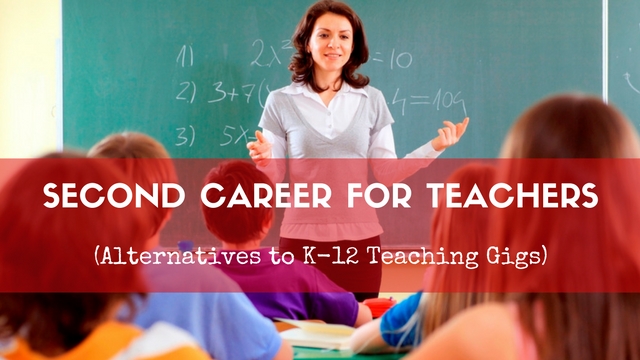 The end, for some teachers, can result in unbearably stressful work life for those who can't seem to adapt. It can be easy to begin to hate a job that causes continual stress. Hatred for your job leads to a wide variety of side effects that could affect your personal and professional life.
According to The Huffington Post, individuals who hate their job are more prone to weight gain, lower immune systems, serious illnesses, loss of sleep, and ruined relationships.
You don't need to spend the rest of your professional career at a job that you hate.  If you begin to hate your profession as a K-12 school teacher job and still feel teaching is your calling, you do have other options.
Second Career for Teachers:
A career change for teachers is not so difficult. There are several alternative careers or best second careers for teachers.
College Professor:
If you don't want a drastic change, you can try to find a job teaching at a community, private, or public college. College professors, like their K-12 counterparts, spend their time teaching classes, grading papers, helping students, and conducting private research.
Teaching mature adults, most of whom want to be there, can be a better, less stressful environment for many teachers. And the steep decline in the number of difficult parents that you need to deal with is an added bonus.
If you do decide to pursue a job as a college professor, you will most likely need to go to school for a master's degree and possibly a doctoral degree. (Community colleges and technical school sometimes hire individuals who only have a master's degree). You will most likely need to start your post-secondary teaching career as either an assistant professor or an associate professor.
Adult Literacy Teacher:
Don't want the stress of teaching children and teens, but don't want to dive into post-secondary education? You can become an adult literacy teacher. Adult literacy teachers' help adults receive the basic skills and knowledge to function within their household or community, find employment, and possibly pursue higher education.
Adult literacy teachers often teach remedial writing, reading, and language skills utilizing a variety of teaching methods and lesson plans. Bilingual teachers are uniquely suited for this path due to the fact that many of the students might be seeking basic skills in a second language.
If you decide to pursue this route, you should be able to find a job without obtaining a master's degree. You should be aware that some adult literacy jobs will require a master's degree and that educational requirement might be slightly different from state to state in the US.
Before diving into the job search, you should double check that your current credentials are enough.
Librarian:
If you enjoy teaching and aiding people in educational pursuits, but you don't want teaching to be a primary job duty, you might consider pursuing a job as a librarian.
Librarians often teach patrons short lessons in how to find information utilizing the library, the internet, and reference materials, but they also have a number of other primary duties that might lead to a better work balance for some individuals.
The other duties might include: aiding patrons in finding research material, planning and supervising the libraries budget, checking books in and out of the library, reviewing and evaluating new resource material before purchasing them, classifying and cataloging library materials, training library staff, and planning fundraising drives.
In order to become a librarian in the United States, you will need to receive a master's degree in Library & Information Studies that has been accredited by the American Library Association. If you want to be a school librarian, you can instead receive a master's degree with a specialty in school library media.
Corporate or Business In-House Trainers:
Every job requires some level of on-the-job training. Employees, old and new, need to be trained to utilize workplace tools, machines, and equipment, as well as learn new skills and knowledge bases to perform their job effectively.
While this job is often performed by managers and through mentorships in smaller companies, bigger companies often hire individuals whose sole duty is to train up employees. These individuals will create training material, take classes and provide one-on-one mentorship to employees.
While the job doesn't require teacher certifications, they should have the general teaching skills and knowledge base to flourish in these positions.
There is one downside. You might not have enough tech or business oriented skills to easily obtain a corporate training job. All is not lost. You can work toward the position by:
Obtaining an entry level business job that will teach you basic skills.
Spend your free time by training yourself in more tech and software geared skills.
Private Employer Training Instructor:
Not all companies have in-house trainers. Some, either due to their small size or a lack of available talent, hire private training companies like American Graphics Institute to teach the employees one-off classes or long-term training programs. The teachers often teach the classes either in-person or online. This online teaching jobs is also one of the trending ones these days.
Like the in-house trainers, trainers that work for training consultant companies will be required to specialize in certain skills and gain work experience in the skills that they are going to be teaching. If you put in the time though, you can build a career in teaching that you love.
Best High Paying Career Change ideas for Teachers:
Teaching job is a noble profession. They are the one who shares knowledge and teaches students important life lessons, moreover, it is a service done in terms of humanity.
Though being a great profession there are many challenges that a teacher need to face in their professional life. Clearly stating they are not given the right value or importance they deserve. Also, they are even paid and rewarded poorly.
Such conditions would surely trigger them to take a bold step of choosing another career. Now if one is not happy with their present job then quitting is the best option they can opt.
So, here are few top alternate careers for the teachers,
Law Enforcement Officer

Credit Counseling

Book Keeping

Web Designer

Magazine Publisher

News Reporter

Transcription/Translation Services

Lecturer

After-School Daycare

Summer Camp Organizer

Movie Scriptwriting

Adult Care

Youth Organizations

Paralegal

Personal Trainer

Psychologist

Set up a Private School

Grant and Business Plan Writing

Entrepreneur

Work at Museums

Copywriting

Computer Training

Education Liaison

Published Author

Politician

Motivational Speaker

Nanny

Master of Ceremonies

Kids Party Planner

Academic Advisor/Counselor

Teach English

Activity Director

Arts and Crafts Teacher

Study Groups

E-Library

Prisons Teacher

Children's Hospital Teacher

Real Estate Agent

Cyber School Teacher

Curriculum Developer

Freelance Writing

Educational Program Director

App Developer

Amazon/Createspace Publishing

Online Tutoring

Tutoring Special Children

Work for Testing Companies

Company Trainer

Work for Publishing Companies

Sales Representatives
Conclusion:
Traditional teaching jobs at an elementary school, middle school, or high school aren't the only jobs for individuals who have the drive to teach. You can find a fulfilling career in alternative teaching gigs where you can do just as much good. On the other hand, if you're thinking about moving into teaching careers, you should check out Second Career Options for Teachers?
About Author: This is a Guest Post from Samantha Stauf. She is a college graduate who enjoys kayaking, snow-shoeing, reading, and writing. She spends her free time writing about career and business.
Save