There are many types of interviews, to name a few would be the oral interview, stress interview, telephonic interview, and the list goes on and on. Human resource professionals and corporate, are coming up with various effective ways to assess the candidates and get the best onboard. Role play interview has recently been a famous choice to choose candidates in the field of sales, marketing, customer service etc.
In short, it is used majorly where a person needs to directly deal with the customers and requires quick thinking for handling various situations. Let us look at the structure of role-play interviews, the way it is conducted, and the role-play interview tips and tricks to ace it.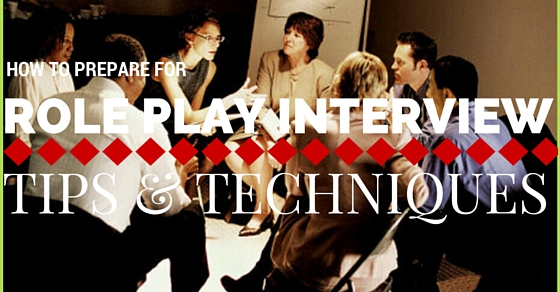 What is Role Play Interview?
In role play interview, candidates are given a document with a situation mentioned on it and given a certain time frame to prepare for it, then-candidate needs to perform, either alone or with someone else – say another person who acts as a customer. Or interviewer himself can act as a customer
Certain situations that can be mentioned to a candidate in role play interview are:
Type 1:
Offer a solution to an angry customer and make him calm
Considering you are the customer care executive of a telecom company and an angry customer calls you for the deduction of money from his prepaid cell balance and demands explanation angrily. He also threatens that he will stop using the service. Solve the customer's query and make sure he is retained as a customer.
Type 2:
You are a salesperson at an electronics store, a customer demands a good which is not in stock, how will you deal with that situation.
Type 3:
Inform the e-commerce online customers that his ordered item will be delayed by 5 days.
As the role play interviews are conducted majorly in customer-focused jobs, certain situations are given wherein you have to deal with a difficult situation with customers.
Advantages of Role play Interview:
In general, candidates appear for many interviews and hence could easily anticipate the general questions that could be asked. Also with so many tools and tutorials on the internet, a person can prepare for an interview. Thus the traditional form of interview becomes less effective and the true skills of the candidates are not evaluated.
Tailored replies to each answer are of no help to the interviewers. Thus presenting an unusual situation and then asking the candidates to perform puts them in a real-life situation and hence an actual and accurate judgment is possible. It evaluates a person's communication skills, Problem-solving, decision making, creativity, pressure handling.
How to Prepare for Role Play Interview?
1. Study the company history:
Studying the company history is essential, as you may have to base out the role play conversation on certain facts about the company, hence get your facts clear. One must know the major players in that certain industry, competitors, years of establishment, achievements etc.
You can impress the interviewer when he comes to know that you have done your study well before the interview. It reflects that you are keen for the position. Thus study the company website, newsletters, magazines and company reviews.
One can also connect with few of the current employees and try to judge the culture of the company; it will help you to set the tone of conversation in the role play.
2. Study the job description:
A job description is the list of qualities and skillset required in the person. Study the job description well and try to sharpen the skills you are lacking in. One can get an idea about the employer's expectations from the job description. The role play will be on the mentioned criteria itself. Thus it gives a hint for the topics to prepare upon.
3. Think ahead:
If you are applying for the position of customer care executive, then imagine the challenges and the difficult situation one can face. You can study and research about the ways to handle difficult customer. Try to practice by keeping some scenarios in mind.
4. Talk to friends within the same industry and role:
People who are working in the same industry can give you an in-depth analysis of the scenarios they face, and how they handle it. Reach out to as many people as you can and ask them questions regarding the challenges that they face.
5. Watch YouTube videos:
One can search in YouTube the topics like- how to handle angry customer, how to convince a customer, you can get different ideas from there
6. Practice role play interview with friends:
Ask your friend to be an angry and adamant customer, ask him to be as difficult to handle as possible, and then practice the ways you can actually deal with it. This helps because only visualizing the answers are not enough. In stress, we can go wrong.
7. Record the role play interview:
You can record the practice session and then try to figure out the mistakes that you are making. You will be evaluated on your body language, postures and communication skills. Look the way you sit, talk and make gestures. Make sure you avoid unnecessary pauses like, 'umm', 'hmm' in your conversation. In all customer-focused jobs, quick thinking is the key skill that the employer looks for.
At The Role Play Interview – Tips:
1. Read the given document carefully:
As discussed earlier, in role play interview, you will be given a document to read and study. Not all points are mentioned clearly. You need to understand and imagine the situation. Thus make sure you understand clearly what is been told. The situation given can be complicated, and it is necessary to understand your role and the expectations from you.
In stress, a person can skip through the document very fast and later make fool of self due to misunderstanding and misconceptions. So to avoid any embarrassing moments, read the document very carefully. Many recruiters can scrape of your candidature if you fail to pay attention to detail.
2. Ask questions when in doubt:
Role play script is often confusing and does not mention the exact scenario and expectations from you. Interviewers want to see how much you understood and they also evaluate on the questions you ask. If you understand the situation properly you will be able to ask the right questions. It is wise to ask probing questions like- 'tell me about the –', 'can you expand on –'.
By asking such questions you get more clarity. Make sure you are not asking very obvious questions.
3. Be confident and relaxed:
There is no need to panic, though the role play interview can be very stressful as you do not know what to expect. But maintaining your cool can help you perform better. Hence staying calm and focusing on the task will get you favorable results.
4. Have a smile on your face:
Do not show your nervousness and always speak with a smile. While dealing with customers a smile goes a long way. Also while on the phone when you talk with a smile, it is recognized by the other person and he feels pleased to know that you are happy to help him. Be enthusiastic, polite and energetic while speaking.
5. Prepare notes before starting:
It is always a good habit to note the points when you study something. After reading the role play script, note down the points you plan to speak. It will help you in talking smoothly without awkward pauses and help relieve the stress.
6. Have a structure in mind:
Anticipate the conversation and the reaction of the other person, you can think of suitable replies that can be given. A flow chart of all 'ifs and buts' must be prepared. When the other person reacts the way you have not thought about then it will make you stressed about it. So have a basic structure in mind but also be spontaneous and witty.
7. Be calm and do not try hard to solve the problem:
If a problem or complaint of a customer in a role play script is too complicated, it is not necessary that you solve it by hook or by crook. The interviewer may also want to see how you handle the situation when the problem is a bit tricky.
Solving the problem does not mean you did well in role play interview. Your approach and your demeanor is checked and evaluated. Just give your best and don't try way too hard than required.
8. Create win-win situation:
You need to be witty enough to solve the tricky situations, your answer must be such neither the customer nor the company is at loss. You cannot lose the customer, not can you let the image and reputation of the company get hampered. Thus give responses in a witty and intelligent manner.
9. Start with pleasantries:
In a customer-centric job, you have to be polite and follow basic mannerism like please, thank you and greeting like good morning, good evening. Don't rush through the part, it is advised to be calm and natural and go through the play with ease.
10. Have empathy towards customer:
Consider a situation when a customer has called you to notify you that the product delivered to him is damaged. Before you give any solution to him it is necessary to have some empathy towards the customer. One can reply like' I am very Sorry for that Sir, I know you might be waiting for your product to arrive and must be very disappointed to get it in a damaged state'.
Having empathy towards an angry or disappointed customer will lower down his anger to a lot extent.
11. Have two way conversation:
The other actor in your play will give you very tricky replies to make you confused and create a stressful situation. You have to engage him in two way conversation and try to collect feedback of every step you take. Evaluate the reactions and the feeling of the other person; it will give you hints about how you could take the conversation forward.
12. Closing properly:
The way greetings are important, so is the closure of the call or conversation, Make sure you end your conversations with a phrase like, ' Thanks for calling', 'Thank you for your time', 'Thank you for your consideration'.
Role-Play Questions:
Role-play questions are asked in an interview mainly to assess the interpersonal skills of a candidate. When asking such questions, the interviewer takes up the role of a customer or client and the candidate is asked to sell some product or idea to him.
This type of role-playing is mostly conversational and the customer can ask you common questions that may arise in a conversation. Some of them are,
Why do I need to choose your company
What are the benefits your company offers
I am able to get the same product at a lesser price, then why should I choose your product?
What makes your product unique and different from others?
Sample Role Play Interview Questions:
Sell me this pen
Introduce me to your new brand
I am a disruptive client, how would you handle me
Introduce yourself as a salesperson
Listen to the conversation and repeat the same
Prepare a symbolic representation of yourself from the list of items mentioned
Coins
Children's toys
Screw-drivers
Nuts and bolts
scissors
Things to Keep in Mind before Interview:
Be it any type of interview, the following things should never be ignored.
Have updated CV, Tailor your skills and accomplishment in support to the open position.
Wear well ironed formal clothes and keep it ready the earlier night.
Also, make sure you keep ready all the necessary documents to be carried.
Figure out the way to interview beforehand to avoid getting lost. Take the time and traffic in consideration, also make sure you know the parking spots.
Have some extra time at hand and reach 15- 20 mins early at the interview.
Be courteous to everyone in the interview venue, it is not a good place to argue with anyone.
Eat a light meal before the interview, and also having a good night sleep at night before will help you concentrate better.
Manage your stress well, Take deep breaths to relax yourself. You can also do yoga or meditation before reaching the interview venue. Meditation will help you relax and focus well.
Make sure you are not having any controversial photos and comments on any of the social networking sites.
Avoid talking too much and being desperate.
Conclusion:
The following tips and tricks will help you to succeed in the role play interview. One must not forget that it is an interview which is invented to know the real you and the way you will react and perform in a real-life situation, thus you can prepare from your end, but make sure you are not acting.
Being as natural as possible will help you to get the job. If you have any incidents and tips to share, please feel free to do so. Till then best of luck for the role-play interview/s.