There are different forms of press, they might be print media, television or a radio. The purpose of media is to communicate the information, facts and incidents occurred around the world. They take a face to face interview or telephone interview.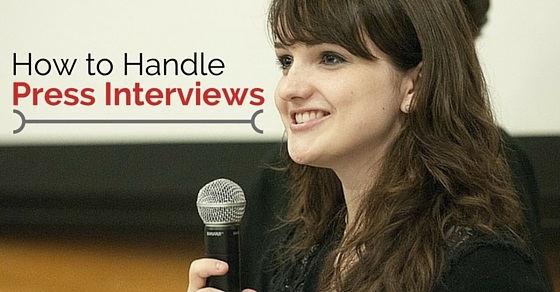 Know your subject clearly before giving interviews, your message to the people should be well communicated. It's an opportunity to tell your story about what you have been, or what is your opinion or advice or an allegation.
Press Interviews – How to Prepare for?
Know the Purpose of interviews:
Firstly, understand why do they want your interview, how can you help with your information, analyze the topic and prepare yourself, understand how much knowledge and ability you have to answer the media regarding the subject, since the interviewer or the people who are listening or reading your interviewer might be intelligent enough, so take care to present correct information
How to Prepare for Press Interview:
1. When and how do they arrange:
After the appointment date gets fix for the interview, check whether it is a group interview or a personal interview, and also find the venue where it will be conducted. This makes you feel ease and comfortable. If it is print media they take up notes and it is easy to handle, and for a radio interview they do recording, so it's manageable to correct your mistakes by re-recording, but if it is television there is a need to be alert if it is a live telecast
2. Collect the information:
Information like what do they want to do with the content, are they going to support or oppose or just provide information to the society, or they going to make an advertisement through the media. They do an interview for celebrities or well-known person to provide entertainment to the people, this helps you to walk through the regular format of questions they do ask generally.
3. Anticipate the questions:
Know the subject of the interview, if you are trying to give interviews about the charity organization, make a clear picture of your organizational goals, when and by who established all these details. If it is a personal interview, be prepared with your introduction, brought up and achievements, hobbies, etc. In case of witness or debate, understand the situation you had to talk before the media and get well prepared
4. Know the timelines:
Ask the reporter the duration of the interview and how much time it takes to record the information if you're aware of timelines you can prepare yourself with content start and end, be aware whether it is a flow or you can pause if its a flow try to avoid flaws.
5. Medium of language:
Always choose the language that you are comfortable and can easily understand by the people who read/listen or watch your interview. It allows you to speak properly without allowing to commit mistakes, the reporter also feels the freedom to ask questions easily.
6. Stick to your instincts:
If you are bound to support to a subject, go on with your standards. However, the reporters try to divert your point of view and ask questions to make you reconcile and try to grab the information more interesting behind the situation, so do not drag yourself into trouble. Stick to your instincts and answer the questions smartly and resist yourself in case you find debate is opposing your statement.
7. Be aware of your dressing:
Try to choose the best clothes that fit you well, and do not go for bright colours, select clothes that cover your body enough and makes you look good enough before a camera, the dressing sense reflects your attitude and behaviour. Well groomed with hair and just enough makeup to shine attracts the listeners and helps you feel strong with your personality
8. Mock test:
Go through a mock test before you go for an interview, you can check your fluency and ability to deliver your subject, do not hesitate to start, be casual as possible, check your timer and manage your speech, improvise your pitch while speaking. Note down errors and follow up to not repeat in next rehearsal, practice is must because a large number of people will go through your speech
Press interview DO's:
1. Introduce yourself:
The reporter may start the interview and he may mention your name, but when it's your turn to try to wish, start with your introduction like your name and occupation and also the purpose of the meeting. This is the formal way of starting a conversation if it is print media this is not much necessary since reporter will write in his own words
Always remember the topic you wanted to discuss and make sure it is communicated in the same way which you wanted to transmit, your lack of communication may lead to the wrong statement, so be careful of your language and point out your view clearly. The message should be very clear to understand, make sure the reporter does not mistake it and publish.
3. Visual communication:
Do not play with hands, hair out of nervousness or excitement, to make conversation interesting use hands to explain or smile when it is an apt situation. Do not sit with legs crossed or hands crossed, just sit in a firm position which makes a reporter feel that he/she is attentive and listening to him, makes him more comfortable and have a formal chat
4. Maintain Eye contact:
During question and answer, maintain eye contact with the interviewer, this allows you and also him to focus on the interview and have a best informative conversation with a good flow. While reporter is trying to explain something just do not keep listening try to gesture with nodding head or "yeah" "okay" these make him know that you were understanding. Look at the camera when it is focused towards the speaker
5. Pause for the reporter for the question:
Some reporters start a conversation and interrupt to ask a question, do allow them to speak so that the listeners can have a clarity speech, otherwise, it looks like a mess. The reporter may forget to ask the question, he may get some point to question on the particular word you have made so it is the best time for him to ask immediately, accept the question and answer them politely
6. Dress code:
Understand the purpose of the interview and choose the apt dress code that is obvious. Do not wear too flashy clothes that dominate you, try to represent as per your profession. Appear casual with comfortable clothes. Do not over makeup just do it right enough. This will allow you to be formal in case if you are supposed to be in front of the camera
7. Be spontaneous:
Sometimes your conversation goes on a good flow, and the right debate was going on , the reporter may ask you a question for which you are not mentally prepared, use presence of mind and start a conversation by using fillers to recollect words and go ahead with a positive move, do not freeze and get back to your point of view, what you were focused to communicate
8. Be precise with content:
List out the main points of your subject or the points you want to educate or express your vision on the topic, do no divert from the mainstream. Try not to consume time with something that is unimportant, you will be given less time so drive along with your course you wanted to nail at this stage. Do not drag too much that the reporter may feel impatient
9. Use your opportunity:
Use the platform to advertise in case you are representing the organization, exhibit your best of knowledge so that you will be respected, followed and will be allowed to give another opportunity and can excel yourself which may help yourself and also the society. Create awareness that many of them have not introduced before, the team should feel interested with your thoughts and bring out helpful information from you.
Press Interview Dont's:
1. Do not make a false statement:
People sometimes out of poor knowledge or lack of confidence in the subject, just speak whatever they feel right at that time. Media is a powerful weapon that touches the people lives easily, so make sure you do not speak something weird. They do also lead to controversy sometimes and create problems eventually
2. Keep diversity in mind:
Always remember of the society, do not try to abuse others in media it may hurt feelings of other castes, religion, nationality. It will create social imbalance and lead to dispute and will land into problems, you may have alleged legally, do not use the media to encourage these types of acts. There is no point of getting into the news with these type of controversial words, so be conscious of your speech
3. Do not debate:
If you were invited to express your communication to the society, do not debate with reporter, in case someone else caused you trouble and you were fighting for it , try to ask for the right solution, urge for the justice and communicate your problem and what problems have been faced and get benefited or remuneration from the accused.
4. Accept the feedback:
Reporter not only asks questions about the subject but may ask about the people point of view questions and doubts they have, they may represent the people, even they question your attitude in a particular situation. Do not get excited or do not feel bad by the words, accept the feedback and try to explain the reality of the situation, this makes a clear communication and doubts will be clarified by your answers.
5. Do not stop in the middle:
Handle the tough questions smartly, if you do not realize answer for the question, try to skip by asking to repeat the question or simply say that you are not the correct person to ask the question or engage the reporter to think yourself for an answer
6. Do not panic with media accessories:
Do not panic with camera, microphone, studio or people around you, relax and get acquainted with the environment, go around before the interview and make yourself comfortable
7. Skip the controversial issues:
Sometimes the issue might be very delicate to handle, answer them politely with a diplomatic answer, do not get irritated by the reporter or simply ask them to skip the question to be in a safe zone
Effective Media Interview Techniques:
Utilize media to promote your ideas, the press is an easy source to touch every individual and present your communication ability. Some of the techniques essential while handling the press are
1. Do not distract yourself:
Your surroundings may disturb you with sounds and disturbance, do not get distracted, continue the flow of conversation if it is a live telecast, if not ask the staff to take care of it if you are uncomfortable. Do not drag the topic, do not divert yourself framing stories and taking own time to discuss the stuff which is not relevant to the discussion, time is precious for everyone, use it for worth full cause
2. Do not confront:
Avoid confrontation anyone in front of media, you may have some disputes regarding the issue you were discussing, do not try to confront them through media, there is a chance of getting in trouble.
3. Use it to end allegations against you:
Many of the politicians or a public servant may be stuck up with unnecessary allegations, give a face to face interview and make the public understand the truth behind the story and enlighten them with facts, this will reduce your mental stress.
4. Bring notice the social evils:
You can utilize the stage to remove the mask of lives that are covered under a social evil, by elaborately explaining how it harms the society and by revealing facts with straight forward answers who are responsible for it