Job interviews happen to be one of the most intimidating and drawn-out ways of making a good first impression. However this could be a great opportunity for you to shine out and show what you are all about.
If you want to prepare for a job interview the right way, you can look for such applicants whose credentials are way better than yours. If you want to prepare for a proper job interview, here are a few points that you should always remember.
Keep reading to find out and do make notes of them. They can really help you excel in the future and become successful when it comes to any job interview you want to crack.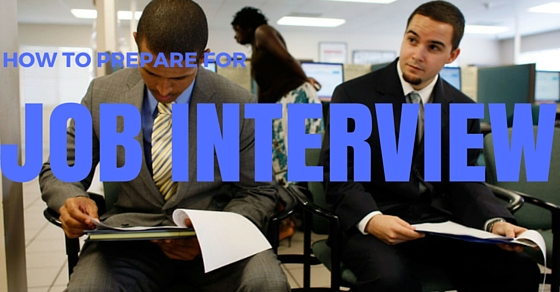 The Ultimate Guide to Job Interview Preparation:
1. Understand the company and its background:
To prepare for a job interview the right away, you must first look into its future plans and goals. So when questions are being asked, you will be able to speak about the industry and the organization in depth.
The position that you are hoping to get should also be discussed here. So in order to understand the company and the background, you have to first learn the name of the interviewer, the position of the job before you are attending the interview etc. Secondly, speak to all employees.
Show some initiative so that you can get a feel of the environment. Try to learn as much as possible. Finally, use the website of the company, read their magazine articles to derive information so that you can answer questions easily.
2. Go in your best shape:
To be impressive in an interview, you must go there in the best shape that you can. You should park your car at least 20 minutes before the interview has been scheduled. Go to bed one day early so that you can prepare for the interview and look all fresh and healthy for the next day. Also remember to carry a fresh piece of your resume so that the interviewer can go through them and discuss questions.
Early in the morning, you must eat a steady and healthy breakfast, your breakfast must be high in omega fatty acids, antioxidants, Vitamin E, seeds and nuts that will boost brain functioning and keep you alert all the time. Also you must consider exercise as an option as it will reduce stress and boost blood flow. Exercise for 30 minutes and then take a shower.
3. Dress the right way:
Next you must remember to be dressed the right way. Always remember that what you wear could be a great example of who you are as a person. In short, you will be representing yourself in front of a group of people who don't know you at all. So make sure you have dressed properly.
Both women and men should choose colours such as grey, black, blue and brown and wear professional makeup as well. See that your clothes are lint and wrinkle free. Don't wear any perfume after shaving or any scented lotions. But do apply some deodrant.
4. Be honest during the interview:
There are several people who think that attending an interview would be the right time for them to embellish. Even when you want to structure your answers properly, even aspects and speeches that are the most qualified do not stand a chance if you are not being honest during the interview.
Companies do always perform a few background checks and look for experience and when they find you are lying, they will simply cut you off. So when you are attending the interview, make sure to be honest. All of this matters a lot.
5. Practise a question and answer session with your friend:
Another thing you can do is sit at home and practise a question and answer session with your friends. If you want to create a killer impression during an interview, you must have a few practise rounds with your friend so that you know how good you are at answering questions and whether you need improvement in some places or not. Trust us when we say this, it is literally the best way to become an expert when it comes to interviews. Practise will make you perfect as ever.
6. Be ready for unusual questions:
Another thing that you should be ready for are unusual questions. Sometimes the interviewer will try to test your capacity by asking questions that are unusual. What you should do in these cases is that look up websites such as Glassdoor and see what kind of questions are usually asked during interviews. See whether you know how to answer them or not. In case you don't, start looking for more questions and answers so that you are thoroughly skilled and prepared when you are being asked something.
7. Improve your communication skills:
Next, take a close look at your communication skills. See whether you are ready to handle an interview or not. There are times when we feel nervous and jittery and don't get the job only because our communication skills are not on point.
One of the biggest benefits of having great speaking skills is that you will easily be able to get the job and create a good impression of yourself. People who know how to speak always benefit as a result of this. So make sure to practice at home before attending an interview.
8. Give them a proper cover letter:
To those of you who do not know, a cover letter could make or break the situation. If you are going to give them one, make sure it is so good that people who read it will be impressed and will want to know more about you.
Having a good cover letter is one of the best ways of landing a job, provided you have other qualifications in mind. A good cover letter must be written properly, without any mistakes. The structure of the sentence should be good as well. Do keep that in mind.
9. Show yourself as a pleasant personality:
Now the next thing you must remember to do is show yourself as a pleasant and calm personality. You want the person to know that you are sociable and likable, that you are not pessimistic, cynical or someone who is disabused with any faith in humanity and try to tone it down when you are attending an interview.
Being personable is about getting the emotional side of the interviewer to like you as well and to let them know you are a good human being. Employees will not always hire the good candidates who they believe are qualified perfectly for the job but also those candidates who they think are the best.
10. Keep things short and simple as much as possible:
Now we come to the important part of the interview. When you are speaking, remember to keep things very simple and short. When you are being asked to speak about yourself, don't keep talking and talking.
Keep every answer within 30 seconds or people will just lose interest in you. Second, don't use any slang words when you attend an interview. Don't be sexist or racist with your comments. Be confident and show some humility. Don't underestimate someone's performance or blindly criticize other people.
11. Ask others for help when you are preparing for the interview:
Do not prepare for any job interview all by yourself. Here are some valuable resources that you must keep in mind when you are preparing for one. First and foremost, expect experts to help you out a little. You can get yourself a mentor or even an alumni from the university who is at the moment working on the career you have desired. Then speak to them to understand what happens inside. Next, ask them for some advice. Next, get hold of a friend who is also preparing. You may also tell others about your stories, examples and strengths. Ask them what your story is portraying and ask them for some feedback as well. All of this matters when you are attending an interview.
12. Be sincere and polite:
Next you must remember to be sincere and polite when you are attending an interview. Don't assume that the interviewer has already read your CV. Neither is there any need to treat them as if they havent.
After the interview finishes, you don't have to send them a thank you mail. By being polite we mean that you have to thank the interviewer for meeting with you. Show them that you appreciate the time and the effort that is spend on speaking with you. If you are sending thank you notes, make sure it is proofread and well addressed.
13. Don't be afraid to ask questions:
When you are attending an interview, don't forget to be inquisitive. You should ask questions. So that the person who is taking your interview will have a good opinion and understanding of you. When you begin to ask questions, also make sure they are realistic ones and make sense.
Don't just ask anything for the sake of it. Ask questions that make sense and those that can help you understand the company or the doubts that you have. You can also look up other websites that give you advice about stuff like these.
14. Be a professional:
Finally, learn to be a professional. We really don't have to tell you this but if you want to be successful in an interview, you better learn to be a professional. All of this matters a lot when you are attending an interview. People want to see how capable and professional you are. It will take you a long way.
Few Points You Must Always Remember:
Finally, here are some points you must always keep in mind before attending a proper job interview.
1. Think before you speak:
When you are attending an interview, just think before you are speaking. Don't end up saying something you know, you will regret in the near future. Secondly, be confident and speak out.
Set your mind as to why you are the best and most qualified candidate for the job. If you feel that way always, you will pass the sentiment on to other interviewers. Also do not play with other chairs too much when you are being told to wait. Your behaviour is being well noted.
2. Take your preparat
ion seriously:
Also remember that the job interview you are preparing for is no joke. You have to take the preparation part seriously. It will help you stay alert, know what is on your mind even when you are in an uncomfortable position. A good interview will help you discover yourself as well as the employer.
3. Know how to behave:
When you have been introduced to your interviewers, shake hands with them firmly, make eye contact with each person and don't forget to say thank you. Smile and say that you are pleased to meet them. Your behavior should also show the very same. Also don't munch on any junk food when you are waiting for the interview to begin. You really don't want your hands to be all sticky when you are attending the interview. Neither food stuck in your teeth.
This brings the post to an end. If you have enjoyed reading this post and have found some benefit from it, do let us know your feedback in the comment box below. We would love to hear from you.
We know that preparing for a job interview is not all that easy. But if you want to set a good impression and land the job of your dreams, you have to make note of all these points and follow them as well. Only then will you be able to get the job. On that note, good luck and keep sending us your ideas and comments below.