Motivation is a subtle element that encourages individuals in getting their things done. For people, motivation can be in the form of a reward, appreciation, recognition, etc. Can you name one such factor that motivates you from within your own self? This particular thing continuously helps in striving for a better performance in both life and work.
Well, I am talking about passion. Passion is one of the driving factors for an individual. Passion towards one's occupation guarantees more productivity in his or her field. More productivity is directly related to the intensity of satisfaction and growth.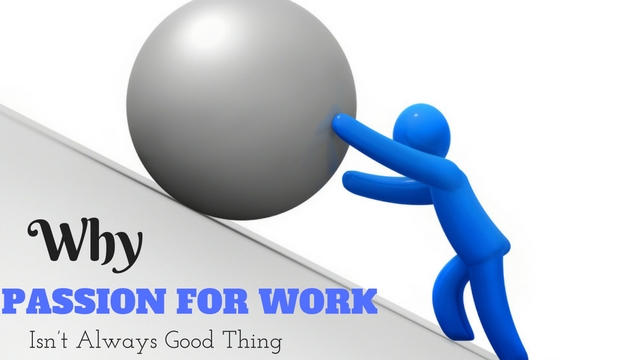 What Do you Mean by Passion for Occupation?
The term 'passion for occupation' basically refers to the motivational emotion that drives a person towards completion of goal or success. The aftermath of this success brings along flourished environment and higher satisfaction level.
According to a psychological survey, higher level of satisfaction is directly related to the well-being of an individual. However, the passion for occupation can take a turn for worse when it affects the personal life of the person. Passion can drive a person towards their occupation and strain their relationship with other people like family, friends, colleagues, etc.
This is when you realize that being too passionate about one's career can be really harmful. However, no one has ever taken a minute to think over this possibility until it is too late. Let us spend a minute of our valuable time in understanding the bitter and consequential reality behind 'follow your passion and do what you love to do.'
Reasons 'Follow Your Passion' Isn't Always The Best Advice:
Passion is a positive emotion as long as you do not overdo it. One can be passionate about any work yet balance is also an important aspect of life. Following points will clearly highlight the consequences of passion.
1. Passion can turn into an obsession:
Have you ever heard of the word passion addict? Well, if you have heard or not you are still going to turn into one (soon). When you are extremely passionate about something, you are more likely to do it all the time. On a similar note, when you are looking forward to your passion i.e. your work, then you are basically involved into it deep. You would not be able to keep your brain off work.
The following reward of your project will keep teasing your thoughts. Passion indirectly refers to an occupation that you enjoy. However, being too passionate about something can block you on noticing other aspect of your own life. In the race of contributing your valuable skills to the world, you start ignoring your personal as well as socio-professional life. Your work becomes your only identity and you turn into a hardcore workaholic. You may certainly disagree to the statement; however, sadly the truth is bitter.
Imagine yourself sitting with your (love) laptop in your study room while your family is celebrating your daughter's birthday. Would you be happy about such a scenario? Would your daughter enjoy that scenario? Of course, the answer is no. You need to balance your work with your family life. Therefore, you always need to keep in check of your passion. Too much can cause you more than you can think.
2. Passion is only one ingredient:
Have you ever had a look at your wife or mother in the kitchen, while she is cooking? Yes, we all have seen how they cook and how many ingredients go into a single dish. However, it is only the judge who decides whether the dish did turn out good or not. On a similar note, passion is simply one of the ingredients in the dish of career.
Passion can be the salt i.e. the most vital element of the dish; however, it can never replace the job of chili powder, turmeric, etc. Similarly, when you sit down at work, you expect your passion to work the magic on its own.
You simply ignore other elements of your career path. When you are following your passion, it is not your boss judging your work; instead it is your client who decides or gives you the approval. Thus, (excessive) passion blinds your ability to look into the other elements of your career path without you knowing it.
3. Excessive passion at work would not grab you deals:
This point is quite similar to the point #2. 'Client is the boss' or you can put it better as 'customer is always right'. Well, in the corporate world as well as other sectors, work always depends on the desire and approval of the client. What will happen if the Apple company keeps on creating iPhones, however, there is no demand at all (this is just an example).
The Apple Company would not be able to continue working on their passion i.e. creating itechnology. Moreover, they will have to surrender to the demand and the need. Similarly, passion can be turning your hobby into your occupation. But it might not always give you a good output.
A friend of mine had once stated in the class that human beings are not only social animal but also extremely selfish and self-centered. To be very honest, I do agree to that statement. That statement itself describes your client's attitude. They will always look out for things that they like, desire or need. For them, the only thing that matters is their work not your passion.
4. Passion is not a constant element:
The present attention span of the human being is lesser than the gold fish. It seems like a bitter truth? Believe me, the feeling is mutual. This highlights the level of dedication and the amount of distractions in our way. Let just skip to the example part to understand this better. 'You are my sole passion' or 'I love you'. We generally hear this lot from the high school sweethearts. Well, it would not shock you to know that very few of these high school sweethearts actually land into a serious relationship and marriage.
The success rate of their relationship should have been high; however, for some reason it is not. Why do you think it is so? Passion is an emotion that refers to the joy and happiness you get on dong an activity or being with someone. However, you cannot blame your attention span for stop being passionate about something. Passion changes with time, understanding, experience, achievement, etc.
Try to imagine what will happen when you follow your passion; however, in the middle of nowhere you realize that the thing you are aiming for is not something you are passionate about.
5. Passion driven decision have a 20-80 chance of success:
Your passion is to create artistic artifacts made of ceramic. Three years ago, ceramic artifacts were in extreme demand. That was the period you enjoyed doing your work. However, the fashion world always brings in something new. Now there is certainly no demand for those artifacts. This is the time when you need to choose between your passion and income.
Let us take another instance that you can relate to. Would you believe that there are uncountable amount of singers, dancers, musicians, writers, etc. in this globe.
However, very few rare people get lucky enough to make it big for them. Imagine yourself as one of those uncountable yet passionate writers. Would you leave your 9-5 work with balanced and constant paycheck to follow your dream. When you are blinded by passion, you might utter a yes. However, you need to be more practical.
You cannot make your living from a passion that barely fulfills your stomach let alone your family. Yes, following one's passion is a great thing; however, one should always be practical. Search for an occupation that gives you enough time to live your passion.
6. Passion and money are polar opposites:
Have you seen those danger signs and warning in the chemistry lab? Of course, once in a while we all have seen those signs. Some chemicals can literally explode when you mix them together. Well, money falls into the same category. When you combine money plus passion you are rarely going to get success.
Money and passion are two different elements altogether. When they are kept together, they can react in a way that your passion will be destroyed under the weight of the money. This can simply be explained by one scenario.
You are a passionate cook and can create disbelievingly delicious food. Your entire family and your friends encourage and advise you to take up it as your occupation. Who would not love to do something that they love on a regular basis. With that thought in your mind you jump on to investing into your own restaurant. However, after starting this new venture, you realize the load of fulfilling customer's need, deadline/time, and earning.
Investing in a new venture can be really simple task; nevertheless, running a restaurant is totally different. You not only need to have the staff but also the ability to work under pressure. If you fail to make your ends meet then you will be in utter lost.
7. Burn out and exhaustion:
Sometimes passion can make you do anything. Workaholics can understand this situation very well. Passion can make you sit in a chair near a table for more than 8 hours straight. Do you know how extremely unhealthy that is? Anything that deteriorates your health can be hazardous for your life. Moreover, it can also cause burnout and exhaustion. Burnout and exhaustion are a result of excessive passion that makes the person blind enough to ignore their physical needs.
Many people agree that passion has given people a single-mindedness that helped them in focusing on their master creation. However, they all overlooked the fact that there is a very thin line between passion and excessive passion.
Instead of following the age old advice of do what you love, reverse it as love what you do. When you put your effort into certain work, you are bound to like it once you receive a reward. Work should always be the major priority in your life rather than your passion.
One can always make way for the passion once you have settled down well. Work is first and later comes the passion. If at all you choose passion at your work, then you need to master the art of balancing. Balance is the key aspect of our life. Recruiting managers generally do ask you about what your passion is and how do you plan on achieving success.
Passion and Job Satisfaction:
Studies have found that job satisfaction can be attained without passion involved at first. Do you want to know how it is so?
Satisfactory work can be attained by searching for the following factors in your work:
1. Independence:
Independence is the feeling of control over your productivity. Satisfactory work is nothing but having a sense of independence over the projects that you undertake. If the end result is in your favor then you are bound to love it at one point.
2. Contribution:
Contribution is the main reason why a person gets involved in any project. Along with the contribution comes the expectation of credit. When the end product or result portrays your skills then you automatically start taking interest within the work.
3. Available options:
Options are another one of the reasons why we also opt for something that we love. Life is beautiful when you have variety of options available. We have various skills that we want to utilize. If your job allows you to utilize your skills then it is the ideal one.
4. Result:
Contribution is a great deal in itself. However, the important thing is whether your contribution is universally accepted or not. If you are given a report of your work and you are able to evaluate yourself then only can you develop yourself. As a result you attain job satisfaction.
Your hobby can be your passion but not your occupation. Similarly, passion is good at work as long as work is first and excessive passion is far off.