Your dressing style creates a lasting impression on the minds of the employers. We are often defined based on our dressing style. Many people are defined as stereotypical or boring because they do not know the best style that goes with their looks. Men as well as women make this mistake of being too loyal to a particular style or shade. Here are some smart office wear ideas to avoid being boring at work: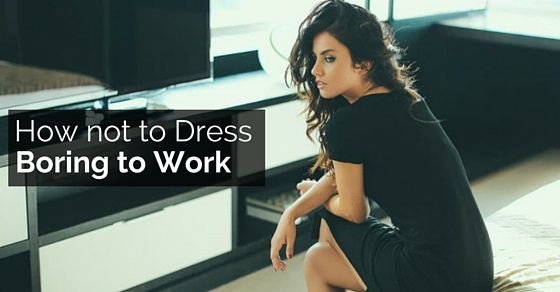 Men's Office Wear Ideas:
Men are often very casual about their looks. They do not enjoy spending much time to perfect their looks. That is the reason why we often come across poorly dressed men at higher positions.
Here we have listed some tips for men that will prevent them from looking boring to their colleagues and co workers.
Pick Varied Shades:
Men have the habit of sticking to their favorite shades rather than trying out the varied options. You will often come across men who stick to blues and greens or some other standard shade. This is because they do not know how good they may look in other colors and shades.
Men who have dark hair and a fair complexion are men with high contrast. These men should strive to maintain high contrast while selecting their outfits too. While selecting each outfit for the wardrobe, you need to keep this point in mind.
You may select a dark suit and a light colored shirt. You may go for dark blue or black suits. The shirt you choose could be white or of a light shade that contrasts the colour of the suit.
Men who are dark skinned and dark haired or bald and white skinned are men who fall in the low contrast category. These men should prefer outfits of lower contrast or of the same shade. Such men can opt for brown suits and cream or off-white shirts. Another option would be a grey suit and a light grey or white shirt.
Men have multiple options to choose from on a casual day when they are allowed to wear jeans and tees. They can choose lemon yellow, light pink or light blue shirts as these go best with the casual mood.
Don't Hesitate To Experiment with Styles:
Men are often slaves to their favorite style and pattern. They do not update their style to go with what is in vogue. You need to have an experimental approach. You should be willing to try out different styles before you pick one that goes with your persona.
Be Choosy About Footwear:
Men need to select footwear that is stylish as well as comfortable. The shoe defines your class and hence you need to strictly avoid cheap and substandard footwear. There are several leather shoes that are just perfect for office and professional environments but look weird if it is a casual day at work. There are a wide range of semi casual and casual shoes for men. It is best to have a spare pair of shoes for casual days at work
Try Alternate Casual Hairstyles:
Hairstyle can redefine your look. If you choose a short and well trimmed hairstyle, you will look perfectly professional and carry the serious look. There are many different casual short hairstyles. For beginners, it is a great idea to change your parting side. It actually makes you look very unique and different.
Another thing you can try is use a hair gel to style your hair. This will help you try new hairstyles. Go with what is trending and you will surely be appreciated.
Suits Should Spell Class:
You are often termed as boring or as lacking class because you select professional outfits that do not spell class. A professional man should be extremely choosy while picking his suit. It is best to avoid suits with funny patterns on them. Plain suits are ideal. Go for subtle or simple textures so that they give you the smart look. Avoid feminine shades like magenta, pink and red for the suit you wear.
Women's Office Wear Ideas:
Women have the greatest challenge of appearing stylish and yet being subtle in their professional attire. If you also take into consideration their ardent desire to look appealing and beautiful, the challenge gets a bit tougher. So here are some simple and reliable tips for women to look stylish and 'not boring' for the professional environment.
Alternate Between Traditional and Modern Professional Dressing:
In India, women have the choice to select between traditional and western professional outfits. The traditional outfits include Salwar Suits and Sarees. The modern outfits to be worn to work may include skirts or trousers.
Since you have option, it is a great idea to alternate between traditional and western styles of dressing rather than sticking to any one of these. If you regularly wear one style of outfit, people will instantly classify you as boring and monotonous. If you switch between the styles, you will be regarded as stylish and vibrant.
Vary Your Hair Style Regularly:
Women usually have long hair and they have an option to try different hairstyles with their long locks. Occasionally they may try braids. These are ideal when you do not want to experiment much. Braids keep your hair in one place so that you can focus your complete attention to work.
You may also leave your hair open. This is a great option for straight haired women. You may also leave your hair open if your hair is wavy. In case of curly hair, it is always wise to tie your hair in a ponytail.
Trying different hairstyles makes you look stylish and dynamic. Adhering to one style is what makes most women appear boring.
Try Varied Heels for Different Outfits:
Your footwear may be the last thing you think of while dressing up but it surely has a great impact on the way you look. If you are tall, you may want to choose flats or short heels. There are many different options in these too. Some footwear have their front side covered while some other have them open like in case of chappals. Women may also opt for sandals. The sandals may either have a strap at the end or may be completely closed at the rear end.
Short women have multiple options when it comes to footwear. There are many high heel variants from which they can pick their style of footwear. Wedges go best when they are wearing traditional formal outfit. On the contrary, stilettos are an ideal pick for formal skirts to office. Platform heels go well with trousers on women.
Have Complementing Makeup and Accessories:
The finishing touch for a woman is done with the help of proper makeup and accessories. This finishing touch needs to be done with care. Here we have listed down some make up tips for professional women:
Make sure you do a light makeup so that your features are highlighted.
Go for natural shades for your lipstick.
You may also go for a lip gloss if you are not keen on a lipstick.
It is best to avoid thick coats of eye liner.
Pick natural shades for your eye and avoid colours like purple or pink.
Do not colour your hair with funky shades like green or blue. It will make you look highly unprofessional.
The choice of accessories also needs to be done with care. Women have numerous options when it comes to earrings, necklaces, bangles, bracelets and anklets. Picking what suits best can sometimes be an ordeal. Here are some tips that may prove useful:
If you have an oval face shape, then all earrings will look equally good on you. However, your best pick would be a set of oval earrings.
If you have a round face, you need to pick earrings that extend your face length. For this purpose, your best choice would be dangle or teardrop earrings.
A square face would require an earring that softens the facial features like cheekbones. You can achieve this by opting for round earrings.
If you have a long and narrow face, you need to select an earring that softens your features and minimizes your face length. The best earring to fulfill this purpose would be a pearl earring.
Conclusion:
These are simple and relevant tips to not look boring in your professional outfit. Office does have certain dress codes but that does not mean that your office attire needs to be boring and appalling. Good sense of choice and proper variations can make you look stylish even in a professional look.
Men and women have to face great challenges and create lasting impressions in their office lives. A good dressing sense is often the key to achieve these goals. It is thus vital that you understand how not to dress boring to office.