A career is one of the most important aspects in one's life. That is the reason why people around the world give so much importance to a career at each of the different stages. The first stage in the career surely is gaining the right qualification.
Even when you have successfully attained the right qualification, there is a long way to go. You need to clear through the different tests and interview sessions before you can make it through the final round and bag the job you desire.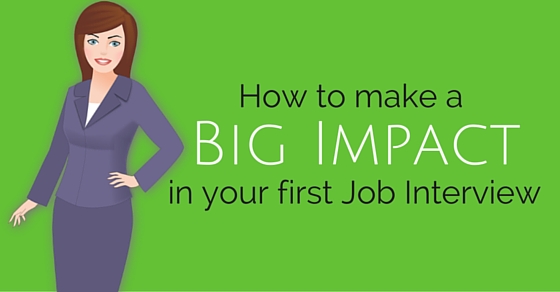 The first job interview can be of particular significance. If you successfully clear through the first round of the job interview, you are sure to gain more confidence in your abilities. This confidence helps you perform better in your field and achieve great success. Here are some simple tips and suggestions to help you clear through the first job interview making a lasting impression on the interviewers.
Tips to Make a Big Impact and Stand Out in an Interview:
1. The Right Appearance Has Its Impact:
Most candidates are so busy preparing for the important first job interview that they easily neglect aspects like appearance that they regard as trivial or unimportant. This is very foolish as aspirants do not understand how big an impact the appearance can have on the minds of the interviewer. There are times when the interviewer gets carried away completely by appearance and hires a less deserving candidate. To be on the safer side, you need to pay heed to your appearance.
You need to pick a suitable formal attire for your first job interview. Men may opt for light colored formal shirts and formal pants. The shirts may be plain or striped. Plain is usually more acceptable in most job interviews. Women may opt for formal skirt or trousers with a matching formal top to go with the attire. You may select your accessories so that they maintain the formal feel.
2. Pay Attention to your Body Language:
After your appearance, the next thing that you need to pay attention to is your body language. This is because appearance and body language are two things that the interviewer will notice even before you open your mouth to answer questions during the interview. This means if you fail and create a negative impact with your looks or body language, you may be rejected even before the interview starts.
Make sure you maintain an erect posture during the interview process. You need to be careful not to appear too mechanical or robotlike. You may start your introduction with a crisp handshake. This is bound to create a positive impact. It shows that you are confident. You need to avoid body language like digging your nose, itching your head or yawning while the interview is on. These are body languages that have an instant and negative impact.
3. Confidence is the Key:
Confidence is surely the key to creating a positive impression on the minds of the interviewers. If you lack confidence, you may not be selected inspite of answering all the questions rightly. You need to possess knowledge and complete confidence in what you know. Body language, tone and the way you answer questions reveal your confidence level to the interviewers.
Some candidates lack confidence even when they are thoroughly prepared. This is because they possess stage fear or fear of face to face interview. Candidates who face such problems may rehearse and stage a mock interview to get rid of such fears. Continuous practice in front of the mirror may also help effectively.
Confidence is also revealed through the way you speak or the tone you maintain. People who stammer or fumble are assumed to lack confidence. Make sure you maintain an even tone that reflects high level of confidence.
4. Better Preparation Yields Better Results:
The level of preparation surely decides how you perform during the interview process. Individuals who spend time to prepare well, answer questions and clear through different rounds. You also need to be aware of the different rounds that will exist in the interview process. Prepare for knowledge and subject based questions. These could be technical or scientific questions in case of technical or IT jobs. If you are appearing for jobs like designing or writing, your knowledge of language and your creativity are what count.
You must also be mentally prepared to appear for tests that evaluate your knowledge level. If you are a fresher applying for the job of a developer, you should also be prepared to appear for some IQ tests. For these, it is better to train your mind in advance. You cannot usually clear IQ tests unless your mind is really trained for it.
5. Discipline is Vital:
When you head for an interview, you must keep in mind that the recruiters and interviewers are looking for their future employees. They would want their employees to possess qualities like discipline. Even a genius candidate does not make a good employee if he lacks discipline. Hence, during the interview, your interviewers are also trying to find out how disciplined you are.
Make sure you reach the venue on time. If there are any kind of delays, you need to inform your interviewers about the same. This creates an impression in the minds of the interviewers that you are time conscious and disciplined. During interactions with the recruiters or even after the interview process, make it a point to stay well mannered and well behaved.
Your interview may last only an hour but the impression created may really last a lifetime. This impression may decide your future in your job or career. Being well behaved and disciplined surely add points to your job profile.
6. Hygiene Matters:
An unhygienic person is equally unwelcome in social and professional circles. This means that hygiene is really of high priority in all walks of life. You need to make sure you are extremely hygienic and create that impression on the interviewers too.
If you are heading to the interview venue after a real long journey, freshen up before you enter the interview hall. Carry a face wash and other accessories in your bag that help you stay fresh all the time.
Carry a hand sanitiser with you. It helps to kill germs and keep your hands fresh. You may carry a pack of soft tissues to clean your face. Smelly socks or stinking armpits can have a very bad impression. To stay clear of these, you may carry a deodorant along with you when you travel.
7. Stay Prepared for Personality or Behavioural Questions:
If you go completely prepared for subject related questions and you are asked something related to behaviour out of the blue, you are sure to be shocked. Behavioural questions are often asked and it is a great idea to go prepared for some of the most common ones. Here we have listed a few of them:
Are you a good leader?
Are you a good team player?
Are you a good negotiator?
Do you possess good planning skills?
What is your favourite sport?
Where do you expect to be after 5 years?
Are you ambitious?
8. Have a Perfect Resume:
While all these are things you need to take care of if you make it to the interview, resume is much more important. This is because you are shortlisted from among thousands of candidates based on your resume. You need to be extra careful while crafting your resume for your first job interview.
Make sure you have all the qualifications mentioned in your resume. It is good to add your latest or most recent photograph to your resume. Even as a fresher, there is experience that you may add to your resume. These may include events you have organised or projects you have taken up during your college days. These surely add weight to your resume.
Arrange all the facts on your resume in the reverse chronological order. If that doesn't work effectively, you may also try arranging the facts in the order of the priority. One thing you must make sure is that all important details are mentioned in the first page of your resume including your contact details. If you are applying for a creative job like that of a graphic designer or an animator, you may try and reflect your creative skills on the resume.
9. Don't Lose Heart if You Don't Fair Well in the First Job Interview:
The first job interview is just the beginning of your career path. Very few candidates actually fare well in their first job interview. If you are too nervous or lose out some good opportunity, do not lose heart. Things like that happen and you must remember that there are thousands of candidates who are applying for the same post. So never get disheartened or lose hope. Keep trying and try to improve with each attempt. Take each lost opportunity as a golden step to bigger success.