Writing resume after just graduating from college is an overwhelming and difficult task. Perhaps you don't have any kind of experience or maybe it is the case that you are not aware how to put the experiences together.
Experts have established that most students underestimate and fail to include how much experience they hold and often miss to include many vital aspects in their resume. It is best to add everything in your post-college resume applicable to your experience, regardless of how tiny or vast that experience seems. Following are strategies to take into consideration while creating a resume for fresher.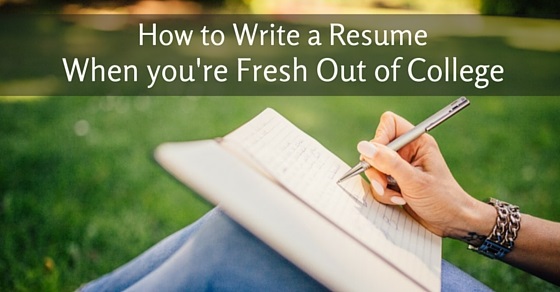 24 Tips For Writing a Resume For Fresher:
The following mentioned are few tips to prepare college student resume and how to write objective in resume for fresh graduates.
1. Do have a heading:
You must always put a heading which will be at the top of your resume which comprises of your name, email address, postal address and phone number. In case you own a professional website, add its web address; however you need to ensure it is work relevant or atleast the content is safe to be viewed by your prospective employer.
2. List your career objective:
You need to do this if only you have ensured what you wish to do. It is applicable if you apply for a particular job in which case you can tailor the objectives according to it. If you are uncertain about your career objectives then avoid this section. If you put an objective that is vague and unclear lacking any targets, then you are creating an obstacle for yourself.
3. List all your education details:
You need to mention your school and the year you got your degree. You should include any kind of honor that you received. Also make sure you add your grade points average in case it is high.
4. List applicable coursework:
If you have taken courses adapted specifically to your career which were not necessarily provided with your major's curriculum, then add those in your resume. Your prospective employer will be interested to know your experiences. This can be listed under your resume's education section.
5. Reassess your job experiences:
You might have considered a job to have been low level, ordinary or irrelevant, however that is not the case. Contemplate if you have managed anyone, have interacted with customers or clients or if you were having a small business and were responsible for the same.
6. Add such experiences:
You need to have a broader perspective. The valuable skills you have utilized and incorporated in doing the tasks in such jobs are considered vital for your resume as employers find such candidates highly employable.
7. Find out how your extracurricular can be relevant to your career:
If you have been active in sports or clubs or in other such activities then it can evidently demonstrate your dedication and accountability. You cannot just avoid activities that were not part of some internship program or traditional job.
Make sure you mention your present job as a full time student and under it with bullet points add details or activities that may be of importance to your potential employer.
8. Find out if your coursework qualifies as job experience:
Many college students carry out coursework which are challenging enough to be compared to a full time job. The experiences that relate to your career objectives can be incorporated in your resume. It can be translated into a real world experience and can be just as significant to a potential employer as any other work experience. Here also, you need to mention under full time student with bullet points, any coursework accomplished that are related to your goals.
9. Focus on verbiage and tense:
Use active verbs and language when writing a resume . For instance, other than using worked on, you can utilize the word 'collaborates'. You should maintain past tense in the resume if you are currently not working in any project. If you are working presently on a project, utilize present tense however try to avoid verbs ending with 'ing' as such verbs tend to be passive.
10. Utilise comprehensive descriptions and quantify numbers:
You need to think how your job description may have been distinct from that of your colleagues. Did you handle customer services as you can deal with grievances well? Did you train entry level employees as you work skillfully with others?
11. Add these descriptions:
This can help you translate a job you consider as place holder into an appealing resume worthy experience. These are vital features that can transform your previous job experience from ordinary to something notable, you only need to elaborate on the description.
12. Involve in a brain dump exercise:
You can either write down or talk to someone about all schooling, work and experiences, including all the advantages and disadvantages of every experience that you had and everything that you found memorable.
The aim of this exercise is to write or talk about all the things that can possibly be added in your resume for students, even the experiences you may have not noticed before. It also helps you filter things as valuable and leave off things that are of no significance.
13. Consider the different resume formats for students:
You cannot find a right format but there is surely a standard format of resume for college students. The standard student resume format includes objective, skills, education and experience. However one has to conclude which resume suits best with their content. With addition of experiences and with the change and development of your needs, goals and opportunities, your resume will be considerably modified.
14. Focus on what is in it for them:
No doubt the resume is about you, however you need to adapt it according to what you can and you will perform for the organization. Understand the job description and sell your dreams in it. Just specifying work experience and education will not be enough. You need to make everything relevant to the company's goals and missions.
15. Keywording:
When you are applying to large organizations, your resume is expected to be submitted online. It will then be scanned by algorithms and will be sorted according to keywords in your resume. Optimize your resume with specifics. It is better to add more functions and optimize your resume around keywords and job titles.
16. Proofread accurately:
It is essential that you polish your writing skills before creating your resume. Ensure you have spelled critical words accurately, it should have high legibility. You need to optimize for the algorithms however keep in mind that you need to write for human beings.
17. Clear formatting:
Formatting is about making your resume easy to scan and easy to extract particular detail from. Noticeably mark the subtitles and sub sections with numbering or bullet points. Presenting the reader of your resume with chunks of texts is not appropriate and instead you should write with a sense of promoting yourself in advertorial format.
18. Generate an email copy:
You need to keep a copy ready for emails specifically. It is inappropriate to attach the resume with an email which winds up in the spam folder. You need to prepare email version of your resume which is well formatted that can be forwarded along effortlessly.
19. Mention your skills and interests:
You need to consider hard skills for this section, knowledge of software like Photoshop, SEO etc. Not the soft skills such as communication and management. Consider adding your interests too. However make sure it is relevant. For instance, it makes sense if you mention photography to apply for a social media job and not waterskiing.
20. Add any additional known languages:
You must definitely add the foreign languages you know in which you are confident and skilled to be able to conduct business. You can create a different section or add it in the skills section. This will set you apart from the other candidates who have similar experience and are out of college like you.
21. Add any presentations or publications:
If by any chance you had the opportunity to prepare conference presentations or have been published, it has to be included on your resume. It is very much applicable to graduate student resume and proves highly beneficial.
22. Write a cover letter:
Cover letters are not necessary, however in the employment market you need to grab hold of any opportunity that you can, to become desirable. Writing a cover letter demonstrates your personality and your skills to write in a professional way. It also shows that you are willing to be complete and pay attention to details in your work. Read and understand the job description of a company carefully and adapt your cover letter accordingly.
23. Add professional references:
Some employers ask references during the application process; however some may ask you to submit these contacts along with your resume. Mostly they will request for three professional references to which they can contact to attest to your skills and experiences. Include any professors, supervisors, coworker or other such reliable resources in your resume who will grant a positive depiction of your work principles.
24. Keep updating your resume:
As your experience changes in your career, edit the resume as regularly as possible so that an updated version of yourself is presented every time you submit resume to your potential employers.
The ultimate goal is to present your prospective employer with an illustration of you as an employee and hence only job related information is essential and necessary to be mentioned, not any of your personal experience or details. Thus utilize the above mentioned tips and methods to create the alluring resume presenting you as desirable employee as possible.
Save
Save