There are a number of different kinds of companies, for example financial companies, business companies as well as non-profit organizations but if you are an investor or a person seeking employment it is important to know whether the company is a legitimate and registered one. There are numerous companies that are launched on a daily basis and there are an equal number of companies that practically disappear overnight, taking with them the investors money as well as the money that was due to the employees. Here are some definite signs to know whether its a legitimate company or not.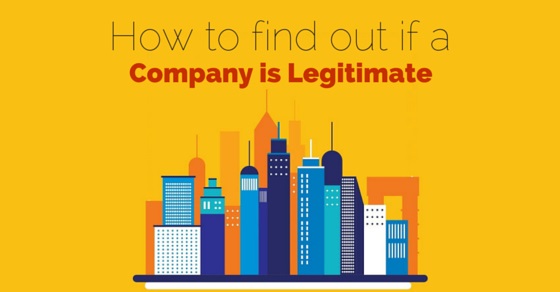 Ways To Check if a Company Is Genuine:
1. Do a Google Search:
When in doubt about anything, the first thing that almost everyone does is simply browse google.com. Going through the customer review as well as feedback pages can give you a great deal of information about whether the company is a trustworthy one or not. It is very easy to write an impressive and high sounding business description for a company, yet the feedback that comes through the customers; employees as well as ex- employees are always brutally honest. On viewing the feedback if you find that almost all the reviews are negative then you know that the company is not a legitimate and reliable one. When reading up about the company, do not jump to the conclusion that the company is not legitimate if it does not have a powerful presence in the online world. There are some good company's out there that do not like to incur the additional expense of managing a website or web page on a daily basis; they simply update information as and when required.
2. Check the Company website:
In this modern day and age it is extremely easy to acquire a domain name, webpage and email address. One of the easiest ways to know whether a company is a legitimate one or not, is by verifying the contact details that have been provided on the company webpage. It is mandatory to check offline contact information like the telephone numbers provided as well as the address that has been given. If there is no way to contact the company offline then it is quite likely that it is a red flag. In addition in attaining the telephone number and address of the company you can also verify about whether all that you have heard about the company matches with all the information that has been given on the webpage. To gain registration details of any company's website simply use who.is. All information pertaining to websites registration and expiration date will appear there.
3. Company's legal webpage:
There is no legitimate company out there that does not have its own legal webpage. If after browsing through the web you are able to find the company's legal webpage then it is mandatory to view all the Terms and Conditions carefully to find out if there are any loop holes or any clauses that look suspicious. Very often people do not like to read so many terms and conditions and end up in a fix later on. To avoid any legal complications later on it is better to be familiar with all the clauses. If you are able to locate more than one webpage, then that's even better, these legal web pages come under the titles of – Disclaimer, About us, Contact Us or Privacy Policy.
4. Check for Secure Modes of Payment:
This is one of the most important factors in determining whether a company is a red flag or not. As an investor or a person seeking employment it is vital to check whether there are any secure modes of payment available. Here are some names that you should keep an eye out for – Pay Pal, Authorize.Net, Google Checkout, Stripe, We Pay and 2 Checkout. It is possible that company's do accept some money through insecure modes of payment like cash or paper check however if it is truly a legitimate company then there will be a secure mode of payment. Before you do invest your hard earned money you should ensure that there is a way to procure your money again without much hassle.
5. Check the Better Business Bureau (BBB):
As a company that was founded in the year 1912, the Better Business Bureau is a reputed nonprofit organization that began with the motive of increasing trust based marketing. If you are seeking information about a particular company all that you are required to do is input the name of the company and read all the relevant information that is provided. This is primarily a rating site, but in addition to rating, individuals can voice opinions and give information if they are aware of any scams or illegal activity which the company is involved in. However it is important to note that if a company is not listed in the Better Business Bureau then that does not mean that the company or the business is a red flag.
6. Inquiring with the Local Chamber of Commerce:
There are numerous companies' out there that provide fake phone numbers and addresses. Just because there is a telephone number and address given on the company's webpage do not assume that it is legitimate. To verify the information all that you have to do is contact the local chamber of commerce that is associated with the company to ensure that the company really does exist. In addition to this you can also get information about the company from Authority Websites which are run by the governments. These authority websites provide invaluable information about registered companies. If one is unaware of the authority website for his or her country then he or she can simply search on Google as all information can be easily found there.
For India the Website is- Ministry of Corporate Affairs
For Australia- ABN Lookup
For UK-Company House
For US / Canada – Better Business Bureau
7. Visiting the address:
One of most reliable ways of knowing whether a company is legitimate or not, is simply by visiting the address that has been given on the website. If you cannot find the company after a great deal of searching then naturally the company is not a legitimate one, However if you do find it then you should walk in and have a look around. Visiting the place gives one the unique opportunity of interacting with the management as well as the employees of the company, without physically visiting the address it is very difficult to gauge what the company is like or how the work atmosphere is. Most companies have all credentials as well as awards up on display for everyone to view. In addition to this companies often distribute hand outs and even brochures for potential clients and persons seeking employment to go through.
8. Going Through Company's Credit Report:
A company Credit Report (CCR) is the meticulous record of a company's credit history. Going through any company's credit report will give invaluable information about the company's financial performance, contact details, Credit Score, Management structure, Years of Operation and also the legal judgments that have been brought up against the company in the past. However there is a big difference between a Company Credit Report as well as a Company's Credit Ratings, where a Credit report comes from information that has been given directly from the banks and Credit ratings come from the agencies involved in credit rating after careful examination of the company documents and files. Since this information comes directly from the banks therefore you can rest assured that this information is genuine and reliable.
9. Ask Around:
The easiest thing one can do when inquiring whether a company is legitimate or not is take time out to ask family members or friends about whether or not they have heard of this company. If they have then they can furnish you with information or details which they might be having. These are the people that care about you and therefore their words will be fraught with honesty and they will provide a genuine account of their experiences. Based on their words you can decide whether or not the company is a legitimate one. The number of scams are unfortunately increasing day by day therefore it is of paramount importance to make sure that you investor seek employment in the right place.
These are some of the easy ways to find out whether a company is legitimate or not. There are innumerable innocent and trusting people that have been taken for a ride as well as been cheated of their money. If you take out the time to ensure that the company is registered and legitimate then this could save you a great deal of trouble in the future.
Save