Are you a model who has not yet decided what kind of model you wish to be?
Are you still confused with the multiple options placed in front of you?
If you are not sure, the best approach would be to try out the various modelling options. It will help you choose the best option.
The Season 8 of the Face off model show is soon to arrive and you need to be part of this show to get a feel of this unique kind of modelling.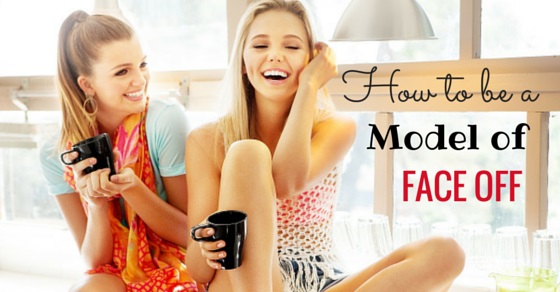 1. A Brief Introduction to Face-off:
Face Off is an American reality game show and here the different make-up artists compete with each other.
They create bizarre science fiction and horror movie characters. The show has been on television for the past 7 seasons.
The host for the show is actress McKenzie Westmore. Creature Designer Neville Page is the Judge for the game shows from the Season 3 of Face Off.
While show is actually a contest to judge the skills of different make-up artists, the show requires models on whom the make-up is done and you may opt to be a model for the reality show.
2. A Different Class of Models:
Yes, you need to be an entirely different class of model to start modelling for shows like Face Off.
The experienced modelling for this brand is way different from modelling for the regular shows or brands. There are many qualities you need to possess if you have to model for Face Off and the first quality is of course patience.
If you want to model for Face Off show, you need to be very patient. It could be hours of continuous and hectic work. You may have to stay silent for hours together while the make-up artists practice their skills.
They cannot afford models who are impatient or moody because the contest requires the artists to put in a lot of effort. If they have models who throw tantrums, they won't be able to focus on their work.
3. Maintain Skin Health:
If you have skin that is truly sensitive and unhealthy, Face Off modelling is not really your cup of tea. To be a model for this reality show, you need to have smooth and healthy skin. Maintaining your skin spotless can really be tough.
You also need to have an even skin tone. This means that you should make sure your skin does not tan easily.
You should be prepared for heavy make-up because it is what the show demands. If you are allergic to cosmetic products, you should not dream of modelling for Face Off.
4. Practice Plays a Key Role:
If you wish to be a model, practice is vital but for a Face Off model, practice is truly the main ingredient.
You have to model on screen with oodles of make up and this means you have to be prepared for the same.
It is not easy to reveal your true expressions in front of the camera with loads of make up on and so you need to practice to bring out the best in you.
You must try out different expressions in front of the mirror with make up on so that you understand how to do it perfectly. You may also hire a make up artist to help you out during your practice sessions.
5. Make Sure You Have a Persona and an Experimental Approach:
A sane and modest being with a unique persona can opt for modelling in Face Off. You need to have an open mind to the work you take up.
You may have several challenges while working for the show and you need to have the courage to take up these challenges.
You need to be flexible and willing to adjust to the needs of the makeup artist. This can be challenging sometimes as the make up artists have weird demands and you need to cater to these requirements.
6. Relevant Experience Counts:
You can learn to deal with make up artists and develop the skill to model even under extreme stress and loads of make up only when you have sufficient experience in the field.
You must not let go off any single opportunity you get to practice your skills. Check out events in the vicinity that are of the same nature.
You may even opt to participate in theatrical events as they require similar kind of work experience. You may also check out different fashion websites for, more such opportunities to exhibit your skills.
You may also join operas or modeling exhibitions to get a hang of the kind of modeling required in quirky shows like Face Off.
7. Practice Stunts and Still Modelling:
The innovative television show often has absurd requirements and hence you should be prepared for the same.
You should be able to do unique stunts and entertaining feats as these may be required in some of its show episodes.
You should also be willing to do still modelling as this can be required in the show. Still modelling and mannequin modelling have to be practiced if you have to perfect these arts.
8. Take the Feedback by Make up Artists Positively:
While working for Face Off or similar shows, the make up artists are sure to make suggestions and give feedback regarding your work.
Take this feedback in positive light and try to improve your skills. It will help you improve yourself and work better in your future projects. An open mind is necessary if you wish to progress in your field.
9. During Auditions, Reveal Your Interest for Horror and Thriller:
During interviews for modelling agencies, you need to show your inclination for horror and thriller modelling.
When you audition for the Face Off Season, make sure you reveal your taste for bizarre and eerie modelling styles. Do not try to conceal your love for something unique and out of the box.
Some Preparatory Steps to Model for Face Off:
While the modelling for this show can be quite different, there are some common preparatory steps that you need to take if you have to qualify to the level of Face Off model.
Here we have listed these steps out for your knowledge and information.
1. Stay Fit:
You need to be in shape and healthy to model for Face Off. You must make sure that you do not gain extra fat as this will disqualify you from the list of models for the show.
Take the right measures to stay fit. You may appoint a trainer to help you out with your fitness regime.
2. Be Athletic:
Since the show also expects you to do some stunts to entertain the audiences, you must make sure you have an athletic built.
Regular exercise can help you develop an athletic built. You may even check out blogs and videos that help you maintain your fitness.
3. Eat Healthy:
You should incorporate healthy food in your diet. You can include lots of salads and juices. You may also include dry fruits and nuts. You strictly need to avoid junk food and oily foodstuffs.
Try to replace these with healthy alternatives. You also need to alter your eating habits in a manner that ensures proper metabolism. If you are unable to alter your diet all by yourself, you may seek the assistance of a dietician.
A dietician can suggest the ideal diet that helps you get the essential nutrients while not gaining the extra calories.
4. Be Innovative:
Innovative thinking cannot be developed in a day. You need to work on the way you think to inculcate a creative thought process.
You can start by watching shows, reading about the making of science fictions and thrillers.
You may also try and experiment with make up while at home. You can create weird and bizarre profiles that are innovative and unique.
5. Make a Good Resume:
A resume is what gets you the job and this rule does not vary greatly in modelling professions. You need to have a very different resume that stands out in a bunch of resume.
Design the resume using your creative skills. Make sure you attach your pictures in heavy make up revealing your ability to express even with the make up on.
You need to include your career goal in the resume and clearly reveal your love for eerie shows like Face Off.
6. Stay In Touch With Make up Artists:
Makeup artists play a great role in your modelling career. If you have a makeup artist to assist you throughout your career, it can help you develop into a much better model.
You must explore the different options available to you and pick an artist who is experienced and has exposure to bizarre makeup styles.
The next season of Face Off is in April 2015 and you may not be able to make it but keep trying. You may turn out to be the Face Off model for the next season.