Many of us would have heard that "first impression is the best impression". When the candidate gets prepared themselves for the interview, they should make sure they get groomed well. This nails a positive impression on the candidate.
Appearance should not be the centre of attraction, make it as simple as possible and to be professional when attending an interview. Attire and positive attitude will support the enthusiasm of a person to work with the organization. Present yourself with confidence along with your skills and appearance. Here are a few hair and makeup tips for a job interview.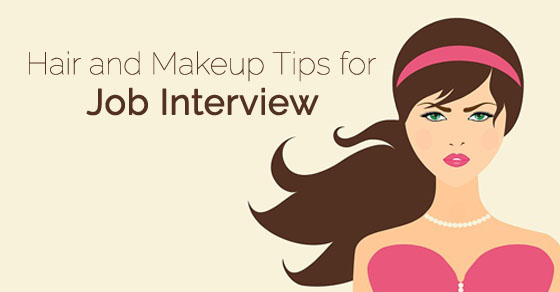 Hairstyles for Interviews:
Here is a suggestion, do not be overwhelmed or do not be too pale when getting ready for an interview, try to get ready in a short time, represent yourself with a professional appearance. Here are a few ideas
Best Hair Tips for Men:
Men can get ready easily with a few important tips, try to be sincere along with your formal dress, maintain a good hairstyle. Do not overdo but make simple, this is important because if you neglect the hairstyle they might guess you as a lazy person. Here are a few things to remember while going for an interview. The following mentioned are few tips on hairstyles for men to follow.
1. Too lengthy hair disturbs:
Do not make your hair too long, so that it disturbs your attention while being in the interview, it reflects your discipline and attitude towards the job, they calculate a candidates interest by his presentation
Trim it too short, generally, it's easy for men to do get ready with hair, they do need to spend much time, just make sure your hair cut is done before a day advance of your interview
2. Hairstyle must Impress the employer:
Do not show up your trendy hairstyle in the interview, it may lead to rejecting you in the next round, you gain respect by your look to be well polished. Try to set your hair with hair gel, so that it looks down. Make sure it doesn't fall on your face or neck
Trim your beard and moustache. Personal hygiene should be maintained everywhere especially at the workplace. Do not rush into an interview with untidy hair, with a heavy beard that may influence poor impression to your employer on you.
Best Hair Tips for Women:
As mentioned earlier men take a few things to dress them up for the interview and women need a different level of dressing up procedure. And they are stated below.
Hair Style Do's for Interviews:
Be outstanding among all the candidates with below tips, do not miss every single quality that you can display. The following mentioned are few tips on hairstyles for women to follow.
1. Clean your hair:
Have a head bath on the day of your interview make sure you wake up early and have enough time to get ready with your hair, do not go with oily hair, it makes your face dull and greasy.
Here is an idea to dry your hair faster, use a dryer before you comb this saves a lot of time after your head bath so that you do not get worried about the time you have left to get ready for the interview.
2. Set your hair:
Use a hair spray, that helps you to set your curls and can tame your hair however you wanted to set your hair, if you feel oily brush your hair and spray on them. This makes your hair dry, use a little mild perfume contained spray, this gives a little fresh and fragrance to your hair
3. Choose a Serum:
Apply a serum, this makes your hair frizzy, it helps to keep your hair dry, especially for a curly hair their strands split everywhere and gives an informal look, applying it makes smooth, silky and gives a good texture to hair
Choosing Good Hairstyles for Interviews:
Choose an easy hairstyle that will not eat up your time, choose a natural hairstyle that matches with the shape of your face, understand the work environment and analyze which suits best that counts for your interview
1. Try a pony:
Comb the hair well and wrap up the whole hair with an elastic band or with a claw clip, do not make messes with your hair, the chubby face can have a bob hair cut, it's one of the best hairstyles for a working woman.
2. Wrap a Bun:
Women with long hair can go with a bun, this makes you comfortable and relaxed about your hair, also remember that your hairstyle should correlate with your dress if you choose a skirt and shirt try having a bun or a ponytail
3. Try a French plait:
Twist your hair and plait it, if you have a long curly hair try your hair plaiting, this suits good with a saree or Salwar kameez, this may consume 3 minutes, but gives you a cool and simple look. If someone had a layer cut, try to put the pin so that it doesn't fall into your eyes and forehead, this distracts your eye contact with an employer, make sure you do not draw your attention other than the interview, do not be occupied with stuff which diverts your concentration
4. Try not to attract with your hair:
Be conscious that you're attending an interview, not a party, so do not get stylish with your hair. Leave it simple or unattractive, it's not a party go time, take care how do you want to create an impression, try to watch professionals who are already working for an organization
Interview Hairstyle Mistakes to Avoid:
Avoid below things so that you do not miss your dream job opportunity
1. Do not trouble yourself:
Do not leave your hair open, if strands of hair fall on your face, it makes you feel distracted and divert your focus on the hair instead of focusing about the interview, wrap up the entire hair
2. Be natural:
Do not dye your hair with funky colours, try not to draw the interviewer's attention on your hair with your bright colours, try to maintain a simple hairstyle, do not try to hint that you are personal interests with colours, choose according to your place of work
Do not use glittery slides or colourful bands for your hair, make it plain, do not mess up your hair with all kinds of accessories, choose a simple elastic or a clip that binds or ties you perfectly and makes sure that it does not unwind in the middle of your work
3. Do not get frantic:
Avoid brushing your hair with fingers out of nervousness, or do not play with your hair, try to be cool and relaxed. Many of them do crazy things out of anxiety, avoid biting nails and hands always on your hair
Do not concentrate on yourselves by checking your split ends or touching your hair time to time, this shows that you are not interested in your job or more interested on your look, or do not give them an impression that your presence of mind is on other things more than the interview.
4. Avoid being stylish:
Maintain your hair neat and look obvious, try not to make your hair too shiny, try not to exhibit your wavy volume hair open, if you do not have enough for a ponytail try a cuff if you trouble with a long hair pull your hair up and tie a pony high up
Minimize your hair accessories, Do cover your hair with a cap or with a scarf, use a bob pin for your side cuts and an elastic for tying up, this does not allow you to be flashy and gives a good conservative look enough for the interview
Tips on Makeup for Interview:
While getting ready for a job interview, do not overdo with your makeup, make it a natural face and be elegant. The face is what represents yourself before them, a good job interview makeup makes you feel confident and comfortable. Do not lose an opportunity due to your appearance. Here are few tips on makeup for a job interview to have a perfectly professional look
Job Interview Beauty Tips to Look Better:
Have a good sleep so that your face does not look too pale in the interview. If you do not have a proper sleep, the tiredness reflects your face and gives a drowsy feeling in the interview and it fades your smile while having the conversation with employers.
1. Scrub:
Clean your face with a good scrub, it blemishes your skin with a natural look, exfoliates dirt and gives a better look than your routine look, this may take 1 minute of your time but spend it to get an attractive look
2.Moisturize:
Apply a good moisturizer so that your skin does not dry throughout the day, may your interview take a whole day, so try to maintain the fresh look through the day, glow with same skin whole day
3.Choose a good foundation:
Choose a lighter shade foundation that matches with your skin and apply it evenly so that it doesn't look like patches on face. Apply compact powder, do not make it too shiny or choose a dark powder, go with the powder that matches with your complexion, make sure it looks like natural
4.Balance your skin complexion with makeup:
Make sure skin is not too oily or too dry, do not apply heavy moisturizer so that dust does not sit on your skin, balance your skin with a type of cream that best suits your skin type
Do not blend color at your cheekbones, this may look awkward since it's not a party to make up heavy. Do not makeup like you were going to an event or a party blast
5. Eye makeup:
Do not apply shades on your eyelids, it does not go with heavy makeup, just make it simple, touch and shine the outlines. Do not try to play with color on your eye, remember that you are going for an interview
Make your eyes little attractive, use a simple eyeliner to your top and bottom lash line. Brush your brows to have a perfect look, use a tinted brow mascara to get the natural color to your brow and draw them into fine shape, fill the gaps with a pencil for an even look. Simple pencil also will do and makes you feel natural, a liquid might smudge all over your face
6. Lipstick:
Choose a good lipstick, try to prefer berry flavour, and put a light shade lipstick on your lips, do not apply dark shade, make sure that do not smudge through your face, Make sure your lips do not exfoliate with lipstick. Apply an outline and gently swap throughout
Before you apply gloss, smooth your lips with ice cubes to last the lipstick for the day. Use a light shade lip gloss, so that do not pop up much with glittery, so that it just shines enough and when you really smile this gives a good impression
Manicure:
Have a manicure before the day of your interview so that the nails look neat. Make sure your nails are too long. Apply a light color nail polish, like a nail color or a dull polish, it also resembles your attitude.
Do not design your nails with glittery polish, do not go with flash colors, do not go with dark colors like red, pink, or leave them natural without polishing, do not wear too many rings to your fingers.
Final Words:
To conclude be smart and professional, remember your skills, experience, and attitude must attract the employer, do not ruin your opportunity with your attire and distracting yourself from your dreams to occupy the job. Do not dress up as a clown. Do not neglect your neatness in appearing the interview also do not over concentrate on it by which you may get late to the interview.