The youngsters who are interested in joining consulting jobs often find it difficult to clear through the different rounds and achieve their goal. This is because they are not properly prepared and don't know what to expect during the different interview rounds. If you really wish to get a job in consulting, here are few things you really need to know.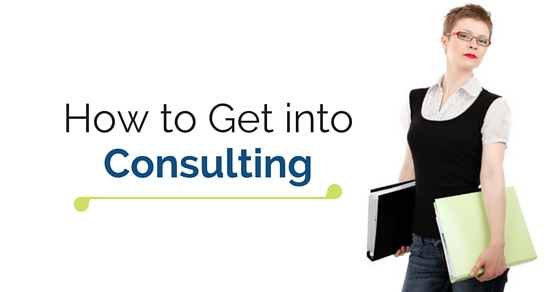 How to get into Consulting without Experience or Low GPA:
Understand the Nature of the Job:
Consulting job is really challenging and only individuals who possess intelligence, enthusiasm and the true skills can make it through the different rounds and get a job. Consulting job can be related to different fields like management, business, finance, career, property or IT.
A good way is to understand your field of interest and specialize in it. If you select a field of your interest, gaining excess knowledge would be much simpler. Seeking information and doing research will come to you naturally due to your interest.
Try to Understand What the Recruiters Seek:
Understanding the recruiters exact needs will help you fine tune your answers to match their needs. This will help to increase your probability of getting the right job. Usually, recruiters look for knowledgeable individuals who also possess confidence. Very often, the questions posed by the interviewers try to gauge whether you are confident and know exactly what you claim to know.
You may research various job related websites and also go through the job description of various consulting jobs to get a clear idea what is expected in consulting jobs. Remember that preparation is the key to getting better jobs.
Understand What the Interview Process is Like:
You must speak to your seniors and peers to find out what are job interviews for consulting jobs really like. They will help you understand what to expect. Here we have listed down the common rounds in a consulting job interview.
Simple First Round:
The first round of a consulting job interview is usually very simple. You may refer to it as a preparatory round. You may come across some very simple questions posed in most other jobs too.
Common Questions Expected in the First Round and Ways To Answer Them:
Here we have listed out some of the commonly asked questions.
Why do you wish to join the consulting career?
'I think I possess good problem solving skills. I enjoy the process of evaluating a particular problem and checking out different solutions for the problem at hand. There are very few careers which permit me to use these skills right from the beginning and consulting is one such career. So I wish to be into consulting.'
What is your ambition in life?
"My ambition in my professional life is to join a firm that offers huge growth prospects. I wish to transform the consulting profession by coming up with client oriented solutions as against generalized solutions that don't work equally well for all."
What is your strength?
"My greatest strength is my ability to find interesting and relevant solutions in situations that are infrequent but critical. I wish to become a career consultant and guide students during their career selection process. Lack of knowledge regarding the different career options cause them to be misguided and their entire career life is ruined."
What is your weakness?
"My weakness is my inability to give up. There are various situations where many of my colleagues raise their hands but I do not get sleep till I solve the issue at hand. I feel it is really an illness. I envy my colleagues who get peaceful sleep instead."
Where do you see yourself in the next five years?
"I see myself as one of India's prominent education consultants who is looked up with respect by lads whose career foundation lies on my advice."
What is your hobby?
"My greatest hobby is talking. Well, not on WhatsApp other social networks. I enjoy chatting with friends, colleagues, family and coworkers. I feel this habit and hobby of my childhood have been responsible for my inclination towards consulting. It is often during talking sessions that people reveal their true problems."
Which field of consulting do you wish to pursue?
'I enjoy consulting and would do equally good in all fields. Yet, my personal choice is surely career guidance. This is because I think it is the most critical phase where true guidance can really help individuals.'
Are you a great leader?
' Well, I don't know what exactly are your expectations from a great leader. But if I take up a work, I know how to reach it to completion within set deadline and ensure great quality too. In my college, I lead my team to the completion of the science project.'
Are you a team player?
'Yes, I have always enjoyed working in a team. I think I also possess this ability to convince people how my opinion makes sense in certain situations. It has helped me to work more effectively even with big teams.'
Are you a good negotiator?
'Yes, and I think that is an inevitable trait for a career consultant.'
These are all simple questions. These questions are asked to gauge you as an individual. The interviewers try to understand whether you are an eligible candidate for the present opening or vacancy.
Second Round is Usually Group Interview:
While the first round of the job interview may seem like a cakewalk or an easy thing, the next round is much tougher It is the group interview and the questions are posed to the selected group of candidates. There could even be a group discussion. Here, you need to be really wise and witty to be shortlisted or even noticed.
Make sure you stay mentally prepared for such a group interview round. Apart from that, you also need to make sure that you are dressed well for the particular occasion. In group interviews, there are several candidates and you need to set yourself apart by the way you speak, dress, answer questions and every other aspect that may come to the notice of the interviewers.
Some simple tips for group interviews are listed below:
Be honest:
You must remember that the interviewer is gauging you based on the answers you give. So make it a point never to lie. If you have certain weaknesses, it is sometimes better to accept it rather than try to conceal. If you hide something that needs to be said, it can easily lead to a negative impression.
Be humorous:
In group interviews, all the candidates are asked the same question and the best answer gets better ratings or a good impression. There are many questions that have common answers. Using your wit can still help you look different and have an edge over others.
Be confident:
A consultant cannot stay in his or her field if he or she lacks confidence. This is one reason why interviewers pay special attention to each candidate's confidence levels. You need to make sure you are not nervous during the group interview round. Be firm and have an erect posture while answering the questions posed to you.
Be unique:
If you have a distinct style that commands attention, it will surely help you during a group job interview. Yet, do not go out of the way to look different. Be yourself as you need to stay that way even while working for the firm.
The Third And Toughest Round is the Case Interview:
The case round is regarded as the toughest round in consulting job interviews. In this round, all the candidates are placed with one situation and asked to together arrive at an apt solution. This round is definitely the toughest and there are a few things that make it truly tough. Since you need to discuss and arrive at a solution together, you need to possess good listening skills.
You should be able to discuss the situation, check out the pros and cons and arrive at a solution. Many times, you may have to explain your viewpoint and convince the other candidates the same.
There is a great chance of disagreement during such rounds and you should be able to tackle such disagreements without creating a conflict. How you handle the whole situation is what the interviewer tries to gauge through such rounds.
Surviving in a Consulting Job:
Clearing all the rounds of the interview can be tough. But even after getting into the consulting job, surviving there is an aspect most of us do not consider. The consulting job requires you to be really committed and determined. You may face countless challenges and you must have the courage to overcome these challenges.
Continuous learners and great communicators are the ones who survive well in consulting jobs. This is because, to be a consultant in a particular field, you need to possess thorough knowledge in that field.
Save