There are many people, young and old alike, who take a special liking for an acting career. The craze and glamour of the acting career is what most often attracts people around the world to be a part of this profession. Yet, some individuals are truly passionate about acting and it is through persistent efforts that they achieve their goal. Here we have described how to start a career in acting.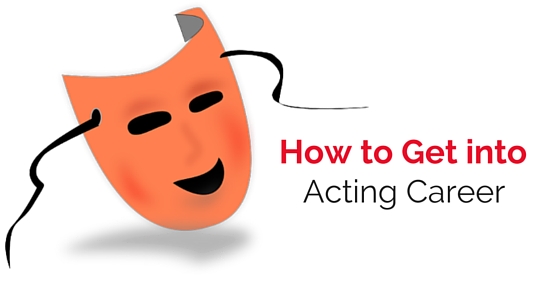 Special Performance and Acting Skills Actor Must Possess:
It is really not easy to become an actor. You need to possess several unique skills, abilities and talents. As there is a great demand for the career in acting and a lot of glamour attached to the profession, the competition is equally high. Here we have listed a few acting tips and skills on how to become an actor if you wish to pursue this career.
Superior Acting Skills:
The top priority to get into the acting career is to be good at acting. It should be an inborn talent and you need to nurture your acting skills at each phase when you grow up. You should be able to enact different emotions like sorrow, grief, anger, anguish, pain and melancholy. You should also be able to reveal happiness, excitement, joy, enthusiasm and affection through your expressions.
Acting skills are surely inborn. Yet, only practice can help you perfect your skills. You may rehearse in front of the mirror to know how you are doing. This kind of practice helps you correct your own mistake and add finesse to your expressions.
Good Looks:
In the modern world of acting, good looks is what adds to the glamour quotient. You need to have impressive looks if you wish to survive in this profession. This may mean that you need to take special precautions at the different stages to ensure that your looks are maintained well.
Maintain your skin well. Regular washing of the face helps to keep dirt and dust particles away. A proper hair cut or hairstyle has a great impact on the way a person looks.Make sure you maintain your hair well by proper oiling, conditioning and care.
A Resonating Voice:
A strong and bold voice is a great asset as it adds to your personality. Time has proved that there have been many actors who have survived in the industry mainly because of their resonating voice. It is thus a key asset.
If you have a strong voice, try to cash on it. Try to learn why people like your voice. Try to identify what kind of voice you have. Some people have soft and melodious voice which is regarded emotional or sentimental while some others have a loud and authoritative voice. Try to identify your voice category so that you may pick acting roles accordingly.
Dialogue Delivery Skills:
Just having a good voice does not help you. You need to learn how to use your voice to assist you. This means that you need to combine your looks and your voice to create the perfect impact.
You also need to train yourself on voice modulation. Individuals have different tones when they are in different emotional states. You need to understand the voice variations in each case. It will help you add life to your role and do justice to your character. Practice is a great way to make this happen.
Ways to Develop Career in Acting:
While you may possess all the skills and abilities that are required of an actor, you may still not achieve success unless you have a strong profile. It is thus the next step in the process of entering the acting career. You need to work hard to develop a strong profile. Here are some simple acting techniques and suggestions that may help you becoming an actor.
Participate in College Events:
While very few people realise the significance of an early beginning, it is always good to make an early start. If you have the passion for an acting career, start right from college days to participate in events, dramas, skits and plays. Be willing to take the initiative and voluntarily enroll in all events possible.
School and college days are best to fine tune your skills. Participating in events, annual functions and inter school and inter college competitions can help you to develop confidence in your acting skills. It will also help you get rid of stage fear that is a major drawback for many budding actors.
Participate in Film and Drama Acting Auditions:
When you are done with your studies, you need to think of ways to get into the career and achieve an identity as an actor. You may start off by participating in small plays and skits. If there are local events, volunteer to be a part of it.
If there are drama or film auditions for acting, do not hesitate to try your luck out there. Many television channels often come up with auditions for tele serials and daily soaps. Make sure you be a part of each of these. There are many stars who started their dazzling acting careers as side actors in television serials. It is really not easy getting into acting field and hence you should not leave one stone unturned.
Create an Impressive Acting Resume/ Profile:
Actors are always renowned for their superior acting skills. To apply to any job, you need to have a strong resume and there is nothing different about acting. You need to make an effective acting resume that you may show to directors, producers and other event organisers. The resume should include all facts regarding your qualifications.
Apart from that, it should also mention all the events, dramas and skits that you have been a part of. You may even have a video recorded of a few of your performances. You may show these when you head for interviews for acting related careers.
Market Your Skills on Social Networks:
Social media is the new newspaper or magazine. People today have barely any time to invest on newspapers and magazines. The habit of reading is nearly extinct. The social media is where most people spend their valuable time sharing news and gossip. While it may not be a great forum or platform for all the careers, it surely is a great place for actors to show off their skills.
There are many social networks like Facebook, Twitter and Youtube where you may share your video. People have an option to share their views and comments. Their valuable feedback can help you improvise. More people will know about your unique skills and abilities. Acting is a rare skill and you are sure to get known for your skill.
How to Get Hired as an Actor: Ways

In today's world, even the most talented person needs to market his skills. So an actor is not exempt of this effort. If you possess acting skills, see how you can reach the right people. The simple and preliminary steps to be taken would be to enlist your profile on all major acting related websites.
You may also put a video of your performance on YouTube or other video websites. It will surely reach the right people. Even Facebook or other prominent social networks have groups for people related to the acting field. Join these groups to get relevant leads that may help you in your career.
Hire an Acting Agent:
While it is a great idea to put in your best efforts to market your skills, it may still not be sufficient. Acting agents are the ones you may have to hire to get you the right assignment. They have been in the industry for a very long time. They have influence and contacts. They are also aware of the latest projects in the industry.
Acting agents may thus help you bag the right opportunity. While they demand a high fee for their services, it may still be worthwhile to get your first opportunity through acting agents.
Stay in Touch with Friends in Acting Profession:
During the growing up years or in all those crazy pursuits of the acting career, you may have had friends with similar passion. These are friends who can help you today to find the right assignment. There may be some who are budding actors while some others who may have established themselves in this field.
You must stay in touch with your friends. It will help you get some right opportunity. You may also try your luck with friends on social networks. The growing popularity of social networks is also resulting in stronger bonds on these networks.
The acting career can be a tough pursuit. You must be willing to face failures till you attain the perfect success.
Save
Save