The concern of constant breaks or could say gaps in employment record are a prickly thing. And this is the foremost thing which every HR person or employer sees before calling the candidate for the job interview. When an applicant applies for employment, a huge inexplicable breach in their service narration at times becomes a showstopper. You have to be evidence for career progression, and not stagnation in CV. You need to show ever-increasing capacity and accountability you had in previous job histories. You need not make it seem as you have been self-righteous or you lacking in achieving your goals. An extensive baffling gap in your CV or resume can mean that you are yet to reach to the doorstep of your dream job. Reason might be that you were "disreputably released" from your earlier work. It can involve other reasons too that you are sluggish, or that you simply don't heed on your profession.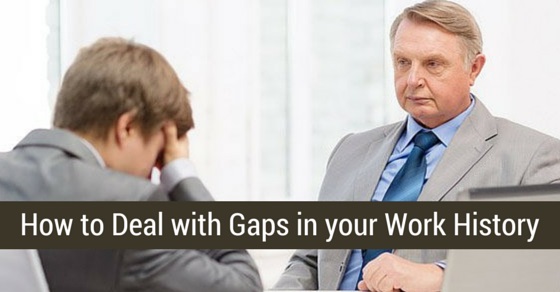 Here are some of the useful suggestions which can help you stay associated to your job while carrying out job exploration after gaps in career history.
Ways to Explain Gaps in Employment:
1. Reorganized or economizing of previous company:
The first and foremost thing you can explain about the gap in your earlier company or department that it got restructured/ reorganized and/or downsized and that your position was getting shifted to their overseas location and hence, you had to leave your job since you were not in a position to move because of family or personal reasons. Somewhat such things often occur during slumps when it's in actuality hard to get new service. You could clarify these gaps to the employers by making certain to put emphasis on why you were allowed to go from your earlier job.
2. Stay optimistic when explaining about the work gap:
Clarifications that may sound like: "I didn't like my earlier boss" or "the work role was not up to mark" doesn't look very encouraging or either good. Employers might ask you question that why didn't you wait to get a new job before renouncing your old job. Principally it is easier to search and get a new job when you are already working. But you need to be positive and utter affirmative words while speaking with the employer in person stating your personal reasons or else. Be positive, be enthusiastic and make an eye contact while you talk about the work gaps in earlier job history.
3. If you left your job willingly, don't get anxious to show "why":
If you have left your work voluntarily, then never get scared of mentioning the reasons or about your personal issues if you have had in your family. Such as, it's absolutely satisfactory to talk about the time off or the period when you took off from your work for personal or other causes and/ or else to pay attention to any of your family situations. If there is a reason for the gap, it's much more tolerable to employers or HR managers than a nonspecific break and it just makes it to appear as you did left your job purposefully.
4. Highlight the activities undertaken during the gap to improve professional standard:
You must emphasis or focus on the extracurricular activities that you might undertaken during the period you were jobless so that it could give the impression of improving your professional embodiment or standards. Highlight the things or other activities which you can explain that you were not outdated and still in contact with professional people while you have the gaps in job history.
5. Mention about any consulting, or other freelancing work contract:
Consulting area is a vast sign that you have taken your career towards professionalism. Although, it's irregular to just talk about the gaps in your job history. Nonetheless, the new employers will definitely want to be familiar with the work or consulting work you might do in the short-term period. So, better to do any other valuable experiences, or volunteer works and show that during interviews. For example freelancing work contracts or any other chief social projects.
6. Discover a consulting project:
Many times, employers have the same question of "what you did during gap in job". Hence it is very significant to discover or bring upon and do some part-time work contract or consulting assignments so that it should not be look- alike that you were idle during gaps in job. From every now and then, such tasks could even also outcome as in full-time job and permanent roles in that consulting project. Try to find a project or similar assignments where you can enhance your expertise level and be connected with your profession.
7. Voluntarily involved with an association or develop into a mentorship:
When the things come on to like mentioning about gaps in work history, employers as well as applicants become extra conscious about whether to talk about the gaps first, or to illustrate about the association you were involved with and became mentor for others to set an examples. Must prove the exemplars due to which other youngsters become your followers. This way, you can explain to the employer that you were not idle during the job gaps.
8. Inscribe an article for publication in your area of proficiency:
When you know that you have to deal with gaps if you apply for interviews then it is must to make sure that you undertake few freelancing writing projects and/or assignments in your area of expertise and that might pay you for this. This could enhance the probability of acquiring job. And yes, of course, staying occupied means that you are not sitting idle at home and somewhat involved in your own line of work. In actual fact, it's easier to re-enter into personnel section soon if you keep your ability razor-sharp and your job knowledge is fully advanced and up-to-date.
9. Gap due to maternity reason or sick leaves:
It's quite obvious in the case of a married female that she can undergo the long leave on basis of maternity. Since she needs three- six months time to give attention to her newly born baby and to get to her normal life and resuming all her regular chores. So do in the case of sick person who met with major incidents. Else there could be other incidences too that can take place anytime which results in a considerable break in your CV or resume.
10. Lastly, be honest and accept the truth:
At last but not least, be honest with you and with the employer or interviewer. Don't tell them any lie to the employer or to the hiring manager about the gaps and don't overlook your overall career prospects. It is always advisable to face and accept the truth and convey the same to them without any further hesitation. It is also another face of the employer that if you stay truthful with them without any manipulation, they could also like your sincerity and could hire you without any more tricky questions.
Furthermore, it is extremely significant to confess gaps in your employment history and talk about this gap record openly in the interview. This shows not only your straightforwardness but your honesty with earlier companies as well. It makes you a responsible person and moreover, much more accountable for your career's depiction as a substitute. It is very likely to have gaps in every candidate's profile in previous job histories but to deal with the gaps is entirely up to your skill art that whether you want to be hired on the basis of truth or to simply lead the employer towards fake lies. Better to find the gaps and let the employer know what are the works you have ever undertaken during the gap in job history.
Save