The modern generation is extremely career oriented. The rising expenses have made it inevitable that the wife should also earn. The different stages of a woman's life pose challenges in her career and one of the greatest challenges is posed during a woman's pregnancy.
It is not easy to find a job when a woman is pregnant. Here we have listed down some suggestions and tips that will help a woman find a career option even when she is pregnant.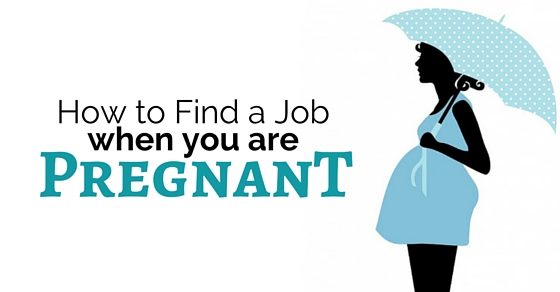 Finding a Job While Pregnant – Things to Keep in Mind:
Finding a new job when you are pregnant may not be as easy as you think. Moreover, if you already have a stable job, it is not the best phase in your life and career to switch jobs. You have many things to take into account before starting your job hunt.
Here we have listed down a few things that you need to keep in mind while switching jobs during pregnancy.
1. Do Justice to Job Responsibilities:
During pregnancy, you will require leaves for your routine checkups. You will also require concessions and care from work mates during pregnancy. Inspite of all this, you should do complete justice to the task that is assigned to you.
If you take your job responsibilities too lightly, you may even lose your job which is definitely not desirable. Even if you wish to change your job, go ahead with a systematic approach. Make sure the work at hand is not affected by your job hunt.
2. Have a Systematic Approach To Job Hunt:
Pregnancy is a phase where you require a lot of care. In the midst of all this, it can be quite difficult to go through the ordeal of job hunting. Yet, if you follow a systematic approach, the process will be quite simple.
You need to identify your core competencies and know the best job that suits your skill set. You must also make a list of the different job portals on the internet like Wisestep, Naukri, Careesma, Monster and Shine. You must first upload your resume on all these portals.
If you have worked before, make sure to include your work experience in the online resume. You must also make sure you upload a resume and make a profile on LinkedIn.
When You are Pregnant What to Look for in a New Job?
The priorities in a job change from person to person. While many seek security and stability in a job, there are few who look for jobs that suit their skill sets. Women who are pregnant always seek jobs that are conducive to their stage of life.
Here are some tips on what you need to look for in a new job when you are pregnant.
1. Flexibility:
A pregnant woman may require taking leave or half day because of her health condition. If the rules regarding leaves and work schedule are extremely strict then it would be difficult for you to manage work and your health during pregnancy.
On the contrary, if you opt for a company that has flexible timings, you will be able to manage work and your health simultaneously without either being affected. Thus, flexibility should definitely be your first priority in this phase of your life.
2. Facilities for Children:
Remember that you will soon have children and you need to look for your future employment keeping this fact in mind. You must look for a workplace that may have a daycare nearby. You may also look for a workplace that understands and caters to the changing needs of women.
3. Travelling Arrangements:
Travelling to a workplace is never too easy. If the workplace is distant from your home, things get worse. You need to travel and that may take up a lot of your valuable time. You must always opt for firms and organisations in your vicinity.
It is best not to opt for a job where you have to spend 2 or 3 hours simply travelling. It is best if you have a firm that offers pick and drop facility so that you can spend maximum of your time on work or family.
4. How to Present the Fact That You Are Pregnant?
Another major challenge that most pregnant women have to face when they are switching jobs is presenting the fact in the most acceptable manner. Most firms may consider it a non profitable deal to hire someone who is pregnant. Their logic is correct to an extent because pregnant women require more care. When you walk into a firm to get hired, make sure you are able to convince the firm that hiring you is the most sensible thing they can do. Apart from that, you should be able to convince the firm of the benefits of hiring you. This may involve a lot of marketing.
Pregnant Job Seeker – Ways to Market Yourself:
A pregnant woman appearing for a job interview should be fully prepared to market her skills and abilities. She should be able to convince the hiring manager that there could be no one other than her to shoulder the responsibility so well. There could be many different ways to market and sell your skills and abilities. Here we have listed down a few simple tricks and tactics:
1. Tell Them What Changes You Plan To Bring:
Every employee contributes to the firm through his work and initiatives. Each time a new employee makes some changes in the way the organisation functions; there are losses or gains in the organisation. You need to make the hiring managers understand the changes that you plan to bring in the firm or organisation and how it will contribute to the success of the firm. You do not need to provide a detailed explanation. You simply need to provide a glimpse into the successful future they can expect under your leadership.
2. Tell Them How You Are Different From Others:
There is every chance that you will come across a hiring manager who is hesitant to hire you. You should be able to reveal to him how you are different from others. You should also be able to tell them your work ethics and skills that give you an edge over others. You must remember that everyone may possess subject knowledge. You can lure a hiring manager only by showing off those skills that you exclusively possess. Here are some skills that may be desirable in most job positions.
Negotiation Skills:
A woman usually uses her negotiation skills in different stages of her career and life. When you are heading for a job interview, make a fine display of your negotiation skills while discussing your final salary. Explain what your salary expectation is and why it is that much. Tell them why you deserve the sum and make sure you convince them tactfully.
Communication Skills:
There are many different jobs that require you to have good language and speaking skills. Proficiency in language is a must in most cases. If you think you do not excel in English, work on your skills. Read a lot of books and try to improve your vocabulary. Grammar should be perfect and you must be well versed with British and American styles of English.
Marketing Skills:
The modern world is a world of brands and marketing skills matter a lot in making these brands successful. You must be aware of the different marketing strategies that help to sell the brand. In some job positions, there could be group discussions that evaluate your marketing skills. You need to use the marketing skills to get the desired job during your pregnancy.
3. Tell Them Why Your Pregnancy Won't Come In The Way of Business:
Most people are scared to hire pregnant women as they require extensive care, ample leaves and cannot be trusted with urgent work. While appearing for the interview, you need to tell your employers that you are willing to work from home and cover up for all the sick leaves and holidays you take. While the inevitable leaves during pregnancy cannot be avoided, you must tell them you would do complete justice to the work handed over to you.
4. Inventory for Urgent Health Needs:
Women need to have some backup money in place for their pregnancy needs. You need to start saving early so that you won't have any financial problem during pregnancy. Such high level of preparation ensures a secure and safe pregnancy with minimum challenges.
Conclusion :
Women have to tackle several challenges while establishing their career. Very often women compromise on their careers or their professional lives just to make sure that the family life is not harmed. If the firms and organisations understand these problems associated with women and show the necessary consideration, professional life can improve for women. The increase of work from home jobs, women oriented jobs and jobs with greater flexibility has helped and encouraged more women to nurture their careers.