Dressing professionally is a must for an employee involved in the corporate world, especially in banks and similar organisations.
When handling money, we need to present ourselves in such a way that the customer sees the employee as a capable and a professional individual. How one dresses for work shows their level of professionalism, attention to detail, and client concern.
Failure to dress properly gives the customers an impression that the employee does not care much about the rules and regulations of the organisation. This can even lead to losing his or her job as banks these days are very adamant and strict about wardrobe and behaviour of the employees.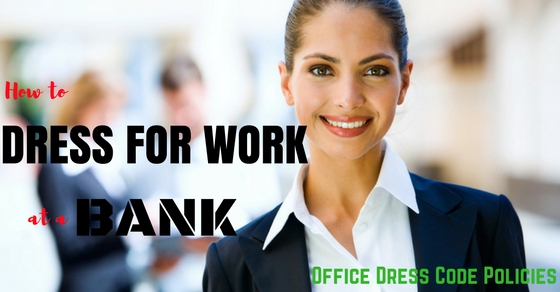 How to Dress for Work: Bank Job Dress
If you are working in the banking industry, you need to dress in such a way that makes you look efficient as well as professional. Your attire speaks a lot about you when you interact with customers and colleagues, so taking extra care about it is very important.
As employees are at the forefront of any industry, dressing well creates a good impression about the organization. It also helps you to build some cordial relationships with your clients and customers.
According to the federal labour laws, an employer can even expel the employee if he is not able to follow the company dress code.
1. Suits:
Suits are the customary dress used by bankers and bank employees. These are usually preferred in dark colours such as black, dark blue or navy blue. Suits are applicable for both genders. Suits can be available as one-piece, two-piece and three-piece suits.
While purchasing suits, ensure that they should be purchased as a whole set so that the pieces match perfectly. For women, suits are available as a set of suit and skirt or suit and pants. The main drawback of suits is that suits are very expensive and wearing cheap suits gives you a sloppy feeling.
2. Accessories:
Accessories can be added to formal wear to add your own taste and identity to your wardrobe. Ties are an example of a commonly used formal accessory. It is compulsory for men to wear ties when working in a bank or any other formal organisation.
Men can wear ties with a long-sleeved light coloured shirt or if it is in a warmer climate, employees could wear short-sleeved shirts, but they still have to wear a tie.
Women can use silk scarves as a substitute for ties and can be toed lightly around the neck or just under the collar. Try to make sure that ties used should not be of bright colours and should not be too loud.
3. Shoes:
Shoes indicate the level of professionalism that the employee has. Many customers judge the bank employees on the basis of their shoes. Wearing casual, worn-out shoes not only results in loss of customers but also tarnishes the image of the organisation.
Men should always wear black or brown leather shoes. In warmer areas, open-toed office shoes are also allowed.
The most important factor that should be noted is that shoes should always be polished and should be clean and should not have any dust or grime sticking to it.
For women, they can wear close-toed shoes, stylish heels or flats that match with their wardrobe. Sandals and flip-flops are prohibited.
What to avoid:
Many organisations dislike their employees having piercings and tattoos, even if it is a part of their culture and tradition. Customers also dislike seeing these on bankers. Men should not grow their hair out as this is seen as unprofessional and makes them less trustworthy.
Also, try to avoid jewellery that is showy and obtrusive. Moreover, refrain from wearing strong colognes or perfumes as it can be offensive to some customers.
Bank Employee Dress Codes:
Try to see how employees who are working in the same position as yours, dress for the job. Also, try to follow their style and wardrobe standards. Try to be at least as smart as them and follow their precedent.
For lower-level jobs, try to dress smart and pleasing since you want to stand out from the crowd, but not too much. For higher-level jobs, try to dress generically as they usually do not dress to stand out. They refrain from being ostentatious.
For example:
Usually, it is not common for tellers to wear suits at work, but when they are applying or being interviewed for work, they are required to wear a suit. This applies for both genders.
2. Dress conservatively:
Employees should dress for their jobs and should not dress to become fashionists or trendsetters. Wearing clothing that attracts too much attention can cause problems that will act against you. These factors include:
Wearing overbearing or strong perfumes and colognes. Try not to use too much perfume, since these are normally frowned upon by employers. Also, try to wear only a little amount.
Try not to show too much jewellery and accessories. This can cause a sense of jealousy and insecurity between the employees and also from customers. Try to be neutral while wearing accessories. This includes refraining from wearing expensive watches, rings etc.
Do not try to wear dresses provocatively or cause any unwanted negative attention. Try to wear only light makeup and shades that are not too overpowering.
Try to wear wardrobe that has simple patterns and colours. A single-coloured wardrobe is the best. Try to wear less intricate patterns such as single checked shirts, skirts and pantsuits.
3. Dress cleanly:
Banking is a profession where it requires a lot of attention to detail. So employees should try to be as proper as possible. This means to pay attention to scruffs, wrinkles, dust, and grime on your uniform. Your attire should try to reflect your qualities and your discipline. In this regard:
Try to iron your clothes so as to prevent wrinkles and unwanted folds on your wardrobe. Try to wear clothes that do not have any stains or wrinkles. Your clothing should be crisp and clean.
Shoes matter a lot in the world of corporate professionalism. People often judge a person based on his looks. Try to have your shoes waxed carefully, and if there are signs of any wear and tear or any kind of imperfections, try to replace the shoe and buy a new pair.
Get a professional-looking haircut. Men should have their hair cut short. Women are not supposed to have any coloured hair. If they have grey hairs, they should get it coloured. Also, nails should be manicured professionally. Personal hygiene matters a lot as a banker.
Unless allowed in an organisation, try to remove body piercings and hide tattoos. Though these are becoming acceptable in many institutions, try to hide these as many customers find such ornamentations to be a bit intimidating.
4. Standards for men:
Men in the banking world are expected to follow a certain set of standards. These include:
Wear a business suit that is either grey or dark blue in colour. Try to ensure that the suits do not have any flashy colours. Any dark colours are acceptable, especially shades of dark blue and navy blue.
Always use a red, green or blue silk tie that does not have any flashy patterns. Also, make sure that the tie ends just above the waist buckle. It should not go beyond the buckle and should not hang way above it. Tie the tie in known knots such as Windsor or any other standard knots.
The prototypical shirt is a typical white sleeved shirt. These days light coloured shirts are acceptable. If you are trying to wear a tie, make sure that the colour of the tie is similar to the colour of your shirt.
Your pants should be the same colour as the suit. The colour of the tie should be similar to that of the shirt, while the colour of the shoes should match with the colour of the belt.
5. Standards for women:
As compared to men, women clothing choices are very limited in the world of banking. Women only have a handful of styles that they can follow, especially when it comes to formal clothing.
Wear pantsuits or skirt suits in colours like grey, dark blue or navy blue.
Stick to white or any light coloured long sleeve blouses, they should have long sleeves and a high neckline. Usually, it is worn under a jacket as a part of the suit set.
Hosiery and stockings should be skin coloured. Carry an extra when necessary, in case it tears.
Wear close-toed, low heel shoes, which suits the style of your wardrobe. The colour of the bag or briefcase that you carry should correspond to the colour of your shoes and belt.
6. Try to be familiarised with the dress code of the institution:
Read through the dress code and familiarise with the dress code of the organisation. By reading through the dress code, you will get an understanding of the company requirements and needs.
Dressing as per company standards helps you to meet the expectations set by the company. Also, try to observe the dressing and etiquette of fellow peers and employees. This ensures that you are dressing properly as per the standards set by the company.
7. Enquire about casual days:
Try to enquire about casual days. Casual days are special days where the organisation allows the employees to wear casual clothes.
For example: In the past, casual Fridays was a common phenomenon where people were allowed to wear even jeans and shirts. This is a chance where an employee could wear clothes that are considered too casual to wear in the corporate world.
8. Comfortable and professional shoes:
Since banking is a profession which requires lots of standing and moving, employees, especially women should make sure that they are wearing comfortable yet professional work shoes.
Try to wear inserts inside the shoes so as to absorb shock and pressure while moving around. This reduces the stress that forms at the soles of the feet. Also, wear low heeled, closed-toed shoes for maximum comfort.
9. Keep everything neat and tidy:
As mentioned earlier, how an employee carries himself in front of customers shows how much the employee is trustworthy and dependable. To reinforce this, always try to wear clothes that are ironed and which do not contain any wrinkles or creases. Also, clothing should be devoid of stains, dots or any other discolouration.
If a client sees how shabbily an employee is dressed, then it might change his notions and opinions about the company, or even worse bad mouth about the company. Hence, to prevent such consequences, try to ensure that employees should wear clean and tidy clothes.
10. Cover body modifications:
As a banking employee, he/she is expected to meet a new customer every day as a part of their job. So to make themselves presentable to such customers, try to ensure to cover piercings and body tattoos.
Try to cover body modifications such as too many protruding ear piercings, tongue piercings and stomach piercings. Try to cover tattoos by wearing long-sleeved and covered shirts.
11. Wear clothes that are an appropriate length:
This is applicable especially to women. Women should ensure that they are wearing shirts and tops that are long and do not show much skin or cleavage. Also, wear skirts that are long enough to cover your knees, or should be more than the length of your fingertips, when your hand is drawn to the sides of the body.
Anything shorter than that is considered too short and inappropriate as formal attire, especially for a banker. Also, make sure that the clothing is covering your stomach and midriff properly.
12. Try to ensure what kind of attire is necessary for the position:
If you are working for a lower-level position, it is not necessary to wear a suit, except for special occasions and situations, such as an interview or a meeting. People who are working in a high-level position should have a proper attire that consists more business formal wardrobe such as suits, vests etc. this is applicable for both genders.
What to Wear to a Bank Interview?
You should always wear professional attire while getting interviewed, be it for a part-time / full-time job or an internship.
Your interview attire not only gives an idea about you to your employer but also enhances your future steps into the organization.
Some of the steps to follow when choosing proper interview attire are,
Check whats appropriate nowadays in the industry
Choose an attire that suits your personality
If unclear, then ask questions beforehand
Your footwear also adds up to your professional look
Conclusion:
A proper and professional interview attire will give a sense of confidence and comfort which will be very helpful at the time of attending the interview.
How an employee dresses and behaves shows how much he values and respects the organisation. They are the representatives of the company and hence, it's their duty to be dressed neatly so that they can attract more customers and please them.