Do you get trapped by the horns of dilemma every time you have an interview scheduled?
Showing up at an interview garishly dressed or under-dressed to uphold a sombre persona, may not be that you imagined it to be. It all comes down to how to 'wow' the people seated on the other side of the desk.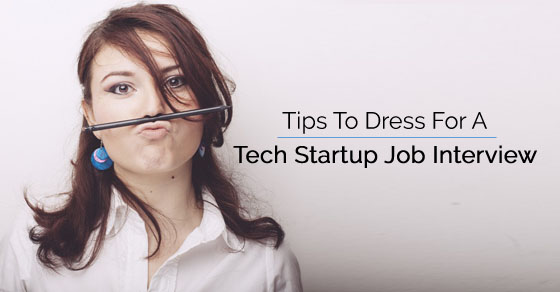 You need to decide what to wear to an interview based on the type of job profile that you are applying. Although deciding how to dress for an interview of a tech startup job may not be a binary decision, it does not have to be rocket science either. The new trend of tech startups with a new coming up each day leaves the candidates confused, as to what to wear to interview or how to get dressed. They wonder whether the traditional rules for a regular job interview apply equally in this case too.
How to Dress For a Job Interview?
The following mentioned are a few interview outfits you should try for a tech startup interview. They are
Dressing tone:
No need to break out that expensive suit. Surely it may have been a hit at the conferences and the office parties you participated when you worked at the MNC, but that was a different league. You do not have to try that hard when you dress for a tech startup job interview. Wear light coloured formals, preferably a lilac or powder-blue shirt that fits you well with classic black formal trousers. Same applies for the fairer sex, but they can go for a skirt instead of a trouser too.
Pick Fitting Outfits:
While you do not require to look enticing and sexy during an interview, you surely need to look decent. So make sure you pick casual interview outfits that fits you properly. Get rid of those loose and lousy outfits or get them tailored to match your measurement. Remember that the impression that you create during a job interview in a startup decides your career profile there.
Don't be Cinderella:
Sure, you need not dress like a pauper just because you are showing up at a tech startup for an interview. But that does not mean you need a pair of glass slippers either. No one cares for the devil-may-care attributed NIT graduate in high ankle boots, but no one cares for the flip-flops either. Stilettoes are not recommended for the ladies either. The ideal footwear for an interview is to go with a brown pair of shoes if you are wearing black bottoms, individuals sporting light flavoured trousers can go for a moss flavoured pair of keds. Women opt for flats if you want to cover long distances in small strides.
Accessories:
Not many fulfil the due diligence in this round. Some go overboard with an attention-seeking neckpiece, some breakout their chunky wrist wear. Word to the wise, this criteria is more of a buffer zone to polish the rough edges of your appearance. Be it a sober quartz wrist-watch or a simple necklace, neither of them can do any wrong to your style statement, at a tech startup job interview.
Hair:
Leave your hair gel in the closet, cowboy! Just comb it down. For the short-haired 'babus', there is not much to say, they have got it covered! The long-haired stalwarts may do well to tie their hair in a ponytail, or even comb it back if it's manageable. Just as long as there isn't grease running down your hair and you don't need to comb your fingers through it 10 times per minute!
Women need to select simple hairstyle that gives them a professional look. You may go for a simple ponytail or even a bun as these are commonly accepted hairstyles in professional organisations. It is advisable not to leave the hair open. In case you have a short hairstyle, you may use slides and clips to manage it neatly.
Hygiene:
If you sport a goatee, prune it! If you sport a stubble, get rid of it! Carry a clean handkerchief for lasting impressions. Wearing a cologne might drive the ball home, but don't sport anything too strong, applicable for both the ladies and gents!
Hygiene is one thing that may count heavily during a job interview. So make sure you get rid of the stinking socks. People who are excessively sweaty should carry a napkin along with them. If you have an interview that may last a couple of hours, it is wise to carry a spare dress.
How to Get a Job at a Startup?
While appearance is the first thing that creates an impression on the minds of the interviewer, there are several other things that create an equal impact. Here we have listed a few of these factors:
Good Communication Skills:
Good communication skills is a prerequisite in most corporate jobs. You need to make sure your language skills are perfect. Try practising in front of the mirror to gain self-confidence in your speech.
Well Designed Resume:
A resume is the first thing that the recruiter sees. He knows about you from the resume even before he meets you. So it is vital that you make an impressive resume that has all the essential facts and details about you.
Documents Showing Qualifications:
Your certificates reveal your qualifications. You need to have the true copy of your certificates while heading for a tech startup job interview.
Leadership Skills:
A startup may look for leaders who can manage a team in future as the company expands. You need to possess and improve leadership skills to really create an impression in the tech startup job interview.
Learning Skills:
As the startup is still in the initial stages, it may seek good learners who can handle multiple tasks and do justice to all. Your multitasking skills and your learning skills matter a lot in tech startup job interviews.
Good preparation and self-confidence are two factors that decide your future in a job interview. Take time to get thoroughly prepared.
Save