How you perform in an interview can decide the future of your career. An interview plays an important role in your job seeking process. That is why you need to prepare for an interview well in advance.
You need to make sure you have missed nothing and the preparation is perfect. Here we have prepared a list of tips to help you prepare a day before the interview.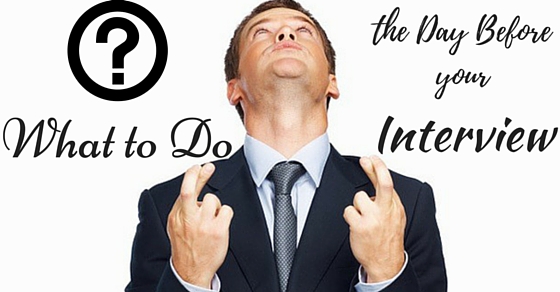 These tips and suggestions cover most of the essential aspects of preparation a day before the interview:
11 Essential Steps to Take Before the Interview:
The following mentioned are few job interview tips to be followed before the interview
1. Keep All Necessary Documents Ready:
Generally, a candidate should consider taking certain things to take to an interview. In most job interviews, you need to carry some essential documents like mark sheets, identity proofs and experience letters. If any of these are missing, the interviewers may not take your interview.
It is thus wise to take a copy of your documents and keep it ready before the interview. It is not wise to carry the originals with you, as there is a risk of losing it during travel.
Here are some of the common documents asked during the interview process:
Graduation Mark Sheets
Post Graduation Mark Sheets
School Leaving Certificate
College Leaving Certificate
Experience Letter
2. Update Resume with Recent Experience:
The first thing that the interviewers see even before they have a look at the actual candidate is the resume or profile of the candidate. The information in the resume helps the recruiters or interviewers decide whether the candidate should be hired. So, it is necessary that you keep your resume up to date with all the necessary information and qualification. You need to include all the qualifications and courses you have done in the resume.
A small career summary will also be helpful to give the recruiter an idea about your experience. You may also include pointers like your strength and weakness in the resume.
3. Choose a Good Formal Attire/Outfit:
Your presentation can have a great impact during a job interview. That is the reason why you need to choose a good formal outfit for the interview. This is one of the important tip for job interview preparation. You also need to follow the regular guidelines while choosing an outfit for the job interview.
Here are some tips to help you select the right outfit for your job interview:
Be wise with your colour choices. Opt for light shades like cream, light yellow or pink when you head for a job interview. Strictly avoid dark colours like brown and black as they are known to create a negative impact on the minds of the interviewers.
It is best to opt for plain clothes over stripes and checks. These patterns are not ideal for job interviews.
Men can choose to wear formal shirt and pants while women may wear traditional formal attires or formal shirt and trousers. Women may also opt for formal shirt and skirt
You need to keep the dress washed and pressed one day in advance.
4. Prepare For Common Job Interview Questions In Advance:
All candidates get tensed or worried just prior to the interview. This is mostly due to the anxiety regarding the interview. Candidates who are better prepared are less likely to be tensed before the interview. One way to be prepared is to know the most likely questions asked in interviews and prepare answers for the same. Here we have listed down some of the most probable interview questions for your knowledge and reference:
What is your strength?
What is your weakness?
What is your hobby?
Why do you wish to join this company?
How much salary are you expecting?
How do you qualify to this position?
How soon can you join this company?
Why do you want to leave the last company?
5. Stay Mentally Prepared for Unexpected Questions:
Preparing for expected questions is easy but there is still yet another challenge. There could be some very tricky questions posed to you during the interview. These could be the most unexpected questions and you maybe zapped as to how to answer them. Yet, some idea as to what they expect when they ask tricky questions can help you answer wisely.
Here we have listed down some really unexpected questions and what the interviewers expect as answers in each case:
How many potatoes will you require to fill an empty sack?
How many balloons do you require to fill this interview room?
Do you like dogs or cats as pets?
Which superhero do you like the best?
What would you do if you were lost in some tribal area where you do not belong?
If you were a dessert, which one would you like to be?
Each of these questions have been wisely constructed to test your abilities and approach. When you are posed with a question like how many potatoes you require to fill an empty sack, they want to see how quickly you think. The ideal answer to this question is one because after one potato, the sack is no more empty.
The second question aims to see how you approach a certain problem. Even the interviewers are aware that you won't be able to answer this question rightly at that moment. Yet, they wish to know how you tackle impossible situations. A reply that shows them how you approach such a problem is sufficient to satisfy them.
The interviewers are trying to guess your personality type by asking you whether you like cats or dogs. Never reply to this question in one word. You can tell them you like cats because like you, they also fall on their fours and never fail when faced with a problem. You can compare and tell them how dedicated you are just like the cats when you take a task in your hand.
When you choose a superhero, make sure you explain why you chose that superhero. Similarly, if you were asked what you would do when lost in an unknown tribal area, you must explain step by step how you plan to tackle the problem.
If you select a dessert, tell them why you like it. A good simile can help you explain your traits by comparing with the dessert.
6. Practice In Front of the Mirror:
Your confidence may decide how you perform in your interview and how you answer the questions posed to you. It is thus vital that you ensure to maintain good confidence during the interview process. A great way to boost your confidence is through practice. You can practice an introduction in front of the mirror. This is a great way to get rid of your stage fear or fear of facing an interviewer.
When you practice, make sure you keep a check on your body language. Good body language can create a positive impression on the interviewer. Bad body language can actually be repulsive.
7. Plan How You Will Travel To Interview Location:
In a job interview, reaching late can create a very negative impression. Very often, people tend to get late to the interview location because they do not plan their journey in advance.
It is thus wise to plan in advance how you will travel. If you are planning to travel by train or bus, check the timings of these public transport options online.
Make sure you leave in a manner that you reach the venue at least an hour before the interview. Getting late for a job interview usually reveals an irresponsible behavior.
8. Charge Your Mobile Phone in Advance:
The mobile phone is an important part of everyone's daily routine today. Any communication is impossible without the mobile phone. Many of the modern interviewers confirm the venue and other aspects of the interview on WhatsApp and other social networks. So, if your mobile phone is switched off or not charged, communication may become difficult. So it is a great idea to keep your phone charged before the interview. This will prevent any hurdles in communication.
9. Carry Enough Cash:
Many times, you may encounter unexpected expenses when you head for a job interview. Sometimes, trains maybe late and you maybe forced to take a cab to the venue. You may miss out some significant documents and may have to take printout as you reach the venue. For all these purposes, you need to have some extra cash at hand. So make sure you withdraw some cash and keep it in your wallet a day before the job interview.
10. Prepare for a Long Day:
Most often, we expect the interview to be short and sweet. That may not always be the case. Sometimes, the interviews may stretch for hours and even days. So you need to be mentally prepared for the same. Do not get depressed or tensed if there is a third and fourth round quite against your expectations.
If you are tensed, try different ways to get rid of your tension. You may carry an iPod or download some soothing melodies on your phone. You can hear these between the rounds to ease the tension. You may also try and solve some puzzles to keep your mind alert and fresh during a long interview.
11. Carry Some Snacks or Quick Bites:
Most of us have a habit of having meals at the right time. We cannot bear if the lunchtime is missed. Some interviews may last a couple of hours with long waiting period between the rounds. If you need to eat at time, carry some snack in your bag. You can munch on these between the rounds.
Many of the interview venues are at remote locations. Getting something to eat is not always easy. Carrying some snacks with you can help in all such situations.
Save
Save