Cover letter is the mirror of what kind of job you want or what role you want to play for that organization. It directly explains the context of the job you are interested in and also aims at each opportunity that one can grab. A cover letter can either make or break your future as an employee in that organization. As it plays an important part in the process of recruitment, one must try and make least number of mistakes. Certain pit holes that must be avoided are as follows: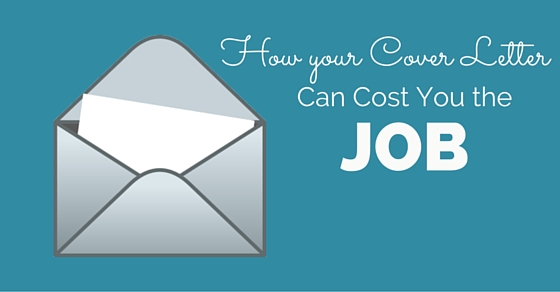 Cover Letter Mistakes to Avoid that Might Be Costing You the Job:
1. Don't exaggerate:
When you write, make sure not to lengthen what you write. Just be specific. What position you want in the organization. Your goals and achievements so far should be given in a short and precise manner. Writing in essay type format is likely to put your application at distance. So, be short, crisp and precise.
2. Spellings and grammar:
You are going to apply for your job, so don't take it easily and be good at your grammar. Grammar mistake while writing is the first and foremost thing that comes to the notice especially being at such a good level. You may be a post graduate or graduate pass out or may be a year experienced in some other company, whatever it is, just be excellent at the spelling and the grammar portion. Spelling mistakes will lose the attention as well as the job.
3. Negative presentation:
Be positive and also present your thoughts and ideas towards yourself and the organization in a positive manner. Negative presentation may include bad alignment, irregular font and font size, poorly presented and so on. Don't ever make this mistake and show the correct presentation as it will give a good impression. Also first impression is the last one, remember!
4. No error and no mistakes:
There is no place for mistakes when it comes to professionalism. The boss or the interviewer demands for not even a single mistake, so maintain their expectation and work accordingly. Try and make no mistake as a single mistake can catch the eyes of the experts and you may lose the job due to silly things.
5. Insulting the organization no way:
No place for insulting and humiliating words. So mind it, be good enough or you may say, be sweet as sugar while you write. Your cover will present you before you speak. So let your cover put an excellent impression in front of the expert panel . Bad wording or something insulting will never be favoured and it will surely cost you the job.
6. Do not beat about the bush:
Beating about the bush that too in your cover letter is absolutely wrong way of presenting. No matter how excited you are to get the job, still you need not say everything through your cover letter. Let something be there for further conversation. Just be up to the point and don't take the matter too long.
7. Get advice from your career counsellors:
Do not ignore the good advice especially when it comes from the experienced persons like your career counsellors. Listen to what they say and act accordingly on the track. Acting upon the advice of elders experience has never proved waste. So take it and apply it in your real life too.
8. Check again and again, there is no second chance:
No second chances until you try for another. But why to be careless when the first excellent chance is there for you? Do not take the opportunity for granted. Be serious at first only, so before finalizing the cover, check it again and again so that no mistake is left and panel experts do not get the chance to reject.
9. Never highlight your weakness:
Never ever say what you can't do or what is not of your genre. Start with what you are good at and showcase your talent to others. Always put your best foot forward and do not ever show what you cannot do, as it will surely create a bad impression and without a trace of doubt you will have to let go of your favorite job.
10. Do not mention 'to whom it may concern':
You must know to whom you are representing. After knowing, do some research and learn the name of the person whoever will be reading the application, so directly address your letter to them. In today's age, you can get everything about the company online. So be smart enough to get maximum information about that person and do not mention 'to whom it may concern' as it can lay a bad impression.
11. Do not write too much of personal information:
Personalizing on the cover is not acceptable. Focus more on the professional skills, education, job skills; also explain how the skills make you the best candidate. If you still want, then give information about your hobbies and interest in pointers only.
12. Do not forget to use keywords:
Only keywords will make the search successful by the organization for you. So if you are uploading your resume online, then make use of the keywords. The searchers and the recruiters make use of the keywords to search for the best candidates, so do mention the keywords in it. Do not ignore as it is the lifeline to what you actually are.
13. Ignoring the important accomplishments by you:
If you ignore the important accomplishments, this will be the foolish mistake by you ever. Do not ever do that, not even in your dreams. Cover all the vital and attractive things about you. Make sure to mention them too.
14. Do not be fake or false:
Write what exactly you are. Do not lie. Even if you are a fresh graduate or post graduate pass out, do not lie and falsify what you have not done. Just be true even if you have no experience of the job.
15. Do not bad mouth the previous employees in cover:
Even if you have any known in the organization, do not bad mouth them as it will give your bad impression to others. Your cover should be about you. Don't think that talking about others will give a good impression. It can never happen. Bad mouthing others can give experts an impression of bad mouthing the organization too when you will be leaving the firm. So, it is a strict no to it.
16. E mail, do not write your personal mail:
If you have your personal email id, do not write that. If you do not have professional one, just create it and write that. Also make sure you write the correct e mail. When you re check, give a look at your mail too.
17. Explain your enthusiasm for the company:
Explaining the enthusiasm for the company is great. It shows how much can you devote to the company but again be precise in that too. Do not write long about the interest. Just be short, crisp and precise. Explaining about the enthusiasm for the company will add to the good points in your cover. Just make sure that with all the above you maintain the professionalism also.
18. Presentation is must:
Your cover is a door to other things, so make your door presentable and error free enough to prevent the rejection. Presentation includes everything from spellings, grammar to font, its size and all. Be presentable and attractive with your presentation because it will reflect you at first and can select you or can ignore you. Don't give the panel a chance of rejecting you, so make sure not to make any error.
19. Give the best:
Do not take it for granted and give the best while you prepare your cover. After all, cover will represent everything at first. So, make your cover good enough that everyone gets impressed by the presentation as well as the effort by you. Put forward the best thing on the top and least important at the last.
So, above are some of the vital points that must be kept in mind while making your cover. It is the first and foremost thing that must be given lot of attention and should not be ignored. No matter what type of organization and type of job you are going to join, just be perfect in presenting you. While you present yourself, the cover of the resume also forms a part of you, so make it beautiful with no imperfections just like yo. Do not make the mistakes and try being error free. After all there is no second chance and also you never know such best opportunity arises ahead or no. So leave no stone unturned and give the best.
Save