Career change at 40 or midlife career change might be a very complicated decision, but one bold step might change your life forever. Certain questions might arise during that period like, "Is this the right decision for me?" or "Am I capable of doing this?" or may be, "Will I be able to continue with it?" etc. But ultimately your willpower works out and you say, "Yes, this is what I wanted".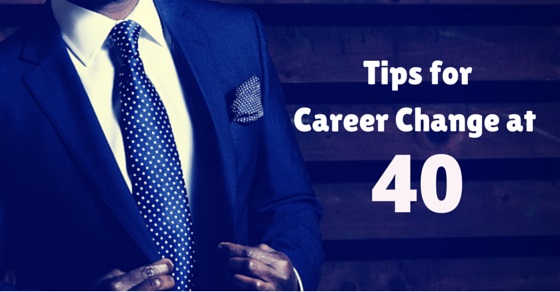 A career switch is the opportunity to utilize all your experiences and skills that you have gathered all these years. This is the period when you can analysis yourself and your capabilities with the work that you've never done before. But there are certain things that you need to figure out before stepping into a new career. Here are few best ideas for career change at 40.
How to Make a Career Change at 40 (mid life):
The following mentioned are few tips on how to change careers at 40 and also good midlife career change ideas.
1. Avoid making excuses:
The first thing that interrupts you for a career change is the fear and laziness to attempt for a new job. You might be scared of certain thoughts like finance, health, ability to work, etc. You need to avoid excuses especially such in order to proceed to your new life.
2. Be bold enough to leap:
To overcome the fear, you need to avoid the thought that makes you worried. People might try to demotivate you by telling failure stories but you need to stay firm to your decision. Avoid what people say because they won't be benefited with your success in anyway. Stay strong and have the guts to leap with a positive attitude.
3. Make sure you are financially strong:
To step into a new career you need to be financially strong and stable. Since this is a critical phase of your life you cannot rely on money by doing new experiments. So keep a backup of your wealth so that you can utilize it when something goes wrong. In case of entrepreneurship, you need a stable amount so that you can invest it to start a business.
4. Research before you step forward:
With the excitement and thrill to start a new interesting career, don't just leap without any research or analysis of the job or business that you're going to do. Stepping without a proper study might get you stuck and you won't have any choice other than stepping back. So avoiding a good research might lead you to failure and stop your new career before starting.
5. Have a plan:
Career planning is very necessary before you start a serious work. This includes market research, promotion, strategy and goals. Plan about what you really want to do and how much do you want to achieve. Target your customers and then execute the plan accordingly. In case of a business plan, find a co-founder and share your ideas to plan it in a better way.
6. Be practical:
Stop having imaginations and do things practically. Initiate the task to figure out what is required to do next. You can't start a work by thinking over the consequences or the right and the wrong. People who have practically constructed a work are likely to gain success more rapidly.
7. Have a career counseling session:
Take career advice from an expert or from a person who is experienced in a particular field. It's better to learn from someone who is a expertise in a field. Understand the pros and cons of changing careers at 40 and what else changes it can bring to your life. Experts can advise you with the right ways to move towards a different direction.
8. Ask questions:
Questioning expands your knowledge and increases your chances to step a move forward. Ask your adviser about his expertise and how he utilized them in his career journey. Try to learn more about the career path that you're going to follow. The more you question, the more you're likely to gather ideas for your business.
9. Peek into the job portals, newspapers and magazines:
Job portals, newspapers and magazines are the platforms where you can find a number of work opportunities. So do not restrict yourself to browse into them. You might find your desired job from the hundreds of vacancies posted over there. You'll be inspired to find the new career ideas and opportunities and won't return empty-handed.
10. Online career personality tests:
If you are still doubtful about your capability then go for an online career personality test. These personality tests bring out the result of your ability to start a new career and what you think about it. Although the test results don't give clear suggestions but there are some that do. There are a number of free online career personality tests around the web that you can consider participating.
11. Don't shift your job just for money:
If you are earning a low payout in your current job then it's not appropriate for change of  career to a different direction. Being very fickle minded and jobs inquisitively might make you lose all the facilities and allowances that you're currently getting from your job. Your new career might bring you money but might not benefit you with all the current facilities. So think over it before you move.
12. Google about your hobbies and interests:
Suppose if you love computers then Google about it. There are several sites coming up with topics like computer repairing, laptops, computer trainer, etc. You can go through the relevant topics based on your search. This will give you some general idea about how to start a computer repairing store or similar other topics.
13. List your priorities and select a career:
Create a list of your priorities and choose a career which will go alongside them. Suppose, if your priority is your family then you can start working from home as a freelancer or consultant. Though it has a few cons but also understands that it has several pros. This will give you the opportunity to stay beside your family and also continue with your new job from home.
14. Don't follow the crowd blindly:
If your friends and acquaintances moved to the call center industry then don't move there just because they did. Learn to judge what is right and which is wrong. You might also move to the call center sector but later you might face regrets because you'll learn that this is not what you wanted.
15. Learn to be unique:
Always aim to be unique. Following the crowd would make you an ordinary person just like the others. Do what you love and aim for your preferred destination. Explore new mid career change ideas and experiments to find out the right and wrong.
16. Start a career that you always wanted:
Have you ever wanted to be that 'something'? Then here's your chance to prove yourself. Move ahead and focus on the career that you always wanted. Whether be it your own boutique or your own restaurant, it's time to develop an all-new yourself.
17. Aim for new skills and experiences:
Although you have collected enough skills and experiences until 40 years, but it's time to achieve more now. With the establishment of a new career, you'll get the opportunity to expand your skills. The more experience you achieve, the more your chances increase to move forward. Aim for the things that you could never achieve all these years and take the opportunity to enhance your skills and proficiency.
18. Emphasize on the experience you already have:
The experience that you already have will motivate you to move forward. Although you are targeting to learn more, but also you should not ignore your previous experiences which is the root of your new career. So emphasize on the qualities that you already have and utilize them to step forward.
19. Utilize your network:
Keep a connection with your contacts and take suggestions from them. There must be someone who can show you a path or help you with your new job. Or there must be a company person who can practically help you out with the business. Ask for some help or request them to introduce you with the key person of the company.
20. Become an entrepreneur:
Becoming an entrepreneur is a good career choice. In case you don't opt to work as an employee anymore you can choose to start your own company. Utilize your skills and your money to start a company for something that you love.
At least you'd be your own boss and you won't need to follow any orders like you did till the last 40 years. Secondly, you won't have a regular 9 to 5 duty and you can work with flexibility.
What to Know Before Making a Career Change at 40:
If you are thinking of changing your job at 40 then there are several things to consider before moving forward.
Being in your 40's, working in the same sector obviously must have helped you gained great work experience and you could also must have progressed in your career to a higher designation. Now continuing your career in the same sector is one option but if you are seriously not happy with your career them changing your career is the right choice.
Changing a career is not so easy as it sounds but nor is it too difficult. Nowadays we can find many people who leave their jobs and are making a career in which they are interested. So changing career is not something unusual and one can eventually succeed in it too, provided you play the right way.
Now let us look at some pros and cons of changing careers
Pros:
Self-confidence and self-esteem help you make the change smooth
Can leverage your work experience into transferable skills
A right career change can benefit your relationship as well as health
You still got enough time for your new career
Cons:
Need to take time off from your current job to prepare for the new one
Have to be able to make enough money to make the ends meet as earlier
Handling the career change in a positive way
Might need full time off while preparing for a change
How to Make the Career Change:
Midlife career changes are challenging but not impossible. You just need to have the right skill set and the perfect reason for a career change.
Some of the basic and important steps to follow while preparing for a career change are
Leveraging your work experience
Update your skills and traits
Being ready to learn and train
Do your research properly
Prepare a list of choices
Gather as much information as possible
Evaluate the data and chose the one which interests you.
50 Best High Paying Career Change ideas at Age 40:
Conclusion:
So you can see that changing your career path even at 40 is not at all that critical as you think. Rather, moving to a new direction will give you a better vision towards life and enhance your skills and proficiency. Changing your professional life will also benefit your health from stress and the regular work schedule that you keep following on.
If you are still thinking of moving your career then it's time to quit thinking and handle it practically, because too much thinking with give birth to a new stress and also it wastes the time that you could utilize in initiating it.
Save
Save