If you have always looked at a billboard and imagined yourself as a model and have been told by several people that modelling would be a good career choice inside you, then I am sure the voice inside you must be saying "How to become a model?" or "What should I do next?"
If these questions have been eating you up, then don't stress at all.
In this post we are going to discuss some of the basic things you must do in order to establish your modeling career at the age of 17!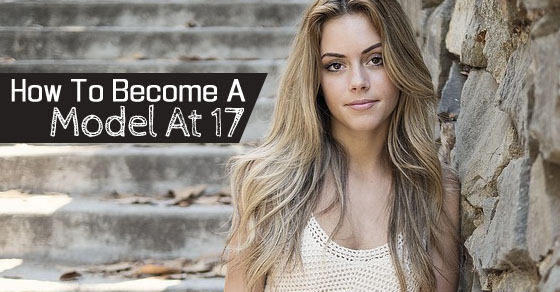 How to Become a Model at 17 for Females:
Modelling can be a hard career choice for girls at the age of 17.
For many, 17 year old model female looks like amateur, but in this career starting at a younger age is wise step.
So before you decide to make your career in modelling, here are a couple of model advises or things you must know about the modelling industry.
1. You get to travel but no sightseeing:
One of the biggest benefits that come with modelling is that you travel to all these fancy places but you will not have much of an opportunity to go sightseeing.
For example, if you are taken to Moscow for a shoot, you will stay there only during the shoot after which you will have to return back home immediately.
2. You might not always be respected:
Always remember that since you are modelling for a certain brand or maybe for a certain company, you are not going to get the respect you want because you are still someone's employee.
Only after you have established your name as a good and reputed model, only then the matter of respect will come in.
Otherwise it might get a little difficult to earn that initially.
Things to do in Order to become a Model:
The following mentioned are few requirements for being a model and qualities of a model. They are
1. First decide the kind of model you want to become:
Before you want to become a model, it is first essential to decide the kind of model you would like to become.
There are plenty of options for girls out there. From swimsuit to catwalk and runway models, you can actually experiment with different kinds of modelling roles before you actually get what you have always wanted.
To becoming a catwalk model, you have to be a minimum of 5'8.
If you are lesser than that, don't be discouraged! You could always go for fashion modelling or probably a swimsuit model.
If you are lesser than 5'6, modelling for magazines should be good.
2. Check whether you have all the correct measurements:
As shallow as this sounds, you need to have the correct measurements if you want to become a model.
Plenty of ladies out there try for modelling before having the right size for it. You have to be very slim to become a model first of all.
Secondly, not all modelling agencies have the same requirement. Some of them actually expect you to be anorexic which is very unhealthy looking. But we would definitely not request you to try anything like that.
So the smartest thing to do in cases like these is see what is working in the market these days. Check whether the sizes you are expected to be are healthy or not. And only then should you begin to work on.
3. Stay away from drugs, puking and starvation:
We know it is very hard to stay fit and active in the world of entertainment and modelling. But if you are looking forward to stay long in the industry, it is very important to follow a proper diet and exercise 3-4 times a week.
You should also speak to a senior or your gym trainer who can actually give you the kind of diet you need to follow.
Also make it a point to keep yourself miles away from unhealthy practices such as starvation, puking and drugs. It will certainly not help you last for long in the modelling world.
If you really want to make it big, look at some of the big models. They will all tell you about eating healthy and exercising enough. Nobody starves themselves to reach the top of their game.
4. Participating in sports:
If you want to become a model, you should also participate in sports. Ever wondered why you should do that? Its because sports that help you stay active and fit.
It will give you a good exercise and stop you from looking too thin or malnourished. Plus sports can really help you burn a lot of calories compared to other exercises.
Since you are in school, you can easily enroll yourself in some sports activities that will give your body some good shape.
Just remember to stay away from too much strength training since you don't really need to be muscular for a female model.
5. Choose the right portfolio:
One of the most common things you might have heard while trying to become a model is getting a portfolio done.
Now there are plenty of agencies out there who can get portfolios done but you have to choose a good one before they take your photos.
You don't have to go for a modelling agency that expects you to pay way too much cash or anything you are not comfortable with. Just go for something that seems right to you.
If you want to be a model or do modelling, speak to a friend who has an idea about such agencies and ones that are reputed. Only then should you get a portfolio done.
6. Submitting to agencies:
Once you have got the portfolio done, the question now comes to submitting all your pictures to the agencies.
You have to be careful during this one. There are plenty of agencies out there who are looking for girls they can use for their benefit but also exploit them to a certain extent.
So before you sign a contract, be careful. You have to know what you are about to do before you can say yes to it.
7. Try different posing apps for help:
Posing can often become quite a challenge for the ladies who have just stepped into modelling. For girls like you, there are plenty of posing apps that let you know how to become better as a model and improve your posture.
Modelling has been simplified for many people because of this one app and it can actually do the same for you. Just keep checking the app for tips and ideas and you are good to go.
How to Become a Model at 17 Male:
The following mentioned are few requirements and qualities needed to becoming a male model.
1. Exercise!:
This can actually become a huge asset for you in case you didn't know. Think of all the things you want to become by becoming a model such as an underwear model, fitness model, swimsuit and athletic apparel model etc.
No matter which line you choose, you have to be fit and healthy for the job. Therefore a lean and strong physique is what we would recommend.
There are plenty of male models who will be prepared to go shirtless at any time. You should be as well even if you are only 17.
2. Make a different impression altogether:
You should work on your poses secondly. Modelling is not all about looking hot. You have to prove your worth and show that you are a lot more than being just a pretty face.
If you were in front of a big modelling client who wanted to choose between you and another model, what will set you apart?
What will make them want you instead of the other male model? You should work on your poses, be more confident, figure out what makes you better than others.
This can become a good physical feature and a strong acquired skill.
3. Get ready for the shoots:
If you want to become a hot and successful male model, it is high time you get ready for all the shoots. You should shave yourself regularly.
If there is too much hair on your body, then don't forget to wax enough. Give yourself some time to get some sleep.
Don't party too much or drink alcohol. You have to be punctual and on time always. There are plenty of male models out there who believe they could head you into a job and wing it immediately.
Let this be a mistake made by them and not you. The more professional you get in this field, the more you will be remembered and put in a positive light. You obviously want them to like you and give you that opportunity again.
4. Take good care of your skin:
Just because you are a male model, it doesn't mean that you shouldn't take care of your skin.
Even the model who has far more rugged look than you, has better skin. Even though there are more hair stylists and make-up artists on the set itself, it can be quite a tough challenge to cover up for acne and most importantly it will be highly embarrassing.
Also if you have overgrown facial hair or sunburn, it can get disappointing especially since you are a model and people are quick to judge. So take good care of your skin.
5. Be confident and positive:
Lastly, you should remember to be confident and maintain a positive attitude. Always remember that it is something to be happy and positive and there is another thing to be arrogant about who you are.
If you go by our advice, we would definitely suggest you to stick on being more confident and embracing yourself for who you are.
You should not think that you know everything and that nobody can teach you anything. Stay quiet and let modelling speak for itself.
Give your best shot in every shot and when things go wrong, try to correct them instead of blaming someone else. And that is seriously some tip that will help you succeed as a male model.
Best Modelling advice for all 17 year old models:
Since you are so young and have just entered the world of modelling recently, here are some tips that could help you become big in the industry.
Always remember that things like these will take some time. You can't become successful in one day.
Tip number one:
First of all you should pick a model you love watching. Whether it is Naomi Campbell or Tyra Banks, you should study them throughout.
Everything from the way that walk to how they turn to how they pose during photoshoots, keep everything in mind.
Second, keep those snapshots in mind. You must always have a proper beauty shot with your neck upwards.
Speak to a friend who has some good idea about photography. They can really help you with this. Also study as much as you can about supermodels, photographs and fashion designers.
Tip number two:
Always remember that when you pose, you should pose confidently and in a fierce model. There is no need to pose like a hoochie.
Secondly, drink a lot of water and keep yourself hydrated with fruits and juices.
Third, don't stare at the camera while posing. Look into its eyes as it's something romantic.
This brings the post to an end. If you have liked reading the post and have some interesting feedback and comments you'd like to share with us, do let us know. We would be more than happy to hear your ideas and feedback. Also if you have questions in mind regarding the post, we would love to hear on that as well and clarify all your doubts and queries. On that note, good luck and here's hoping you are able to become the best model you have always wanted to be.
Save
Save