We all are well aware of the fact that food is something we cannot live without; even we love so many varieties in the food that it changes after every 100 miles with something new. You can go around the world and never you will face the dilemma of eating the same food you leave behind.
The globalization has done the job of sharing all types of food around the world and the prime example of the food sharing is India, where people love Chinese, Italian food more than you can imagine and a big market earns millions by just selling variety of food.
The Food business is one of the popular growing business ventures and so is the demand of expert chef called chef de partie.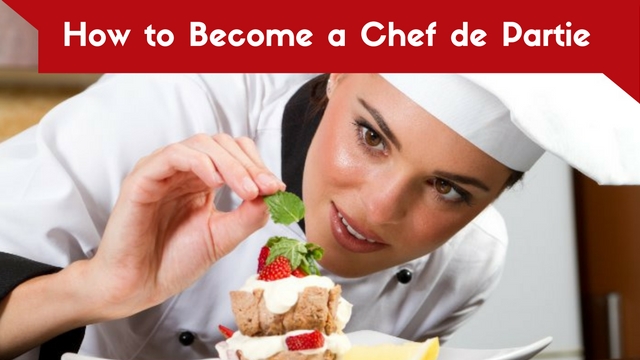 Chef de partie can be the dream job many youngsters want to do, even some of experienced cooks try over the years to reach the position of chef de partie, but
what exactly chef de partie is?
what does a chef de partie do?
How to become chef de partie?
We are going to discuss the answers of these questions further in this article.
What is a Chef De Partie:
Chef de partie are the experts who have experience as well as expertise in one particular field of cooking like baking, Italian, contemporary or regional food. The chef de partie is sometimes also called line cook.
If the kitchen is handling a lot of customers, then chef de partie also need management skills to manage and train staff to do the work expertly.
Any chef de partie starts their journey as a normal cook, but to become chef de partie they need exceptional cooking skills, and also other skills to manage the job and the responsibilities that came with the job.
Many young aspirants see the dream of becoming the chef de partie, but the lack of knowledge crushes their dreams and sometimes they choose the wrong path because they don't know what exactly they need to do in order to achieve the success they desire so much.
The journey of becoming chef de partie may be long, but hard work and dedication are the mantras that lead you to your success. There are many responsibilities chef de partie have in a kitchen which may vary according to the size of the kitchen and area of expertise but none the less they have more than one responsibility.
Responsibility and Duties of Chef De Partie:
Chef de partie jobs are respectful and honorable job any chef wants to do in his/her career because this is like ultimate goal where you are the expert in your field and people recognize you from your talent.
The job is not good just with the name but with the chef de partie duties and responsibilities that came with it. He has many chef de partie responsibilities and duties that he/she have to do in or out of the kitchen.
1. The chef de partie do more than just cooking, they prepare food with utmost perfection. Chef de partie has their own field of expertise that means they are the master of their field. They have to cook, prepare and present food within their field of expertise, they must know all three aspects of cooking good food which includes cooking delicious and healthy food, food must look good on the plate and the presentation is well done, because when people spent their money on eating food you prepare, they expect perfection in all manner whether it's the look of the food or the taste.
2. Another responsibility of chef de partie is to train interns, demi-chef de partie or the assistant to work well under all the circumstances because even in the kitchen things may become difficult and pressuring, when high time call. The rush hours in the restaurant or the hotel demand high-quality service within a specific period of time, which exerts so much pressure over the chefs that they make silly mistakes, especially those who have a lack of experience in this field. So, it is the responsibility of the chef de partie to take the control and make sure things go smoothly even when pressure is high or low.
3. Food is not just the medium to refill our stomach so that we can get the energy to keep going, food is more than that, it is something that connects with your mind, body, and soul. When a chef prepares food for the customer, it should follow all the safety measure as well as food should be fresh and healthy. It is the responsibility of the chef de partie as the expert and the guide to see that food is prepared with utmost care within all the safety measures to keep it edible, healthy and good for eating. It is the duty of chef de partie that their customer only gets the best.
4. Most people do the cooking because of the passion, hobby, and ultimate need to feed ourselves and our family, but when they become chef they do the cooking to earn a living by cooking a delicious meal. One of the important duties of chef de partie is to maintain the profit margins by introducing innovative methods so that they can minimize the waste as much as possible. The Profit margin is important as it helps restaurants and hotels to earn the living which in return pays the decent salary to the staff that includes chefs too.
5. Another responsibility that chef de partie must have is managing the kitchen and the staff of their station. Cooking food for enjoyment is one thing, but doing it professionally is something else where you need to behave like a professional with lots of limits, rules, and regulations. Things change when you are in a higher position and other staff looks after you to follow the rules and regulations. So another duty that needed to be done by chef de partie is to include management skills with cooking so that they can be a professional in a true manner.
Qualifications:
When you hold such prestigious position, it means you well deserve, but creating wonderful dishes is not the only thing that the job of chef de partie requires. The biggest qualification a chef could get is a passion and love for food and cooking. Cooking is an art where you mix a few ingredients together to create a mouth-watering dish and you cannot do that without having a deep passion and love for cooking. The chef qualifications are as follows:
1. Experience: 
You cannot be a chef de partie at the entry level, after years of experience and expertise you become one. So to be a chef de partie spend few initial years of your career to earn experience and to learn the in and out of your field of expertise.
2. Management skills:
There are people who think that being a professional chef is an easy task, but the reality is far from it. You must have some management skills needed to be a chef whether you learn it or earn it, but you should know how to manage your staff and assistants as well as your kitchen.
3. Patience:
A cool head is what you need to manage all the stress, pressure and workload that comes with the chef jobs. Cooking may look easier job, but it can be difficult most of the time because of constant high pressure and tension, so be prepared for the entire workload.
4. Passion:
Passion for cooking is what you need as a key ingredient to being a good chef and chef de partie. Without passion and love for cooking, you cannot be the best because passion is what drives you to give your best.
Quality a Chef de Partie Should Possess:
A chef is not good enough if he/she doesn't love what he/she do. Great food can be cooked only by the lovers of food because when cooking is mixed with passion some wonderful dishes are prepared.
If you want to be a chef de partie, then there are some qualities you should possess because just like you cannot create music without having a musical quality and passion for music, similarly you cannot cook good food without these qualities and certainly not be a chef de partie. The qualities a chef de partie should possess are:
Passionate
Food lover
Observant
A Good learner
Cool headed
Disciplined
Supportive
Understanding
A great cook
Patience
Chef De Partie Skills and Knowledge:
Now you have all the necessary information about the chef de partie, but the main question is, what is the process of becoming the chef de partie?
After discussing all about chef de partie, now is the time when we discuss the main part of which we have explained so much. There are people who love cooking food to a level that they make their profession out of it, few people really take being chefs very seriously, they take professional degrees to start their career as the chef. There are various steps in becoming a chef de partie and we are going to discuss one by one about what it takes to become a chef de partie.
1. Education:
There are many career options available in the form of degrees and diplomas if you want to start your career as a chef. There are various diplomas for different skills like culinary arts, bakery, etc. where you do specialized learning of the course. Hotel management is a good option if you want to start from the beginning and do not have the slightest idea of the field you will be going in to. Different countries have a different program on cookery which includes diplomas and undergraduate courses. Choose what you love to do because this is not something where you just work to earn money, you only do succeed if you love what you are doing. So check the level of education needed to be a chef.
2. Experience:
Another key ingredient of being a chef de partie is experience, without experience, you cannot have such prestigious position to work. Experience plays important role in the chef de partie because experience teaches you those lessons you cannot learn from any school, cooking is a never ending process where you learn every day. If you want to be a chef de partie, then you need experience in cookery and working in a restaurant. Experience in cooking always comes handy if you are working as a chef de partie and people will be working under you to learn, to assist and to get the knowledge. So, if you want to become the chef de partie, then earn experience as a chef and identify your area of expertise.
3. Passion:
You do not need any rocket science to be passionate about food and the process of preparing it. There are people who got inspired by the cooking, love it and passionate about it because this is something they want to do. Just like a sportsman, who plays games because this is something he is passionate about and love doing it no matter the country, color, age or any other thing. You cannot excel in your game if you are not passionate about it similarly, you cannot do well if you do not have a passion for cooking, and this is something like a catalyst in your becoming the chef de partie. So love your work and work passionately if you want to succeed in it.
4. Organizational skill:
Organizational skills are important because you have to work in the professional establishment. You cannot ignore this important part, whether you have an educational qualification or not. Organizational skills are not something you only learn in a college; you can learn them on your own. Actually, there are chefs who don't have a professional degree in any cookery subject, but their years of experience and knowledge make them the perfect chef de partie and they learn organizational skills on their own and by learning from others.
If you want to become a chef de partie, then you need to learn all of the things we mentioned in this article. There are chefs who don't possess any degree in cookery, but they are working as chef de partie because of their passion and years of experience. So if you are really that passionate about cooking, then learn the skills, gain experience and you are all set to go because the chef de partie is a prestigious position in the food industry and you have to work hard for it.
Save