Job interviews are often risky. Some of them are so hard that even experts end up getting butterflies in their tummy, especially if it is for the jobs that one has always dreamt of. Your mind is lost in fear about what the interviewers will ask, what kind of skills are needed and what they are looking for, what should be worn to the interview. Yes, it could be a bit stressful but we have some really cool tips and ideas that will make things much easier for you. Let us discuss them! But before we do that, let us tell you the 4 ps that is involved in every successful interview.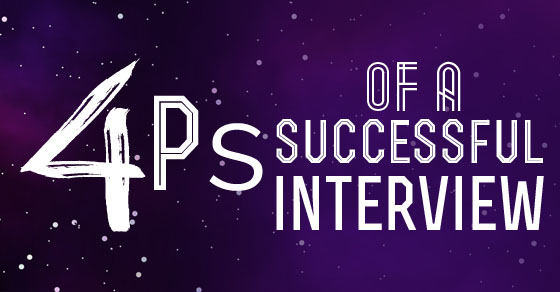 Have Successful Job Interview with these Four Ps:
Preparation:
Preparation for any interview is highly important. Most interviewers would like to gauge at how hard you can work or the amount of effort that you can put in before an interview. They want to see what is the best thing that you could offer them right now. So make sure that you are putting in some research and finding out stuff about the company before you go for the final interview. Some of the other things that you should remember include management details, vision, turnover and business. Similarly you must also find out some details about the post you are hoping to get. Similarly, make sure the objectives and the strengths are matching with what the company requires. That will help you get ready for the interview for sure.
Practice:
Right after preparation comes practice. There are several people who even after working hard and getting themselves ready end up failing when its time for the interview. This could be because most of you guys forget to practise enough before going for one. It is quite normal to be a bit nervous before the interview but you may try and practise as much as you can so that this feeling can overcome. Apart from that, you could also use common interview questions, prepare some answers and then practise them.
Punctuality:
The third 'p' is called punctuality. This one actually says a lot about the personality of the person as well as their professionalism. You should respect the time of the person's interview and never forget to be punctual when you have been called for a certain interview. If there is an urgent reason why you could not make it on time, you should let the interviewer know about it. Make sure to give them proper reasons. This will always create an image that is favourable and professional. You will have a bigger chance of landing the job in that way.
Presentation:
The fourth and final thing that matters during the interview is called presentation. A lot of your chances of getting a job is dependent on how you present yourself during an interview. This will include the way you speak, how you address yourself, what your interests are and how you can project yourself. The presentation must be able to establish you as a person who is a professional as well someone who is perfectly suitable for the job itself.
How to Prepare yourself During an Interview?
Four quick tips on how you should prepare yourself for an interview. This is the first p of every successful job interview
1. Practise everywhere!
There are several interview settings one could end up facing. Therefore it is important to see how you are going to respond to each and every scenario that could happen. One interview should be with a friend or maybe a colleague. You could then do an interview with ten friends or colleagues. Finally you should answer questions by looking straight into the camera. See how you can take every one of it. Take every single one of it and try to portray yourself as an honest and trustworthy person in every scenario.
2. Ask someone else questions:
If you want to know what others think and feel about you, you should ask someone else questions. Take someone else's interviews. See what you get to know about them. It could be a good way to understand one's perspective and understand what recruiters are actually searching for when they are providing a job.
3. Ask your interviewer to give you different questions:
nterviews come in different lengths and it is often good to have some experience knowing how you can draw out an answer and how you should things down and put the key points first and foremost. You should ask your pal to ask you three different questions. Give yourself sixty seconds after that. Finally, give yourself another two minutes where you can answer them one by one. Try to make your answers short and crisp here and do not ever remove the important points. If your answer is too long, it should not be far away from the topic.
4. Have fun:
Finally you should remember to have fun during an interview. If that is not happening then obviously the interview is of no use. You have to learn how to enjoy yourself while answering questions. So make sure that element exists. If it doesn't, then probably the meaning of an interview is lost. Having fun is not just a must but a need in every interview. Make sure that part exists.
How Should you Practice for an Interview?
Here are four important points on how you should practice for an interview! This is the second p which makes every interview a successful one.
1. Brush up your body language:
First and foremost, take care of your body language. Always remember that things like these count. When you are seated during an interview, these guys are always going to make sure and see if you have what it takes to get the job. So in order to know that, they will obviously look at how you are seated! So make sure you are seated straight up and looking at them while speaking.
2. Practice how you will speak:
If you want to know how you will be speaking in an interview and if there are ways in which you could change that, we suggest you practice how you will be speaking. In order to change your style and get rid of those small mistakes, speak in front of the mirror where you can take a quick look at yourself. See what you are like and what you need to do in order to change yourself and the way you address yourself in an interview.
3. See what they are talking out:
Before you go for an interview, it is important to have a good idea on what they are talking about and in order to let that happen, you must use social media. Check out Facebook and twitter and see what's really going on right now and what is the company discussing openly. You could actually pick up on a lot of hints and tips on what is going be discussed in an interview. Plus if the recruiter gets to know that you know a lot of the company and their current affairs, they are going to want you immediately.
4. Clean your bag: Before you go for an interview, it is also important that you clean your bag. If you have plenty of candy wrappers or phone chargers or even old bits and pieces of something, get rid of them immediately. Your bag is not a garbage bin and it will make you look so unorganized. Everything that you need has to be neat and well organized. It also be easily accessible.
How to be Punctual for an Interview?
The third p of every successful interview speaks about punctuality. In this section, you will learn how to be there on time and make a good impression in front of your recruiters.
1. Leave way before you are expected:
The first thing you must remember is to leave way before you are expected to reach. If you are supposed to be there at 9 am and it takes you 45 minutes to reach, we would suggest you to leave even earlier. Say at around 8 am you should leave your home so that you can be there on time in case there is a problem of any sort.
2. Get up early:
It is important to be well dressed before an interview, so give some importance to that. Since you will be taking a lot of time getting ready, I would suggest you to get up early. Get up 2 hours before you have to leave for the interview at least. In that way you will have time to relax a bit, spend time with family, eat a proper breakfast and get ready within time. Actually that is how every successful interviewee should be like. So brace yourself accordingly.
3. Make it one of your core values:
If you want to learn how to become punctual, you have to learn to make this a core value. Punctuality is something that can be learnt over time. It is also a lifestyle change. Those who have been late before obviously have not given much importance to time as a part of their lives. They can of course change that by simply sleeping on time every day and setting an alarm clock. That should actually be pretty good for starters and we bet that will work well for you over time.
How to Present yourself During an Interview?
Now we finally come to the final p of the interview which is how to present yourself in one. In this post, that is what you will find!
1. Maintain eye contact:
When you are seated during an interview, don't forget to maintain eye contact. Secondly, don't forget to smile at them while speaking and third give them a good handshake. All of this is highly important and matters a lot during interviews. In fact at times, these things become the make it or break it situation especially if the other candidates also match the qualifications and have answered all questions correctly.
2. Service position:
If you are applying for a service position, you should let your voice as well as your chin rise when you are reaching the end of the sentence which will make your statements seem more agreeable. If it is a good position of management, you could use a credible voice pattern and one that comes with a very calm cadence. You may also keep your chin dipped down to give it a better feel.
3. Ask if they have any questions for you:
At the end of the interview, you should ask the interviewer if they have some questions for you. That will always show the recruiter that you are interested and that you genuinely want to know more about the company. This I think is a great presentation skill and matters a lot during all interviews. People who ask questions always make a good impression. If you havent done this before, then you should. But make sure the question is making sense. Don't just ask anything. That would ruin everything!
This brings the post to an end and we really hope that you have enjoyed reading it. Not only have we told you about the four most important ps for every interview but have also discussed in details on how you should go about them in order to get the job of your dreams. If you have tried them already and it has worked for you, do let us know in the comment box below. Apart from that, if you have any questions, post them down below! We are all waiting to hear from you!
Save