Any successful organization, irrespective of the genre should have a good work force.
In previous decades, workforce had age diversity, but now it seems more increasing due to the various factors like matured professionals are ready to work till late 60's and younger generations have started taking work life right in middle of the college.
This has been readily accepted by the companies because they want both the power of rich experienced professionals as well as the young people's mindset and their brilliant work style.
And to be surprised, employers also stand in favor of age diversity because each of the generation has their own advantages like matured professional have good experience in decision making as well as younger people have more cheerful attitude and very dynamic towards any kind of issues in the organization.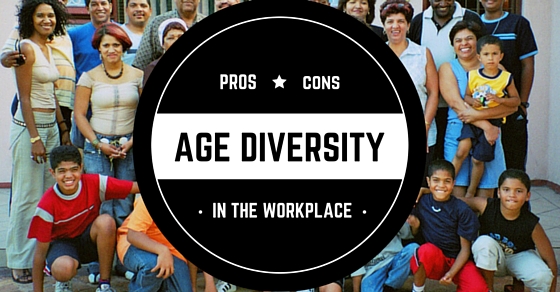 Age Diversity Meaning:
Age diversity is defined as the ability of an organization to accept people of various age categories within the organization's business environment. It has become a usual factor for the organization to cope up with aging population in all possible ways.
Let us take an example to understand age diversity, XYZ is a company which has a group of people who belong to the age category of 40 to 70's. On other hand, they have a group of people who belong to the age category of 20's to 40's.
The ability to manage both the group of people and merge them in a single working environment is known as age diversity. There are different methods and trends adopted to manage the age diversity in the organization.
Now let us look at few advantages and disadvantages of diversity in workplace.
Advantages of Diverse Ages in the Workplace:
An organization is said to have a healthy workforce only if has employees of various age categories.
Having a generational difference in an organization has many advantages in various possible aspects.
Age diversity caters to good decision making skills as it will have a group of people with different age groups.
Problem solving skills in an organization is very important, and increasing age diversity in the workplace encourages creativity, and adds lot of advantage to it.
A work force which has an age diverse will help the environment to be more responsible and cheerful as well. It also enables the organization to thoroughly access benefits of the talented people.
At present, work force is comprised of different age group of people faces many positive things as well negative outcomes too. Trying to balance and cope up with the different age categories, needs more strength and good management skill.
Understanding and mutual respect among the age group will leave the organization very productive.
Age diversity is very productive but, at the same time very challenging. Diversity in the work place envelops many factors.
It has to cope up with different origin, different language speaking people, social status, religion and entire attitudinal change. Here are few advantages of age diversity which contributes to the success of the organization.
1. Fitting to the environment and more adaptive: 
Age diversity trains an employee to be more adaptive, as they meet various cultured people and are exposed to different mindsets.
Employees who are from different age groups in the workplace have different mentality and use various strategies to solve issues in the office. Right from the way they think, plan and execute it differs.
So, in order to sustain they have become flexible. Hence, this in turn helps them to be adaptive to any kind of environment.
2. It increases the demand on global basis:
Age diversity plays an important role in meeting the demands of the customer and bringing more productivity.
An organization, who has diverse skill set people and experience helps the organization to meet the demands of all age category. This helps the organization to meet the demands and render service on a global basis.
3. Variety of opinions from various age category:
Age diverse workforce have variety of opinions for a single issue or a decision making point. Their opinions might give the organization with larger scale of ideas and new experiences.
The organization can think effectively to meet the business with various suggestions to move further. This makes them meet the customers need more efficiently.
4. Strength to exhibit newer ideas and fast execution:
Organization with age diversified people will have more courage to do a process as they have more matured experience as well as youthful ability to turn risks into opportunities.
This will make the organization produce more profit, widen their business, and as well as faster execution.
5. Experience counts:
People with good experience will always have matured opinion and will execute any ideas from freshers in a systematic approach. In this way, all the interesting ideas or opinions will come to execution very faster.
So, in this way age diversity will bring up more goodness and will meet the demands of the organization effectively.
6. Work ethics:
Right from creating work ethics, age diversity is very important. In order to be not too backward or not too out of laws, an organization needs people of various age groups.
And hence, an organization will have neat ethics satisfying all the employees of various age groups.
7. More motivated:
People of same group will have a same thought process sometimes. If in case, there is a difficult time in the organization there should be people who think beyond the troubles.
In these cases, different age diversified people will mutually help each other and get motivated. This is one big advantage of age diversity.
8. Mutually get trained:
When an organization has a good age diversity, there is lots of chance of good diversity training between them.
For example, there might be things which experienced people might have not been exposed in their career, and vice versa there might be some proper ethics which younger generation does not know.
These kind of things can be easily handled when there is age diversified people. They can handle this situation mutually by helping each other. This is one important advantage of age diversity.
9. Work life balance:
There might be situations in organizations where senior employees will have a scheduled time to work, and younger generation will also have a comfortable time for working.
Hence, in these kind of situations both of them can mutually help each other and work in respective time limits. Age diversity is one big advantage for good work life balance.
Disadvantages of Age Diversity in the Workplace:
There are too many advantages of age diversity. But as all know, there is equally some disadvantages of diversity in the workplace related to age.
First very thing which hinders is the lack of mutual interests, lack of communication, and egoistic approach because of the age difference. Because of these things many disadvantages of diversity pop up having this as a base issue. There are lot many issues where different age group think in different manner.
For example, one single issue might have different ways to approach. Problem rises if both the people stick to their decision.
For present younger generation, job might be a career goal, but in case of matured and experienced people, job might be a livelihood.
Their way of approaching a job life will start the conflict and tension rises when it becomes a ego related issue.
It is the duty of the organization to approach these kind of diversity issues and have a culture that respects each other with dignity and integrity without breaking the laws. Some of the basic hindrance to age diversity are,
1. Lack of proper communication:
One of the most common challenge which age diversity faces is lack of communication. When employees don't mutually communicate, the first issue arises. This happens because of ego and less teamwork.
People of different age groups have a mindset that why they have to bend for people, who are of not upto their standards.
When a manager is of younger in age due to his education, senior employees might react making themselves low by comparing. Another form of miscommunication is language which creates a trouble.
People tend not to talk in common language like English rather, forms groups and speak mother tongue. This will make age diversity difficult to survive.
2. Resistance to not adopting new culture:
There are employees who do not want to change their way of working style according to the newer environment.
They refuse to accept the reality that technology is taking over. That too when new systems are taught by younger generation. There comes the riff, and which resists them to adopt. Unwilling to adopt newer things is a big disadvantage.
3. Forming groups inside teams:
This is a very common disadvantage, as it is seen in most age diversified environment.
Employees in the same team, when find people of their age category start getting comfortable due to language, religion or social status. This largely hinders the growth of the company.
4. Not very comfortable with each other's attitude or behavior:
It is a basic human nature, to get adopted to people who only go along with their opinions or nature. This cannot be good for office ethics.
Also same gender of same age group get along into a group and avoid meeting others in professional journey.
5. Attached only to particular style and no social mingling:
For example, employees of same age category tend to be only with their age groups and never encourage or try to be others during the informal hours.
Sometimes it is healthy to have a common chat informally during break hours to break the ice. But this does not happen at all.
Due to this, employees might miss knowledge sharing, or exposure to newer things happening in higher level. This might affect the productivity of the organization.
Conclusion:
The above mentioned are few advantages and disadvantages of diversity in the workplace. However, it is in the hands of the organization to work on negatives and make things better for age diversity.
Management team has to work, support, and train each other to move the negatives and reach the positives of the age diversity. They should work to make people listen each other and communicate each other.
Age diversity is something which is very important presently and hopefully it should be there forever for a healthier organization.
Save
Save
Save