With the increase in globalisation, all the companies are striving to reach as many remote and interior places as possible for their future expansion in the global market. And since they need to promote their business all over the place, a role of bilingual employee is found to be crucial in these stages.
With research it is found that more and more companies are going for bilingual employees as their working partners and for many other purposes. Be it a short term or long term, bilingual people are mostly on the advantage side as they can speak multiple languages.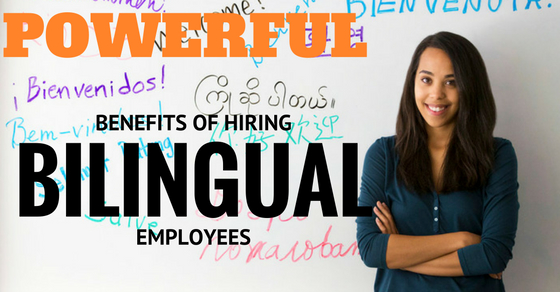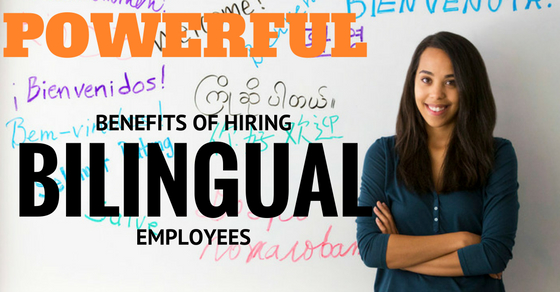 Who are Bilingual People?
Bilingual people are those people who have mastered the art of speaking two or more languages in native accent and can easily mix up with people from those communities without much difficulty. They have great communication power and good speaking capability.
A bilingual person can have multiple advantages as it helps in bridging the communication gaps and bring about a greater difference in interpretation and communication.
According to a recent study from the Bureau of Labor Statistics, over the next 10 years, the demand for bilingual employees is expected to increase by 18% with 70% of businesses foreseeing Spanish-talking skills will be exceedingly looked for after among candidates
Best Jobs for Bilinguals:
Bank Teller
Bill and account collector
Community Social Workers
Customer service representatives
Emergency Response Officers
Human Resources
Insurance sales agent
Interpreters and Translators
Office and administrative supervisor
Optician
Paramedics
Registered nurse
Retail salesperson
Retail supervisor
Sales representative
Top 10 Companies Hiring Bilingual Employees:
Aflac
AT&T
Cathay Bank
Christus Health
Helen Ross McNabb Center
National Vision
Penske
Rent A Center
Trustco Bank
UnitedHealth Group
Benefits of Being Bilingual in the Workplace:
Being Bilingual opens up new social opportunities.
Bilingualism can improve your competitiveness in the job market.
Bilinguals are better at multitasking, strategic planning, problem-solving and decision-making.
Bilinguals earn more money than monolinguals.
Expert says, picking up a new language can slow brain aging.
Knowing an additional language will open more career possibilities.
Speaking another language offers a different identity and perspective.
There are several reasons why companies prefer bilingual people working under them. No doubt, they have numerous benefits.
The main reason for which they are actually hired is being bilingual, they can handle more languages which mean they can reach greater diversities than any single language speaking employee.
Additionally, they have this extra edge over normal employee which makes them preferable candidates for any company.
Nowadays every company is trying to reach out for as much of culture and languages as possible for the growth of the company. So being bilingual gives you additional advantages over normal employee.
Benefits of Having Bilingual Employees:
There are numerous benefits of hiring bilingual employees. No doubt, their extra talent are put to good use in the companies, at the same time they too get to exercise their additional knowledge on other culture and language as well as put them to practical use. Some of the benefits are mentioned below in details.
1. Can replace any translator:
The most important benefit of having bilingual employee is that a company can cut the effort of hiring a translator for the job. A bilingual employee can do the job of both a normal regular employee as well as a translator.
Need to reach out for a native place of an employee? No worries. Just have a call for the employee and get things managed the way you want without extra charges and any permanent posts.
2. Saves the cost of new post:
A bilingual employee can bring down the expense by saving the chance of opening an additional post for bilingual speaking person, who can interpret and translate other culture. They can do the job with no extra cost.
All you have to do is identify those people who have more than one language speaking capability and get them working under your premises. They can solve a company's half the language difference issue as well as save the cost of opening a new permanent post for this job if the company is going through tougher phase.
3. Expand the horizon for a company:
It is a wise decision to hire bilingual employees as permanent people working under your guidance. Not only in the present, they can prove themselves beneficial any time, even in the future.
They help in the expansion of the boundary of the company farther and beyond and assist in bringing the other interior cultures nearer.
All it is required to be done is hiring good bilingual person and see how the limits of the company goes beyond the normal expectations.
4. Increase your company's section:
Your company can have a whole niche or section missing in the workforce because your company has only a single language speaking employees. At those times, you need to take a decision and hire some bilingual employees for greater benefits.
Not only they be able to understand the problems and issues with people of other communities, but also provide them with solutions that can prove to be beneficial for them as well as for the company as a whole.
Therefore, bilingual people help increasing the existing level of your company.
5. Increment of the end result:
By hiring a bilingual employee you give way for such a person who can communicate flawlessly with people of other states or other partners who are from different culture and are more free and easy to communicate in their native language.
Also, you get a person who speaks multiple languages and can interact with various distributers and suppliers all over the world or in places where your business stands.
Also, these employees can make sure your business expands to places where it is required, thus, improving business expansion and increasing the end productivity by a huge number
6. Give a tougher competition to other rivals:
Getting into the world of marketing and business implies, facing tough competitions coming from various other rival companies. They have the experience as well as people for the job and you require the same to give them the competition.
For that, hiring bilingual people can prove to be beneficial as well as time and money saving. Directly hire bilingual employees and watch how your business is well handled and expands without much issue.
They are adept in handling customers of various races and can do it quite flawlessly. Thus, they help in bringing the customers close to the company and gain their confidence as well as survive the competition.
7. Reach out for some interior groups or communities:
As a company and employer, the most important aim should be reach out for as much community and people as possible for the growth of the company and increase the productivity.
And this cannot be always possible by single language speaking employee, who won't be able to understand a language other than their own native language. This is the time you should go for bilingual people just for the company's profit.
The people from different community can bring about revolution and help reaching out for other communities whom they think can convince for the company's profit. At the same time non bilingual people would require extra translators and other mediums to reach out, which is not always so effective.
8. Benefits for start ups:
If you are just a startup company and require expanding your business through a wide range of communities, you need to hire a translator or an interpreter.
Hiring these people never comes cheap and since you are just a startup, you won't have enough resources to hire them. So the best alternative would be going for bilingual people.
You need to select people for the job from various communities who would be able to speak different languages as your regular employee, and help your business rise as well as give them a chance to exercise their talent for your business and benefits.
9. Maintain a healthy international relationship:
Whether the bilingual people speak your target language or not is not that important. But as long as they can speak multiple languages they can be put to exercise.
For instance, even if you can't get a person who can speak Spanish, still if you have a person under you who can speak German can be beneficial too.
He/she can be sent to manage international affairs with German companies and in the process, help maintain a good relationship with the international companies.
10. Can do the job of interpreter as well as translator:
You don't require creating an additional job post for some temporary work. Like some bits of translation or conversion of documents into native language. A bilingual employee can do the job without much difficulty.
All you have to do is get many such employees under your company and get the job done whenever need arises. Also, at times, they can help you manage affairs by acting as in site translators and get communication work done for you efficiently.
11. Can multitask efficiently:
Bilingual people are effective multitaskers and can handle multiple assignments easily. No doubt, their nature of speaking too many languages act as a proof.
If the work of translating and finishing up the task is given to them, a single person can do it without much issue and get it finished well within the time span provided.
Whereas at the same time a single language speaking employee may require the help of another medium to translate the task first, then complete it, which would consume a lot of time.
12. Get localization done easily:
As a company sets up its first or any new base in a particular place, it first needs to get familiar with the needs of the local people. The locals are going to be the major consumers, so knowing them or making them understand of their company is very crucial.
So in order to gain their trust, a bilingual employee is required who can speak the native language help gaining the trust of local people. So not only bilingual employees help in globalization, but also increase the localization.
13. They have high class listening and communication skills:
While hiring bilingual people, you not only get people who are adept in speaking multiple languages, but also those people, who are efficient in listening and communicating. They can be used as bringing in consumers and suppliers all over the globe due to their excelling communication factor and listening potential.
All these people get to exercise their talent, so in one way they increase their efficiency day by day and get more and more knowledgeable in the particular trade or consumer handling.
14. Good task switcher:
Not only bilingual people are multi taskers, but also they are good task switchers and can efficiently handle new tasks and learn them quicker than normal employees.
A recent study has proved that bilingual people can easily switch between tasks and perform well than any single language speaking employee. So this can be put as an extra advantage over single language speaking employee.
Being good task switcher, they can easily go from general interpretation to arrangement of tasks and then again to another task which has completely no relation with the previous task.
15. Good confidence skills:
Not only bilingual people are good communicators, but also they possess good confidence level that can bring about a good change in the industry. So their chance of succeeding in a particular task is quite high.
Also, they are such kind of people who can win hearts with their manners easily. Additionally, they get to have increased performance in whichever task they get hold of.
Their positive attitude can also change their surrounding and make others feel positive. In that way they change the overall atmosphere of the workplace.
16. Socially comfortable:
Bilingual people are socially comfortable people who can get into any social group easily and interact to the fullest. They are the most accepted bunch of people who can go mix up with any social group of their choice.
Even if they have no knowledge of the particular language, their way of interaction also gets people into comfortable position. This is a quality that takes years to build up in a particular person, and bilingual people have in them naturally, or you can say they have developed it themselves without much issue.
So take some bilingual staffs with you in your next business meetings and liven up the total charm of the place.
Conclusion:
These are some of the most important benefits of having bilingual people working under your company. Also, not only bilingual people possess all of those above qualities, but also, they are very frank and good people to communicate with. You may find them quite comfortable to talk to than any other person.
They are quite confident bunch of people who can easily win confidence of other people by simply communicating with them the way they want. They know how to speak and where to speak what.
So give them a chance and see the changes they bring about in your company.