Call it a prediction, forecast or any other name, if you will, but keep an eye on them so that you can sail with the wind. We follow that up with some statistics on how employment opportunities can help change the world in a significant way and what the World Economic Forum is doing about it. If your New Year resolution is to increase your fitness and incorporate social recruiting trends into your hiring strategy in 2014, we'll tell you how to apply the same philosophy on both.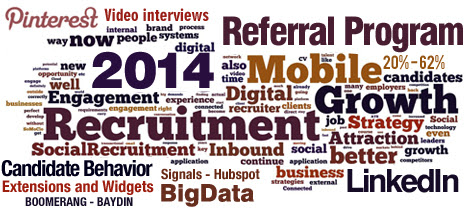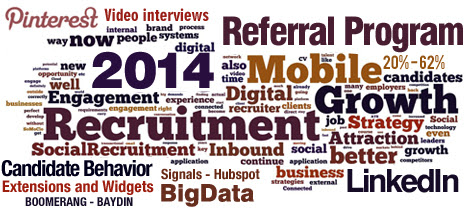 There's a lot to cover so let's dive in!
Recruiting Techniques and Trends for 2014:
Mobile will become the medium of choice for Job seekers:

Global smartphone penetration crossed 20% recently and it's much higher in the developed countries (62% for the US). What's following this is the explosion of apps and mobile internet. Consumers don't just make phone calls and play candy crush. They also check emails, buy products, watch movies and also do job search. So if your recruiting platform is not mobile enabled get on it!

Big Data will finally happen to Recruiting:

Big Data or lots and lots of data about anything and everything have made analytics fashionable once again. More and more business decisions are being driven by large volumes of data being collected and processed. 2014 will see this trend hit recruitment process. Smart platforms and apps will help make collecting data easier, put it through the black box of analytics and give you actionable insights. Get ready for more Data!

Pinterest will be the surprise Social Media tool for Recruiting Women:

Social Recruitment methods is so 2013. 2014 is going to be the year for social networks focused on different demographics. Snapchat for the younger audience and Pinterest for women. Well ok, not Snapchat maybe, Pinterest for sure. 80% of Pinterest users are women. Beat that Linkedin!

Video interviewing tools will make a come back:

In the past couple of years Video interviewing tools have come unstuck and the remote interviewing process has been more handled with Skype, GTalk and other equivalent tools. Well the last year a new trend of candidates recording their answers on Video to prepared questions provided by job  recruiters is catching on. Will it set the world on fire? Definitely, the joker in the pack in terms of emerging technology for recruitment that gets critical mass.

Extensions and Widgets to track Candidate Behavior:

Sill using that complex ATS embedded email sending campaign tools to Candidates? Take a leaf out of the sales people. Sales persons have always been the ones who have been relentless about finding out more about their customers. Some cool recruitment tools have come through for sales teams will now cross over into the field of recruitment in a big way. Not sure what I mean? Try out Signals extension by Hubspot or the Boomerang extension by Baydin for Gmail to track email open rates and Candidate behavior.
Enjoy our suggestions for the things to watch out for in 2014. If you have any suggestions that you'd like to highlight share your comments below. We will add it to the list here the best suggestions or comments from our readers.
Save
Save