LinkedIn has become such an integral part of professional life that everyone looks up people before any meeting whether it's a candidate or a sales meeting or anything that involves meeting new people.
One thing that I often face when I look up people is the message of "Full profiles of members are available only on LinkedIn Recruiter".
LinkedIn is driving members towards to paid subscriptions by reducing the features for Free Accounts.  Let's face it, LinkedIn is now a listed company with public shareholders and needs to show revenue growth every quarter.
It wasn't' always like this.  Things have changed and evolved over the last few years with more and more restrictions being imposed on how Free Account members communicate with each other. In the early days of LinkedIn you could get in touch with anyone by sending them a connect request. Then there were the groups like LION (LinkedIn open networkers) who got thousands of people connected to each other. Every time a connection request was sent many members became more and more embedded into the LinkedIn network making it more valuable.
Things are different today and will be more so in the future! So don't be surprised if you see reduced privileges in your free account
Fortunately, there seems to be a few ways to work around and reach people outside your network.   I am sharing one such method with you.
This method should work for the following type of contacts
3rd level of connections and beyond
Group members who you are not directly connected to
All you need to do is follow these 3 easy steps
Step 1: Pick a 3rd Level connection who you'd like to get in touch with and go to the profile of the person. Usually you will see a message that asks you to upgrade to a paid account (see picture below)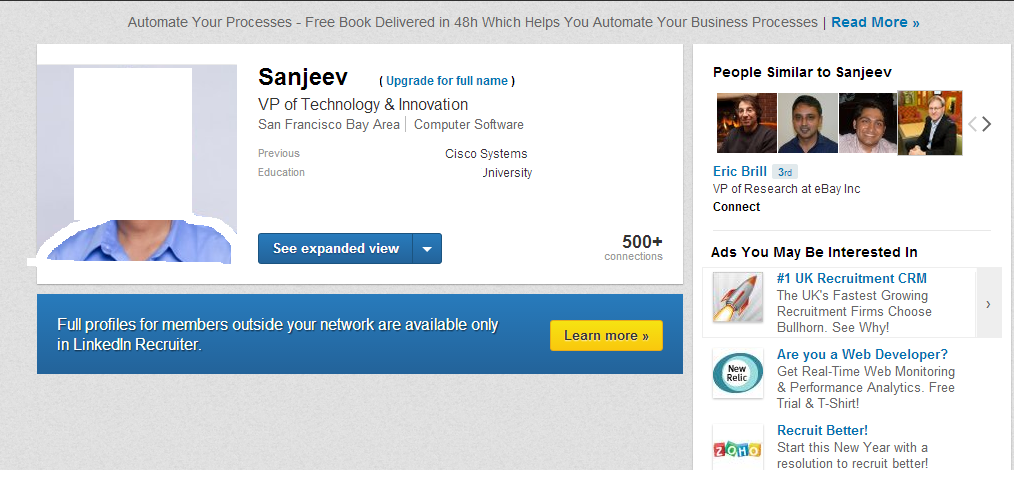 Step 2: To get in touch with this member, just click on Expanded View and select "Save Contacts"
Step 3: This will show you the Contact Info tab that has the following information (see below)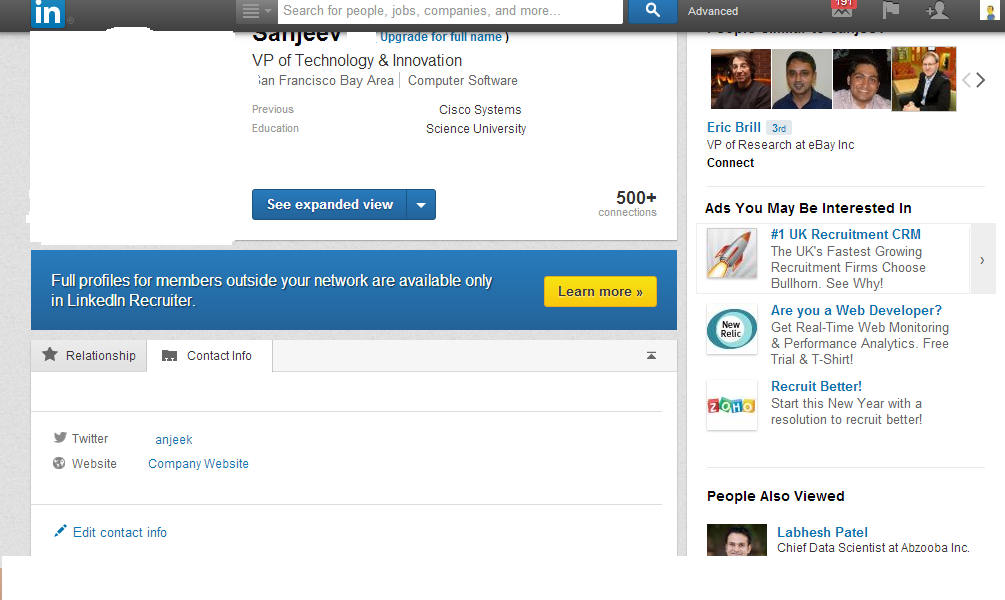 Voila! You should start seeing some contact information for the member as listed below
Twitter Handle
Blog URL
Personal website
All members may not have added all the information but the twitter handle is the most popular information and more than 50-60% of them will have some information or the other
You can now reach this member easily on Twitter
Tweet a message to their handle with a short note, asking them a way to get in touch
They will get an email notification from twitter with your tweet (unless they have changed their email settings)
You can't send them a direct message unless they follow you, so start by following them and they may follow you back.
If the person follows you back, you can also send them a direct message
Use this method to add speed to your prospecting effort. Have fun!
Do you have more effective suggestions on reaching people outside your network on LinkedIn leave your feedback through comments below. We will add the best ones to our article here