With everything on the internet, where people go, look and search for everything, has made content marketing an important part of the marketing industry. It is only after that the term content marketing came into existence and showed up in Google Trends. The general definition of content marketing is a focused content strategy plan, which is marketed and distributed quite well so that it can attract the audience and customers, while it drives to bring more business to the organization or business.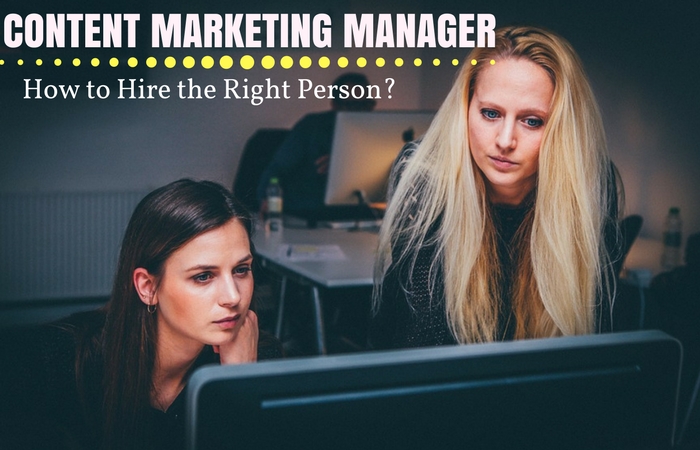 The popularity of content marketing is because of the fact that it is more of a service providing marketing techniques for a customer, i.e. rather than promoting a brand talking about their features, content marketing is solution provider information base for a customer where the reader finds the solution of the problems within a topic.
This in return brings customers to the website and also builds the trust on the brand in an indirect way. Therefore, hiring the right content manager is extremely important, hence one need to clear about the brief and reasons for hiring one.
Content Marketing Manager Responsibilities:
Digital marketing is not all about content and its marketing but content marketing holds a vital role for any business. Though several marketing factors come and go but content marketing is the only practice that has no match.
"Content is the king" is not said without any reason. Content being such an important part of the digital marketing industry, imagine the responsibilities of a person who manages content marketing for any organization.
The role of a content manager comprises of several duties and tasks from selecting the topic till reviewing its performance on the web. The duties they perform are many, for better understanding keep reading the post
Here we have covered the complete responsibilities of content managers into 3 sections, they are
Content strategy
Content strategy implementation
Content management and monitoring
Now let us look at each topic in detail
1. Content strategy:
This is the prime and important step in content marketing. Right strategies help you get better results. Also creating strategies is not enough, you also need to execute it in the best way possible.
Here are a few steps that need to be taken in the initial stages of content marketing.
Analyzing and reviewing competitors
Finding the audience to be targeted
Prepare a marketing plan
Create best content strategies
Prepare a planned editorial calendar
Review marketing trends
Assessing and planning on best marketing tools
Right usage and implementation
Forecasting content behaviour
Reviewing the performance of the content
2. Content Strategy Implementation:
This can be defined as the second phase of content marketing. As mentioned above, good ideas do not work if they are not executed in the right way. So implementation is an important practice that should be done perfectly.
Preparing a rough draft on the topic
Writing the content
Team up with other writers
Asking them to provide feedback on the content
Work on the feedback
Understanding basic SEO techniques
Make the content SEO friendly
Formating the content
Final editing and proofreading the content
3. Content Management and Monitoring:
This is the third phase of content marketing and the most essential part.
Implementing the content strategies in different ways
Managing and organizing the content
Monitoring the performance of the content
Reviewing the results and generating improvement strategies
Finally maintaining campaigns on social media
How to Hire a Content Marketing Manager?
1. Creative nature:
Despite the fact that the name has word marketing in it, a content marketing manager requires highly creative. Because when creating and developing the content, doing it creatively is important, understanding that what is going on in the market, what is the currently required information people are looking for and how that can be beautifully created to attract the customers.
Understanding the kind of content that has the possibility to go viral is something does not happen by chance, it is the aspect of creativity that can bring out the best for the business and make customers look for it.
2. Has vast skills and knowledge:
While hiring a content manager, it is important to pay attention that they have immense knowledge and skills in their domain. Because they need to understand what is going on the market, which news is trending, it is important to be aware of the various content marketing tools and how to use them.
Also, some knowledge about the brand, products and their process is required because these are some of the information which can be shared in a direct way or may become a form to tell stories to the customers. Rather than direct selling, indirect selling works the best for any brand. Because it is not in the face of the customer but provides a subtle approach to inform them about the brand and its products.
3. A strong team player:
For a good content marketing manager, being a good team player is extremely important because their job role requires people to work together. Because they cannot do everything alone, within their team they may require to work along with digital and social media marketing people, they need to get the information from their teammates about everything.
During the meetings, they need to be open to the ideas of the team, because one never knows what best idea may come from someone. They need to experiment with new ideas and suggestions too, as content marketing is not a textbook form of marketing, it requires creativity, knowledge and lot of trial and errors to understand what works and what does not.
4. Has editing skills:
A content marketing manager needs to have a certain level of editing skills, generally, as per the size of the organization there will be the teams of editors, yet this is an important asset for a content marketing manager to have. Because they understand the kind of content that will work in the market, hence, their editing skills come in very handy.
They need to have an understanding of the content editing as well as a bit of image editing as the visuals are a popular way of marketing content. Having a good understanding of other basic editing tools be it even videos or graphics will provide an edge to a content marketer to work the best.
5. Understanding of social and digital media tools:
A content marketing manager needs to have in-depth knowledge and understanding of social and digital marketing and their platforms. Because these are the places where they are required to market the content and every social media platform is different has different customers and is used in a completely different way.
Without having an understanding of them, it will be difficult for a content marketing manager to promote the content to the right market and customers. Having a good understanding provides them an edge where they know what works best and the kind of content that can be created depending upon their target customers.
6. Highly passionate:
The job of a content marketer is not a regular office job, it is something which requires immense passion to be there 24 hours of a day, 7 days of a week and 365 days in a year. Because content is dependent on the internet which is functioning continuously, the content on the internet is always moving and reaching to the people without any stop.
Therefore, a content marketing manager needs to be aware of the impact their content is creating on the market and keep a watchful eye as to what is happening when what their competitors are up to. To be able to stay ahead of others is important and requires immense passion and love to do it.
7. Good at multi-tasking:
A content marketing manager not only requires to have just the knowledge at various things but also has the capability to do various things at the same time. She or he needs to be really good at multi tasking, should be able to do things on their own too as in when required.
They not only need to focus on just the marketing aspect, but sometimes even to create some content, edit it, or is able to do copywriting, have a knowledge of graphics and visuals with the capability to work on various editing tools. As per the requirement, they need to be able to do all of these easily and effectively.
8. Adaptive:
Being adaptive is a highly important aspect for a content marketing manager, nothing stays for the same in the digital and online industry. We see examples of it everywhere, Facebook as a platform for fun but it has taken shape as a major social media marketing platform, another platform Pinterest was just a way for creative's to share ideas and knowledge but now has become a major source for people to develop their businesses and share their products to the people for sale.
Hence, these examples show the rapid development that keeps on happening because of this fact that it is essential for a content marketing manager to be able to bring in change within their marketing system and bring out the best possible results in this volatile marketing industry.
9. A good leader:
The content marketing manager needs to be a good leader in a team because they are the one who will provide directions to the team, explaining to them how everything needs to be marketed and maintained. They are the ones who understand the strength and weaknesses of their team and assign the task to each of them accordingly.
They are the captain of their ship, they require to be proven leaders because they need to take charge of the situations if it becomes difficult to handle. A good leader does not lose out on problems easily and is able to bring the best out of everyone during the times of trouble.
10. A project manager:
Content marketing has tasked with tight deadlines, sometimes some news maybe trending and it might need to be pushed in between the scheduled work. It is the hectic nature of the job that is a good project manager is important for a content marketing manager to be.
They are the ones who need to decide which work is of high priority and which is not, or when something needs to be changed or edited at the last moment. Doing all of this within a tight schedule and then be able to maintain their cool requires a good project management skill.
11. Organized:
Being organized is an important asset for any content marketing manager because they are the ones who know which data is where and how it is supposed to be marketed. They are the ones who are looking into the scheduling and managing content, therefore, the nature of their job demands them to be highly organized.
If they miss out on it, they may mess up the information and may overlap the content that was to be marketed. Their job requires the skills to keep everything nicely segregate and manage in a manner where their team can easily be able to communicate and look for the right information without any hassle.
12. Analytical:
Data analysis is an important asset for a content marketing manager because every work is done and their results are highly dependent on the analytical part. Therefore, they must know the analytical tools and how to use them well, they need to understand how and which information will work and what can be done next.
Because without a good and reasonable analysis nothing can work out well. No matter how much effort you put into something, it needs to analyze at some interval of times to be able to achieve better results.
13. Patience:
Patience is always the key to success, it is what makes or breaks the deals and businesses. Big businesses and success have not happened in a day or in a few weeks, but they have taken years to be successful. It is this key feature of patience that is highly essential and requires to content marketing manager to possess. Because a single content article is not going to bring you success or few tweets will not create a following for you.
The key is persistence and giving time to it daily, keeping your eyes open and analyzing the content. Then as per the analysis taking the right action, which will result in a good number of followers and helps in developing the reach to the maximum audience. All of this to happen requires a lot of patience to achieve success because there will be setbacks too which needs to be overcome with persistence.
14. Action and result oriented:
At the end of the day, every business requires result and revenue, everyone working within the organization is working towards the same goal. Therefore, it is important for the content marketing manager to be highly focused to be able to get to the right and desired results. They need to have a good understanding of the business and what we all are looking into. They need to continuously analyze the data and plan their actions accordingly, with the understanding of the desired results.
The interesting fact here is, that not always one need to purely analyze the data and work, sometimes you need to follow your gut feeling and observation to be able to get to the best of the results.
A Day in the Life of a Content Marketing Manager:
The content manager roles even though revolve around content marketing, their task and the responsibilities they handle are diverse. As it is a managerial position, they play a crucial role in branding the business and boosting the growth of the company.
Now when talking about how do they spend their day, it is not as easy as we expect and is a must-see for every professional who aspires to become a content manager.
What does a typical day look like?
Definitive Guide:
Create sections and Prepare extra copies
Coordinate with the design team to discuss different concepts
Work with internal teams
Try to add the suggestions received from the team
Webinars:
Create webinars for the next quarter
Plan webinar times
Run the webinar calendar
Work on webinar content with internal stakeholders
Prepare abstracts for landing page promotions


Blog:

Write 1-2 articles per week
Managing the editorial calendar
Edit and manage posts from external or internal writers
Use WordPress CMS for your blogs
Optimize using SEO techniques
Schedule post timing for the next day
Other content-related things:
Update the older articles and share them
Manage all type of contributed content
Conclusion:
With so much of competition in the online marketing segment, every organization, business be it large or small is hiring and building the team of content marketers. They have now become an integral and essential part of any marketing team where they work towards ideation and promoting the best of the ideas across the various channels. Even for the smaller organization, the content marketing manager has become an important asset, with their strategies these organizations are able to generate more and more business.
While for many, it may sound an irrelevant deal to build a content marketing team but it is important to understand that the need of the hour is to get a good content marketing manager. It's a long-run investment. Gone are the days of traditional marketing where companies used to spend lots of money without any major results, while online marketing is a proven and highly effective form of marketing developments.
Save