92 % of companies say they use Social Media Recruiting*
63% of those use Facebook*
54% of those use Twitter*
Numerous surveys like the one above will tell you that Social media Recruitment is important and this is a topic so beaten to death that everybody by now knows this.
What no survey tells you is the steps you need to take execute Social Media recruiting effectively. No one really wants to share their best tips and secrets.
We heard this from a lot of people so we are starting a small series on Tips, secrets and tricks on how to implement social media recruiting more effectively.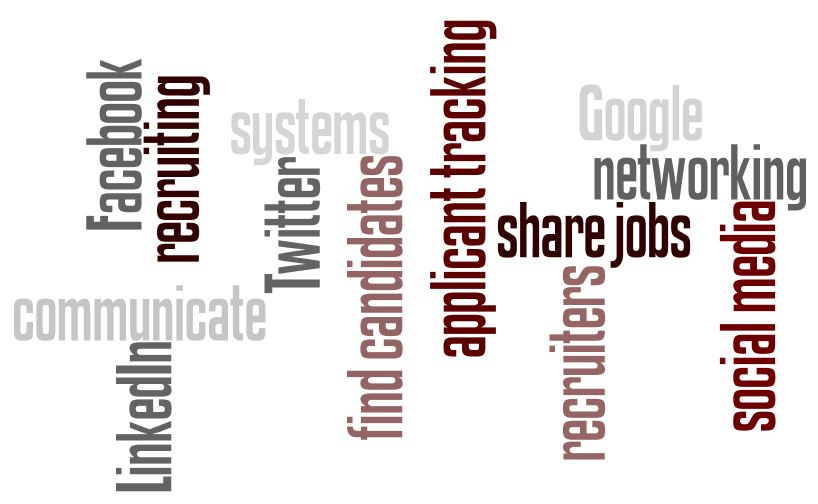 Today's Secret Tip is: 15 minutes is better than 2 Hours.
Did you make a New Year resolution to hit the gym and get fitter?
Ok, you did. January is gone, and how's your progress at the end of Month 1?
Did you hit the gym for 2 hours on the first day and then skip exercise for the rest of the week OR did you take it slowly and spent 20-30 mins everyday?
Most likely the former. We all know fitness doesn't happen overnight. You have to work at it, every day at a steady pace that yields better results than a big big push overnight.
Executing your Social Media Recruitment strategy successfully is exactly like improving your Fitness.
Most Newbie social media recruiting enthusiasts go overboard initially and then give up equally fast citing poor results.
What's needed is a focused effort in small doses. Why not spend 15 minutes everyday?
Here's your starter kit for your daily dose of 15 minutes on Social Media Recruiting Success
Connect with the people who you met, spoke, interviewed or even wrote emails to the previous day on LinkedIn and follow them on Twitter. Having a large number of connections is a pre-requisite to getting any positive results on Social Media.

Expected time: 5-7 minutes

What you get:

100 + connections allow you to reach 300,000 + Second Level Connections on LinkedIn**

1000+ connections allow you to reach 3 Million + Second level Connections on LinkedIn

Share your Jobs on LinkedIn, LinkedIn Groups, Twitter and Facebook twice a day. Use one of the many tools (you can do it from Wisesep.com too) that help you post your Jobs on your behalf by setting it up once.

Not convinced? See what Guy Kawasaki says about this HERE. Learn from the principles from the legend himself

Expected time: 1 -2 Minutes

What you get: Up to 4X more number of applications, referrals and connections requests to help you fill your open roles

Share any whitepapers or blog posts that you or any one of your colleagues may have written on Social media. Sharing non jobs related content helps you position yourself as person with strong industry knowledge

Expected time: 4-5 Minutes

What you get: Generates more leads for your company or connection requests to expand your network

Comment on interesting articles or posts made by people on your network or people that you follow. Write comments that are insightful and on ideas that have not yet been made. Avoid platitudes like: "That's an awesome article". Writing a great comment prompts other readers to visit your profile and check out what you do –

Expected time: 5-6 minutes

What you get: More influential people check out your profile and invite you to connect with them. Remember, connecting to a person with a very large number of connections expands your second level network on LinkedIn dramatically making your job shares and content shares reach more and more people.
To round off take 5 minutes and mention all the open positions on your profile summary on LinkedIn. Refresh every week.
All in all you will spend 15-20 minutes on these activities if you do all of them every day. Repeat the week after.
Try it at least month for a month for best results.
We'd love to hear how you did, so write to us at editor@wisestepmail.com or post your comments below
*Survey conducted by Staff.com
** Estimates by Wisestep Team